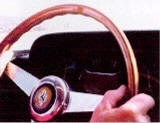 Driving an old car

across country is

often an exercise

in crisis manage-

ment, Just as you

adapt to one

problem, another

crops up to vie for

your attention.
FINDING
ADVENTURE
KEVIN CLEMENS describes a winter
drive in the editor's old Ferrari
something less than fond memories
Most people would consider it insane to drive a 30 year old car a thousand miles after buying it sight-unseen. But have made several such trips in old cars and have only had a few problems. ides, my theory is, if you get the car as close to home as possible, you can always rent a U-Haul truck and trailer to get it the rest of the way. The way I see it, finding solutions to problems on the road is excellent practice for the long-distance endurance classic car events that I enjoy.
Several years ago I had an opportunity to put that idea to the test when Larry Crane invited me to fly to Phoenix, Arizona in early December to drive his 31 year old Ferrari back to Ann Arbor, Michigan with him. Larry had owned this particular 1967 Ferrari 330GT2+2 once before, about 20 years earlier, and now he was looking forward to owning it again. It was one of the last 20 cars built in that series, and was an unusual shade of light blue with dark blue leather upholstery, a striking and beautiful combination, powered by a 330 horsepower V-12 engine.
The previous owner of Larry's 330GT2+2 lived in Tucson and had recently rewired the entire car and had the carburetors rebuilt. The car certainly looked impressive as Larry rolled up to the curb of the Phoenix Sky Harbor on a pleasant early afternoon. We left Phoenix under sunny skies, but by Flagstaff the temperature had dropped to the low twenties and it was snowing.
The car's Arizona owner, tired of roasting while driving, had managed to disable the flow of any warm air into the cockpit, leaving us with no heat and frozen feet. Who ever heard of a Ferrari that doesn't fry your feet as you drive? The driveline also had a severe vibration that seemed to be strongest right around 70 mph. It smoothed out a bit between 90 and 100 mph, so we adopted that as our cruising speed. But the noise caused by the vibration and the air rushing past 30 year old window seals made conversation nearly impossible.
Driving an old car across country is often an exercise in crisis management. Just as you adapt to one problem, another crops up to vie for your attention. Late in the afternoon, we noticed the ammeter gauge was showing no charge from the alternator. It didn't seem so bad as long as we drove fast, so we drove fast. When night came, the discharge was severe and we stopped early. With ears ringing from the noise and feet numb from the cold, we congratulated ourselves on our success thus far. We shouldn't have been so cocky.
The next morning we were in front of an automotive electrical repair shop at 7:30 am and waited until the owner arrived at 9. He quickly set to work with his diagnostic tools and told us that there was nothing wrong with our alternator. He did find a slightly loose connection on the main battery cable and $20 later we were on the road again, confident that he had found the problem.
Twenty miles later, the ammeter began to show discharge. It was clear our problem still remained. Our solution was simple: We bought a spare battery and a small battery charger. All day long we boomed along in the big blue Ferrari, trying to make as much time as we could, knowing that our battery would only last a short way into night before it ran down.
In spite of the problems, we were enjoying driving the Italian thoroughbred across America. People waved, and when we stopped for gas a crowd would gather and peer into the engine bay as we checked the oil and fluids. As it began to get dark, we wondered how long we would be able to drive just on battery power? The answer came about an hour and a half later. Suddenly the lights dimmed and the car started to stutter as we rolled to a stop at the top of a handy exit ramp. We installed our spare battery, found a hotel for the night where we put the original battery on the charger and turned in.
| | |
| --- | --- |
| | |
| | Still one of the editor's favorite Ferraris. Designed by Tom Tjaarda for Pininfarina, it has beautiful proportions, was fast for its day, and includes a real back seat and trunk. Above and left are two photos from the winter adventure and, below, on the recent Michigan color tour. Current owner, Bill Milliken, Jr. has carefully solved the old cars technical challenges and now enjoys its charms. |
Two batteries into the morning we dead-sticked down a ramp into a gas station in Marshfield, Missouri. While Larry hiked to a nearby Firestone store for another battery, a local guy drove up in a beautiful Chevelle to see his first Ferrari. After a brief discussion of our travails, he suggested a visit to J&I Automotive Distributors, Inc., about a mile away, explaining to us that they are a national alternator rebuilder. As we pulled up, all of the shop's technicians emptied out for a look.
Ferraris use a Magnetti Marelli alternator and regulator system. The guys at J&I had rebuilt Marelli alternators before, but didn't have the parts for this one. What they did have was a Nippon Denso alternator for a Japanese car. It fit the existing brackets perfectly. Less than an hour and a half after rolling to a stop with a dead battery and little hope, we were on the road again, the ammeter now showing a healthy level of charge.
The sun came out and, for a brief time, we even were able to remove some layers of clothing without freezing. The rest of the day and into the night we hammered the Ferrari, finally arriving back home in Michigan shortly before midnight, alternator still producing a good charge.
My ears rang from the noise and vibration for the next two days. It was one trip that I will always remember especially because it underscored some truths about long distance drives in newly purchased old cars. The most important tool you can carry in an old car is a cellular telephone. If things get really bad, you can always call for help. An auto club card and a credit card are next on the list; I hardly ever travel without my Swiss Army knife and also like to bring a pair of pliers, a couple of assorted screw drivers, duct tape and some strong wire along on any old car trip.
As we found with Larry's Ferrari, a small battery charger is also a good bet, with an extension cord so that you can shore up a balky electrical system with overnight charges. Don't forget a couple of good strong flashlights, a couple of road flares or triangles, and a small fire extinguisher for safety. Most of these items can fit into a cloth tool roll that is easy to carry, and maybe someday, I'll actually take my own advice and bring these things along. Mostly, you try and make do with what you find on the road.
Trips like these stick in our memory and add to an appreciation for what driving used to be like. Modern cars are wonders of reliability, performance and refinement. What they lack is character. Old cars have character, and sometimes they build character. About halfway through the trip from Phoenix, shouting over the noise of the wonky driveshaft and the roar of the Ferrari's V-12 engine, Larry commented that had we been driving a Honda, we probably would have been home already. I reminded Larry that had it been a Honda instead of a Ferrari, I probably wouldn't have flown to Phoenix to make the trip. Adventure is all around us and driving any place in an old car is always an adventure.
Copyright 2007, Auto Aficionado Inc.
Jan/Feb 2007