AUTOCAR , 24 January 1964
Ferrari 330 GT 2+2 Coupé
A N A D D I T I O N T O T H E E X I S T I N G R A N G E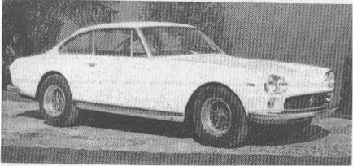 Above: The front grille perpetuates the traditional Ferrari design and dual headlamps are used for the first time on a series production model.
Below: Styling of the Pininfarina body is much more rounded than that of any previous Ferrari. At the rear, however, it certainly contributes to a very well proportioned luggage boot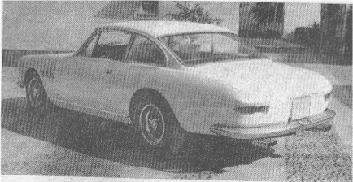 Quite apart from his wide participation in racing, Ferrari is now really well established as a producer of luxury, high-performance road cars. Recently the Maranello factory has been further enlarged by the addition of a new assembly line to complement a similar one completed just 12 months ago. Current production models comprise the Berlinetta Lusso, the GTE 2+2 Pininfarina coupé, the rear-engined 250LM, of which 100 are in the course of construction for homologation purposes, and the new 330 GT—brief details of which were published two weeks ago. This newcomer is a joint effort of Ferrari and Pininfarina; Battista Pininfarina, head of the company bearing his name, is also a director of Ferrari, of course. This latest creation has a claimed maximum speed of 150 m.p.h.; the wheelbase is 2in. longer than that of the 250 2+2, which in conjunction with lightly increased headroom provides very reasonable accommodation for two adult rear passengers.
The 330 GT is undoubtedly the most refined car yet to leave the Maranello works and a great deal of attention has been given to passenger comfort. Generous use is made of insulating materials both inside and outside the passenger compartment to suppress noise and heat. The heating and ventilation system is very comprehensive, with several means of selecting cool air at face level and heated air at a lower level if required simultaneously. Separate controls are provided for each front occupant.
As befits a car with such a sporting lineage, the driving position and instrument layout are beyond reproach; all instruments can be seen clearly. Switches are of the now popular rocking type in three groups of two placed centrally on the lower edge of the facia. The latter is deeply padded on projecting surfaces and trimmed with anti-glare black leather. Rear window de-misting is a standard feature.
It is claimed that the new vee-12 3,967 c.c. engine is an entirely new design, but the bore and stroke of 77 x 71mm are the same as for the power unit of the superseded 400 SA. Also, it has opposed valves which are operated from a single camshaft per bank by means of rockers with roller-type followers. However, the cylinder liners are now shrunk into the aluminium cylinder block, which has seven main bearings and side-by-side conrods; the 400 SA had separate, detachable wet liners.
The main fuel feed is by means of a mechanical pump supplemented by a self-regulating auxiliary electric type. There are three twin-choke Weber carburettors, twin Marelli coils and distributors and a thermostatically controlled cooling fan with electro-magnetic clutch. The four-speed, all-synchromesh gear box has a central control and a de Normanville overdrive operates on fourth gear.
Front suspension is independent, using double wishbones and coil springs, and the rear suspension consists of a live axle mounted on half-elliptic leaf springs supplemented by auxiliary coil springs. Dunlop disc brakes are fitted front and rear, with separate hydraulic circuits and twin servo units for independent operation.
British prices have not yet been fixed, but the model will be available with right- or left-hand drive.
When Enzo Ferrari introduced this new model, he also announced that a new grosser Ferrari will be produced. He stated that it will be powered with a "full displacement" engine and will be made in small numbers for a discriminating group of customers. When asked for a definition of "full displacement," he said that the engine was to have cylinders like full bottles and not small glasses! G.R.
Copyright 1964 Iliffe Transport Publications Ltd.
Published with permission from Autocar