AUTOCAR , 26 June 1964
Bernard Cahier tries the • • •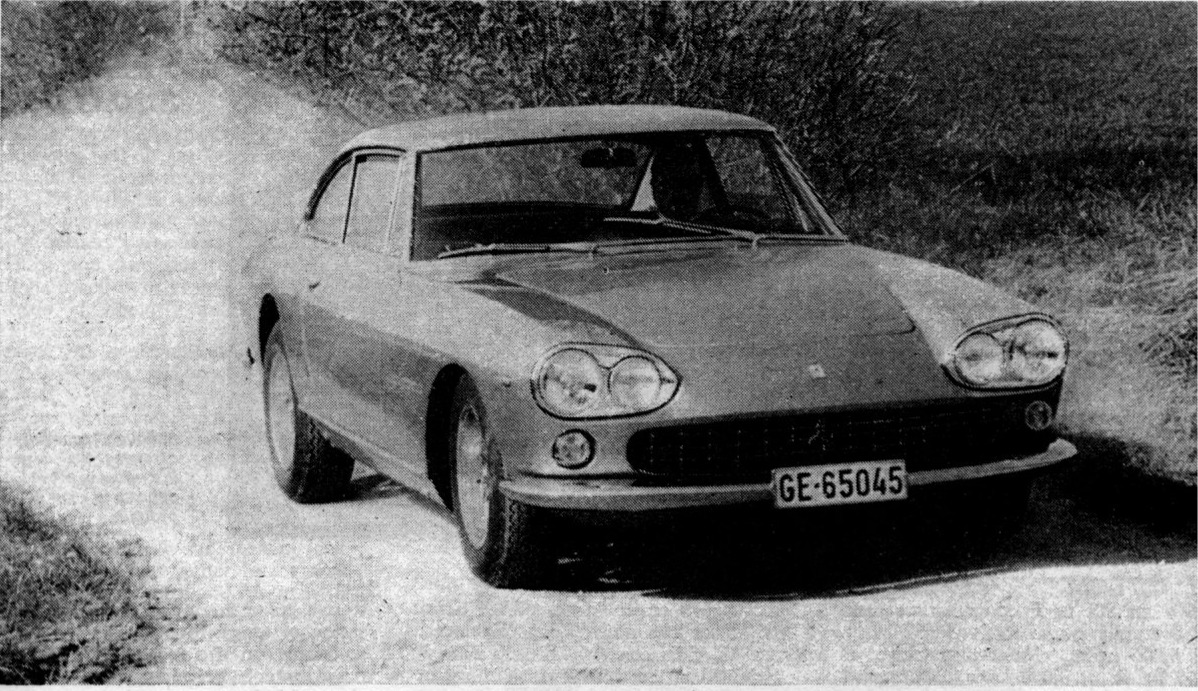 FERRARI 330 GT
Above: Kicking up
the dust, the Ferrari
330 G.T. flaunts the
classical simplicity
of its beautifully
clean lines
Right: Ground
clearance has been
raised to keep the
tail-pipes from
making contact with
terra firma. Note
the Pirelli Cinturato
HS tyres
One very good reason for Enzo Ferrari's introduction of the new 330 G.T. is that in the American market sales of the 250 G.T., which it replaces, were not going very well. It seemed that American owners who had paid 12,000 dollars (£4,300) and more for a 250 G.T. were getting frustrated at being left behind at traffic lights by certain 4,000 dollar American models, some of them even with automatic transmission. While no one could get tired of the sound of the Ferrari 12-cylinder engine and the beautiful body styling by Pininfarina of the 250 G.T., 3-litres and 240 b.p.h. were not enough to keep up with several Detroit models, nor with the E-type Jaguar and Aston Martin DB 5.
This years Brussels show saw the first presentation of the 330 G.T., a 4-litre 2 + 2, also styled by Pininfarina. It bears a strong resemblance to the 250 G.T. but the lines are more rounded, and it has twin head-lamps, and a bigger boot, rather similar to that of the Fiat 2300 coupe. While it is an elegant machine, it could, in my opinion, have been more exciting looking; after all, a Ferrari is a Ferrari and should look like something special. It is longer than the 250 by about 2 in. and its wheelbase is 8ft. 2in. Being wider and higher it can seat four adults without their being too cramped, whereas the 250 G.T. was more suited to two adults and two children. Thanks to George Filipinetti, the Ferrari importer in Geneva, I have been able to carry out quite an extensive test of this latest model. The interior is beautifully finished and the facia attractive, with a very wide range of well laid out instruments. However, when actually on the move I found these were not as practical as they looked, because of the small figures used on the dials. Close to the roomy glove locker in the facia, are two adjustable, circular air vents and interior cooling is supplemented by two side vents underneath. Seats are covered with high quality leather and the large front bucket ones are very comfortable. Visibility is superb all round. While the general finish is good, it could perhaps have been better for a car in this class and price.
The new 60 deg vee-12 engine has a bore and stroke of 77mm x 7lmm, cubic capacity of 3,967 cc. (440 cu. in.), and is no bigger in size than the 3-litre it replaces. Incidentally, it weighs only a few pounds more. Carburetion is by three double-choke downdraught Weber carburettors and with an 8.8 to 1 compression ratio it is mildly tuned to give 300 b.h.p. at 6,600 r.p.m. Maximum torque is 240 lb. ft. at 3,000 r.p.m., compared with the 3-litre which gave a maximum torque of 184 lb. ft. at 5,500 r.p.m. and around 240 b.h.p. at 7,000. These are very useful gains in both directions but are not obtained at the expense of engine smoothness.
FERRARI
330 GT ...

Although beautifully
arranged the
instruments proved
difficult to read in
practice
Dual braking
Other improvements introduced on the 330 G.T. are a dual braking system, rear suspension of the Ferrari G.T.O. type with leaf springs assisted by coil springs, torsion bar and torque arms and a new type of overdrive, which cuts out automatically on changing from fourth down to third. Much of the development work on the new car was done by Michael Parkes, not only an engineer but a talented racing driver as well. He has succeeded in giving the car a softer and more comfortable ride while improving its roadholding. After driving is for two days, I am convinced that Ferrari have reached a new standard of comfort and handling in the field of so-called production sports G.T. cars.
Those who have driven a 250 G.T. will appreciate the improvement in the new car immediately. It is quiet, the engine is smooth, the ride very comfortable and the handling definitely better. It can be driven as low an 15 m.p.h. in top gear and will still accelerate smoothly to its maximum without protest, this flexibility being of considerable advantage for town driving. Treating it as a sports car using maximum revs, with two up and a full tank it will reach 50 mph. from rest in 4.2sec, 60 mph. in 6.4sec, 80 mph. in 11.2sec and 100 mph. in 16.2sec. The standing quarter mile was done in a very satisfactory 15.4sec, putting this Ferrari well up in the class where it belongs.
I recorded a maximum in overdrive top of 148 m.p.h. and from 100 mph. to this speed there was very little sensation of stress because the car feels so stable on the road. The engine noise, which becomes more audible above 5,000 r.p.m., reminds you that you are going fast, otherwise, there is a rare absence of any sensation of speed. This is certainly very restful and pleasant for anyone capable of handling a car at over 100 mph., but might well be a problem for someone not used to really fast driving. Such a driver might well feel that he was doing 60 mph. when he was actually doing 100 mph. or more, for even if you are doing 50 mph. in top gear the magic 100 mph. is still only 15sec away.
Pininfarina's designs are remarkable above all for their grace--and the 330 G.T. is no exception

Speeds on
Gears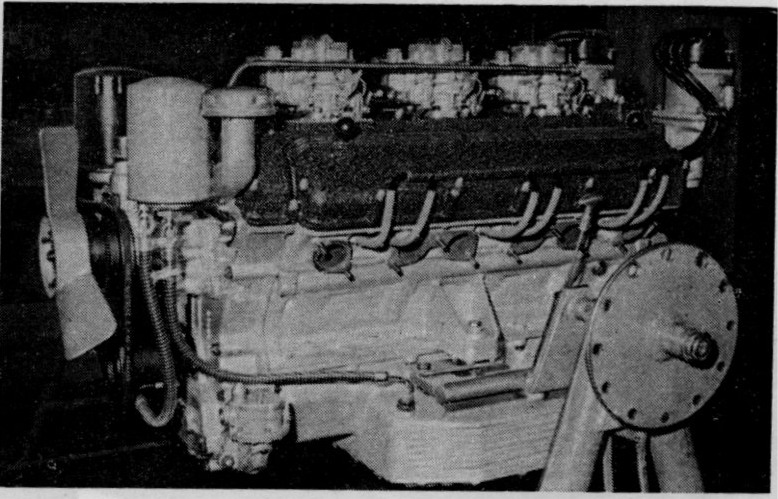 Above: The powerful 4-litre engine was installed to provide performance equal to that of the big American vee-8s. Below: Opening the bonnet reveals some sound-deadening material, but most of the "goodies" are hidden beneath the enormous air cleaner cum silencer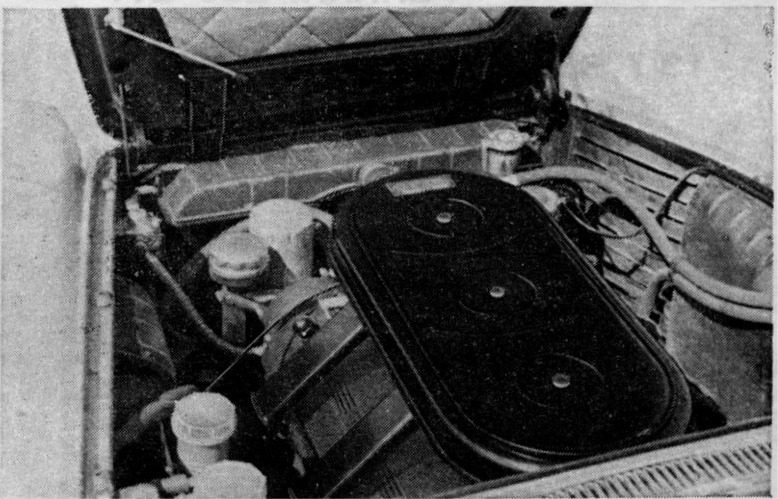 The Ferrari four-speed gearbox is first class, with a very-quick-action change. First gear maximum was 50 mph., second 75 mph, third 100 m.p.h. and top 125 mph., the overdrive giving its recorded maximum of 140 m.p.h. at 6,400 r.p.m. This overdrive is particularly effective, allowing lightning-fast changes; with an overall rating of 3.55 to 1 the engine speed is only 4,000 r.p.m. at 100 m.p.h. in overdrive.
My test was done in perfect weather conditions and I am certainly very enthusiastic about the handling of the car. Basically it understeers very slightly but as soon as you set it up for a corner, particularly a medium or slow one, you can turn this into well balanced over-steer by using the throttle intelligently and come out very fast indeed. I say well balanced because the combination of the new rear suspension, self-locking differential and wide-rim, Pirelli tyres makes the back of the car remarkably steady to control. You can leave tyre marks on the ground if you accelerate brutally, but there is a minimum of wheel spin and tyre adhesion is excellent at all times.
On tight corners the steering felt a little heavy but generally it was very pleasant, precise and direct with 3 1/4 turns from lock to lock. Brakes were extremely powerful but these on the car I tried felt a little spongy at times. For those who have suffered from Ferrari exhaust pipes touching the ground, the ground clearance of the 330 G.T. has been increased.
One regrets having to hand back a car like the Ferrari for it makes one proud to drive it. For the man who does not own one, like me, a Ferrari such as this gives great pleasure, rather like setting out an an adventure. Back to earth at the wheel of my Mini, I thought of how much work and research must have gone into this new model, which may well set a new standard of G.T. driving. For 10,000 dollars (£3,550) at the factory gate it is certainly not cheap but I do not think anyone expects the Prancing Horse to be sold for much less than that.
Copyright 1964 Iliffe Transport Publications Ltd.
Published with permission from Autocar