1967 FERRARI 330GT 2+2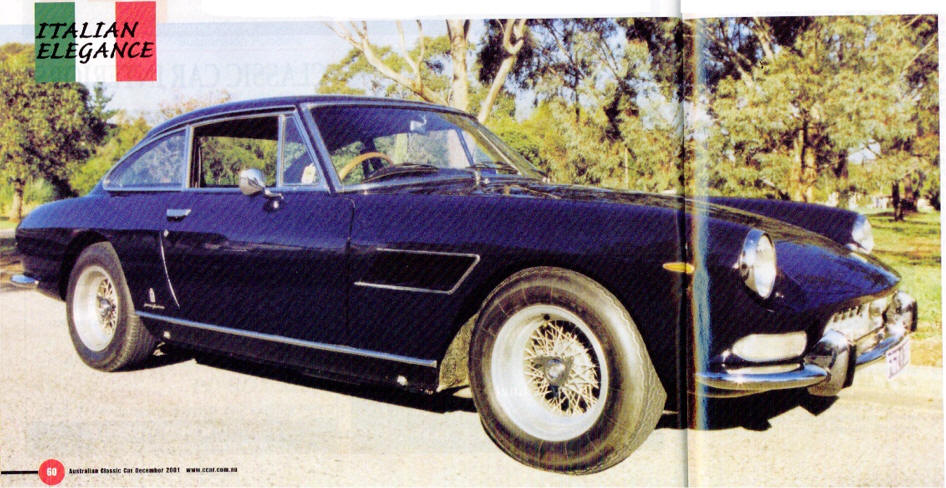 Family Ferrari
Words & Photos by Paul Murrell
A Ferrari built for the family market? Paul Murrell is relieved to find that all of Maranello's traditional values still shine through
Most of us had a favourite car when we were young (at two years old, mine was the Humber 'Snooper' Snipe, but I've moved on since then). For many of us, our dream is to turn childhood fantasy into grown-up reality when we can finally afford it.
Not so David Armstrong, the owner of this superb 1967 Ferrari 330GT 2+2. Until he saw it in 1997, he'd never lusted after or even considered owning a Ferrari - until the day he drove one, and was smitten.
"A music comes through..."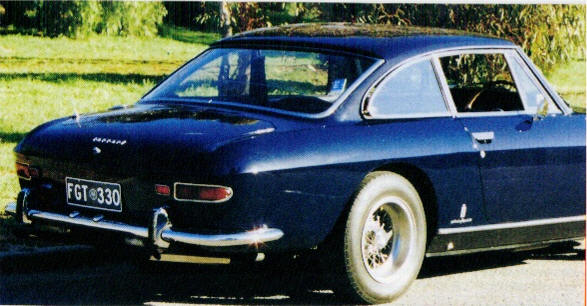 Dave owns a workshop (and prepares cars like a Mini Cooper S and Bacchus Clubman for other people to enter in the Classic Adelaide). As he explains "There's a guy comes in who's a scientist and I had the engine out of a V12 E-Type roadster. This guy said to me, 'Oh, so you work on this sort of stuff? I've got a Ferrari.' I told him that I knew the car - it was a 250GTE - and the upshot of it was that I went up to Gawler and picked it up. It hadn't been on the road for years but I got it up and running. It needed some exhaust work done so I took the exhaust off and took it over to a crowd at St Agnes. I said I'll bring the car over for you to fit it on. Late one Saturday morning, I got in this thing and went up through the hills - glorious! All the noise! Anyway, the guy was having marital problems and the car was central to all that - there's something about these Ferraris - they get hold of you and you can lose reality! He was off and on about selling it and I seriously thought about buying it."
It was not to be. But by this time, Dave was well bitten by the Ferrari bug and he was investigating two 330GTs, one a Series I and the other a Series II, that had come up for sale.
"The car I finally bought was originally owned by a guy in Oregon. It was brought out to South Australia in 1980 and then auctioned to a businessman. He finally traded it to a dealer here in Adelaide. I went down, had a look at it and took it for a run around town. I asked if I could take it to my workshop and they offered it to me overnight - no identification or anything, they just said I looked like an honest bloke! I was going to make them an offer but they said they had a chap coming over from WA to take a look at it. I took it back to them, and said I'd rather be giving them some money than the car. I tried to put it out of my mind but it got the better of me. So I went down with a bank cheque plus five grand in cash in my pocket. I told them it was a nice car but the engine was pretty tired, the gearbox wanted looking at. I offered them the bank cheque. 'Oh,' said the salesman, 'We want a bit more than that for it.' He went away and came back. 'Can you put another thousand dollars to that?' I quickly gave him the thousand and drove out with the car. Honestly, for six weeks I couldn't believe I had this Ferrari."
Dave had bought himself a 1967 Ferrari 330GT Mark II with five-speed gearbox, Borrani wire wheels, beige leather interior, in non-original (but very flattering) dark blue. "I've always been into and fiddled around with English classic stuff but driving the Ferrari, for me, was just absolutely unreal. For people who like noises, and I love noises and machinery, it's all there. When you get a lot of these things working, there's a music comes through."
And the 250? "He finally sold it. He subsequently came around here, broken hearted. It's funny, he'd had that car for 31 years I think. He did more miles in it when I got it running than all those years before. And he's still grieving."
Funny people, Ferrari owners. Dave's right though, there's definitely something about owning a Ferrari that gets into the blood.
The four Seater Ferraris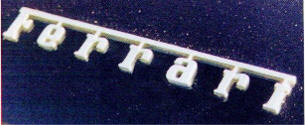 Ferrari made the decision to expand their range with a four-seater car in 1959. At that time, Ferrari had built fewer than 1300 cars since their first model in 1947.
A pre-production prototype of the Ferrari 250GTE (their first real four seater, although some earlier models had had vestigial rear seats) was unveiled at Le Mans in 1960 as a course marshall car. Officially it was called the 250 GTE Coupe Pininfarina 2+2, intended as a direct competitor to the Aston Martin DB4 and Maserati 3500GT. Back seat room had been found by moving the engine forward two inches. It hardly made for commodious space, but at least there were two additional seats.
The GTE had its formal introduction to the world at the Paris Motor Show in September 1960. In the US, it was three times the price of a Corvette, twice the price of an E-Type, $1000 more than an Aston Martin DB4, and the same price as the Maserati. In spite of this, it was an immediate success.
By the end of production, almost 1000 GTEs had been built, and overall Ferrari production had leapt to 654 cars per year. Between its launch in 1960 and the model's replacement in 1964, there were three series - the Series I of 1961, Series II in 1962, Series III in 1964, with only minor differences between each.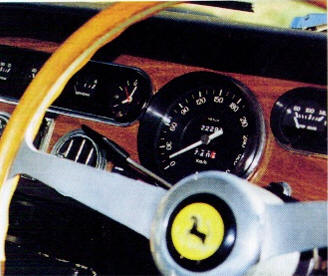 More muscle
In 1963, Ferrari started looking for more muscle to power its big four-seater cars. Attention soon focused on the engine from the Superamerica with 3967cc displacement, and a longer block for better coolant flow. Power was quoted as 300bhp at 6600rpm.
The man behind the new model was Englishman, Michael Parkes, who had joined Ferrari in 1962, fresh from his work on the Hillman Imp at Rootes - now that's what I call a career move!
The new car was to be larger than the 250. Two extra inches in the wheelbase created the necessary space for a useable rear seat. The car was fitted with a beefed up four speed gearbox with overdrive. The suspension was upgraded with heavier sway bars and adjustable Konis. Dunlop disc brakes provided the stopping power, with two separate systems and individual power boosters. All-up weight of the new car was only 160 pounds more than the 250GTE.
The engine was based on the original Colombo design (not the Lampredi engine, as sometimes stated). Two valves serve each cylinder and there is a single overhead camshaft for each bank. The aluminium block has iron liners and twin dual-point Marelli distributors. Fuel is supplied by three Weber two-barrel carbs. The same engine was used in the Ferrari 330GTC, although with a rear mounted gearbox.
Lukewarm Reception
The new model was officially launched at a press conference in Maranello in January 1964. The car on show was a white prototype, and was not immediately well liked. The quad headlights were criticised as being too avant garde, and the body design as not being avant garde enough! Adverse comments were also made about the 'soft' body styling and bulbous boot, especially when compared to the more razor-edged 250GTE. There's just no pleasing some people.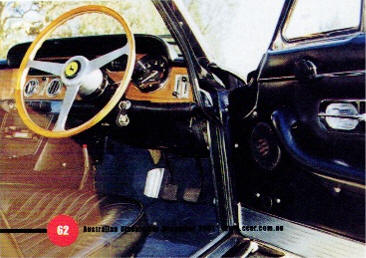 Time has been kind to the Pininfarina styling. The car is classically beautiful, understated, and beautifully balanced.
Compare it to the Lamborghini 400GT (also featured in this issue) with its odd windscreen shape, afterthought headlights and unhappy design details. The Ferrari, on the other hand, is just right, and its superb design disguises the sheer bulk of the car.
It is undoubtedly prettier than its obvious rivals - sportier than an Iso Rivolta (1962-1970), less extreme than an AC428 (1965-1973), more attractive than the Gordon-Keeble (1964-1966) or Lamborghini Islero (1968-1970).
Playing the 'Spot the influences' game, the car has an uncanny similarity from the front to an MGBGT (but bigger, of course) - it's the shape of the windscreen and the raised mudguards flowing to the headlights. The glasshouse shows definite Aston Martin DB4 traits, especially around the rear quarter windows. The rest is pure Ferrari.
Inside, it's classically upmarket late '60s. The wooden dash looks like high quality Formica. A little surprisingly for a Ferrari, it has good ergonomics. The handsome black-on-white instruments are just right and easy to read. A solid gear lever, angled towards the driver sprouts from a leather gaiter, rather than an open gate. The leather seats are very supportive, although a little short in the seat back for really excellent shoulder support (how spoilt we have become with modern high back seats). The big, almost vertical Nardi wood-rimmed wheel masks the absence of power steering.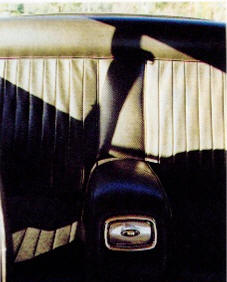 Elegance, pureness and simplicity
A quick read of the brochure shows just how far copyrighting has come since 1967. Translation skills seem to have improved, too.
"Bodywork by Pininfarina: the Maestro has created another masterpiece. The modern lines emphasise the essential characteristics of elegance, pureness and simplicity. The sides, of classic design, blends (sic) with the roof and with the rear, to offer a large capacity boot."
"The curved screen has hot only been studied for optimum aerodynamics but also to offer outstanding visibility. The front grille perpetuates the traditional Ferrari design, and the bonnet has a sweeping profile, as a result of studies for high speed streamlining and good appearance."
What else would you need to know before handing over your £6,500?
Bowing to pressure
During the production run of the Series I 330GT, the four speed gearbox was replaced with a much less troublesome five speed gearbox using Porsche-type synchromesh.
In 1965, Ferrari succumbed to the pressure of public opinion and replaced the quad headlights with much neater single units. The front of the Series II Ferrari now shared a close affinity with the 275GTS Spyder. Slotted side vents on the Series I were replaced with a three vent design, as on the 330GTC. The dash design was also revised, and the lovely Borrani wire wheels were replaced with very plain cast alloy wheels (the Borranis, as fitted to our featured car, were still available as an option).
The last Ferrari 330GT 2+2 was produced in 1967. It was replaced by another great model, the 4.4 litre 365 GT 2+2, but that's a story for another time.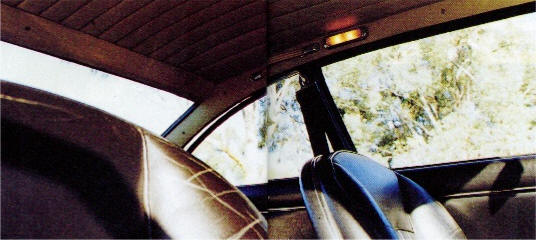 Expensive proposition
The Ferrari 330GT 2+2 may be affordable compared to a Daytona or 275GTB, but it's no economy car.
When David took possession of his car, it had been accident damaged in the back, and one side was damaged. That repair work was paid for by the dealer.
Since then, it sounds like one endless saga of fettling. "I've had the engine out, done the engine, the gearbox. Never stopped working on it. Had the steering column out - when it was converted to right hand drive, it wasn't done properly. Let's see, the brakes, shockers, steering, radiator, alternator, starter motor - I've got a little book where I write all this stuff down. It was a really nice straight car, but I was surprised at how it had been let go. The heads had been off it but it was very fumey."
Dave suggests that his car is not all that expensive to run. He regularly achieves fuel consumption figures of 18 to 19mpg. "I've had up to 20mpg out of it. I don't drive it hard, I respect it for what it is." At around $10,000-$12,000 to overhaul an engine, that can only be wise. Dave doesn't regret a moment of his ownership, in spite of the amount of work he's done on the car. I get the impression he even secretly enjoys it!
But, back to the high ticket items. "Sixteen hundred bucks for a gasket set for the engine was a bit of a shock. If I wasn't a mechanic, there's no way I could even contemplate buying a thing like this. I just wouldn't be able to afford to keep it. When you have to buy genuine parts, that's when it becomes expensive."
So, does he seek out cheaper, non-original replacement parts? "I've learnt to buy the genuine parts. I bought a (non-Ferrari) head gasket set, and I was told they were fine. I put the engine together and it leaked coolant. It takes two and a half days to get the heads on, and that was after the time it took to pull it apart. I rang the Ferrari agent about the factory items and they were $850 the pair. 1 ran the car for about six or nine months with leaking coolant... it was running beautifully but 1 was dreading having to pull it apart again. When I did, I put the Ferrari gaskets in and not a leak."
There are still some dodges, though. "I had to replace a ring gear and the genuine item was $1200. I had one made for $250. Generally, though, any mechanical stuff I buy Ferrari through the dealer - it's worth it in the long run."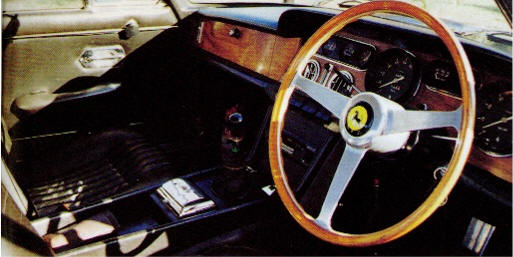 Seductive V12
You swing open the heavy steel door and slide into the seat. The cabin is airy and luxurious. It is in quite amazing condition and all original. Before anything else, you cheek out the location of all the important instruments and controls. To start, you turn the key and push.
"The three-litre engines were fussy and finicky, sort of like racing cars on the road, but this thing... you drive at 60km/h in fifth, or just put your foot down and run it out to seven thousand two hundred or so." Dave, having explained, demonstrates both driving techniques.
There's something seductive about a creamy V12. It's a rumble up to about 4000 rpm, and then it mutates into a howl.
From the moment it fires up you can hear those greedy Webers sucking fuel as the classic twin cam Colombo V12 makes all the noises you expect of an Italian thoroughbred. Four exhausts spit and crackle. There's a sense of hesitation as the multiple cylinders sort themselves out. The gearbox, as so often seems the case in V12 Ferraris, is slightly baulky when cold but has delightfully short, positive throws when warm. The steering could be described as slack at slow speeds (these things are, after all, relative) but tightens up as the suspension is loaded.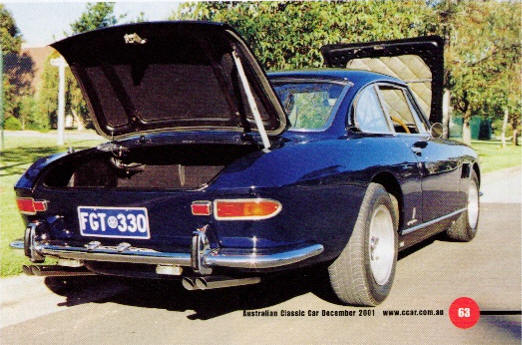 Despite its flexibility, clearly this is not a car for pottering off to the shops. On the open road is where it most impresses. Low down, there's grunt. As the revs rise, a different character comes into play. Between 4000 and 600Orpm, it's an Italian mechanical symphony of cams, chains, and three twin- choke Webers. Above that, engine noise becomes more intrusive and not very relaxing (especially bearing in mind the repair bill if all those mechanical bits get out of balance).
It's no lightweight at 3040 pounds, but there's only a little roll on wide sweepers. On tighter bends, mild understeer is easily brought under control with just a touch on the throttle. If you plan a U-tum, give yourself plenty of space - the turning circle is at least 45 feet!
Independent front suspension is by coils and wishbones with a live-beam rear end. The big car is firmly damped but still delivers a good ride. Bumps are soaked up, but the tyres rumble and the wind wails around the pillars. There is a noticeable grumble from the gearbox. "They all do that, but the 'box is virtually bullet-proof." The ratios themselves are more overtly sporting than you might expect from a big grand tourer. It may have four seats, but it is still, first and foremost, a Ferrari.
In 1967, these figures were little short of phenomenal. They still impress today: 300bhp at 6,600rpm; 0-60mph in 7.1 sec; 1-100mph in just over 15 sec, top speed 152mph.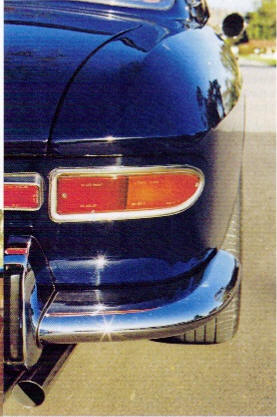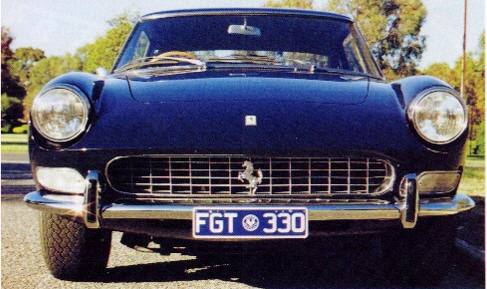 Work in progress
In spite of all the work and time Dave has already lavished on this car (or perhaps because of it) he is as much in love with it as ever.
"My plan is to keep working on it. Next thing is to get the wheels rebuilt. I don't want a concours car because I don't think you can use it and enjoy it then."
David Armstrong may have found his dream car later in life than most, but now that he has, he won't be letting go of it in a hurry. And why would he? There are few cars on the road with a reputation to equal that of Ferrari, and even fewer that can mix it with the mighty V12 engined cars. Add to that the quite superb, subtle, ageless lines of the 330GT 2+2 and its evident practicality and what could he ever consider swapping it for?
A Famous Engine
The engine in the Ferrari 330GT can be traced directly back to the engine designed by Gioachino Colombo to power the Type 125 in late 1946. It was a complex engine of just 1497cc, with single-overhead cams, one on each bank, operating two valves per cylinder. An aluminium block held iron liners and twin dual-point Marelli distributors generated the spark. Triple two-barrel Webers controlled the fuel/air mixture. These specifications (apart from capacity) are almost identical to those of the 330GT engine of 18 years later.
The Ferrari V-12 continued to be developed to power both racing cars and road cars. It was used to power the 250GT and 250SWB, the 1960-1961 GTE. In 1963, it was pressed into service (with minor modifications) in the 330GT 2+2 and 330 GTC.
In 1967, the engine was given yet another makeover, this time being bored out to 4.4 litres, for an output of 320 hp at 6,600rpm, and torque of 308 at 5,000rpm.
SPECIFICATIONS & DIMENSIONS

Engine

V

12, three Weber double barrel carburettors
Capacity
3967cc
Bore x stroke
77mm x 71mm
Valves
Single overhead cam per

bank two valves per
cylinder
Compression

8.8:1

Power

300

bhp @ 6600rpm
Transmission
Five speed manual
Brake

s

Servo assisted disc brakes
Length
15'10

.

5" (4.84m)
Width

5

'

7"

(1.7m)

Height

4'5.

5" (1 36m)
Wheelbase
104,2" (2.65m)

Front

track
55" (1.4m)
Rear track
54,

5"

(1.38m)

Kerb

weight
3884 lbs (1760kg)
3040 lbs (unladen) (1380kg)
Turning circle
45' (13.7m)
Clearance
4.75" (12cm)
Max speed
152mph (245kph)
0-60mph
7.

1

s

e

c
Fuel
consumption
14-16mpg (20 litres/

100

k)
Fuel tank
1.8 imp gallons (90 litres)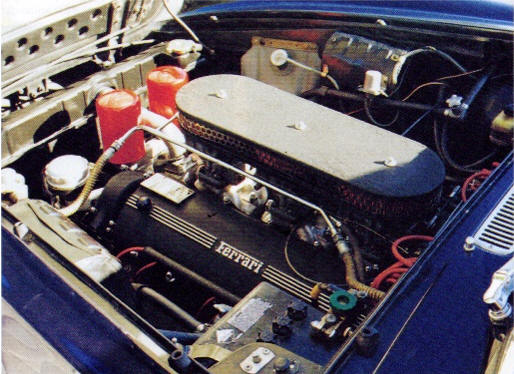 One for the collectors
Before production of the 330GT began, some of the 3967cc Superamerica engines were fitted to the last of the 250GTEs when supplies of the earlier engine dried up. Lighter than the soon-to-be released 330GT 2+2 and more powerful than the GTE, these were known as the 330 America - only about 50 were produced and all were snapped up by Luigi Chinetti, the US importer. All Ferraris are collectable, these are like gold dust!