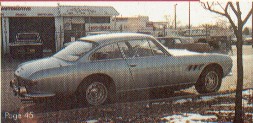 American Driver
By David E. Davis, Jr.
Cars: Some new, one not so new.
Ann Arbor—Our own Lawrence C. Crane has managed to locate and repurchase the 1967 Ferrari 330GT 2+2 that he owned twenty years ago. He has mooned around the office for years about that wonderful car, and now is once again in his possession. He and tech maven Kevin Clemens flew to Tucson, Arizona, to collect the old dear, and their drive home was a perfect example of what happens when you set out on a long journey in a thirty-year-old Italian car. They were warned by the previous owner that the heater might not work and, by George, he was right. They consulted the owners' manual, made the prescribed adjustments, and found that all they could get was different kinds of cold air. There was hot water in the hoses, but it wasn't making itself felt in the cockpit.
Roadside assistance plan: J&l Auto Electric in Marshfield, Missouri, provided an alternator for Larry Crane's Ferrari 330GT, enabling him to get back to Ann Arbor, albeit without heat.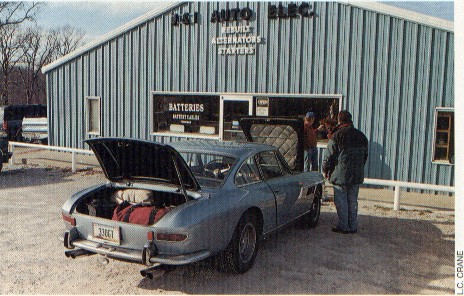 Also, as they arrived in Albuquerque, the needle on the amp meter began to oscillate between some amps and no amps—the sort of signal that has been causing automotive travelers' hearts to sink ever since we switched from magnetos. The alternator then died, and the battery began to die with it. Their solution was to buy a spare battery, figuring they'd run all day on one battery, until it died, then install the spare, recharging the dead one in the motel room at night. The driveshaft was vibrating almost unbearably at sixty and eighty miles per hour, so they drove at about a hundred where the frequency was less harmful to their tympanic membranes.
Because of their speed, "all day" turned out to be about two and a half hours, and they very quickly found themselves with two dead batteries. Interstate gas station/minimarts don't offer much emergency service. You can buy all the Vienna sausages anybody could ever want, but you can't get a battery recharged. No problem. The Ferrari 330GT 2+2 was well known for its commodious luggage accommodation, so they bought a third battery, and might have bought a fourth and a fifth, but for divine intervention in Marshfield, Missouri.
They stopped at the end of the exit ramp and looked around for help. A guy in a Chevy Chevelle SS 396 drove up to admire the gorgeous blue Ferrari and asked what the problem was. He told them that J&l Auto Electric was about a mile and a half away, and that J&I rebuilt most of America's tired, poor, huddled masses of alternators, yearning to alternate. Sure enough, the nice people at J&l provided them with a Nippondenso alternator that popped right in and restored life to everything but the heater. The temperature inside the car was a consistent and penetrating twenty-nine degrees.
Two days later, Larry appeared in my driveway at the wheel of his formerly lost love. It is beautiful—light metallic blue with a three-year-old dark blue interior. The V-12 engine is just hell for stout and makes the twelve-cylinder Ferrari noise that always makes the small hairs rise on the back of my neck. The 330GT 2+2 is a car that gave me a great deal of pleasure in the Sixties, and it was wonderful to have such a nice example gracing my driveway. Larry will take advantage of our annual Ice Age to fix the driveline vibration, and I would guess that the heater will be back in operation just about the time the hounds of spring come baying in on winter's traces.

AUTOMOBILE MAGAZINE MARCH 1999
Copyright © 1999 by PRIMEDIA Consumer Magazines