vintagestuff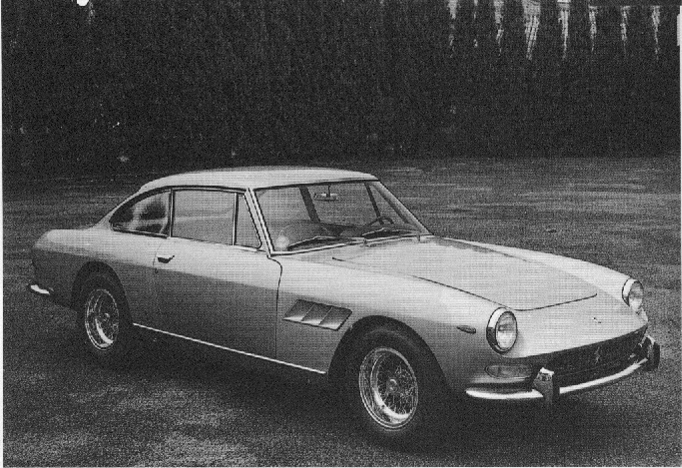 Ferrari 330GT 2+2 Series II
You don't often find the words Ferrari, V-12, vintage, practical. and affordable in the same sentence. But although the public image of Ferrari has always been enhanced by its two-seat sports cars, the marque's bread-and-butter cars have often been those with more seats than doors.
Ferrari's first four-seat car, which is more correctly called a two-plus-two due to its diminutive rear seats, was the 250GTE. At a time when the production of most Ferrari sports car models was measured in the dozens or low hundreds, the 250GTE sold 950 copies from 1960 to 1963.
It was followed by the mechanically enhanced but cosmetically challenged 330GT 2+2 Series I in 1964. Proving that not even the renowned Pininfarina design house gets it right every time, the Ferrari was saddled with an uninspired four-headlight front design that gave it a slightly bizarre look.
But this was remedied in 1965 when the shapely Series II was unveiled. The new single-headlight front treatment was a great success, and it was accompanied by a true five-speed gearbox in place of the trouble prone four-speed with overdrive. For the first time on a production Ferrari, power steering and air conditioning were offered as options.
The four-liter, single-overhead-cam engine was fed by three Weber carburetors and produced 300 horsepower at 6600 rpm and
415 pound-feet of torque at 5000 rpm. Contemporary testers recorded 0-to-60-mph times of 6.3 seconds, and Ferrari claimed a top speed of 152 mph. Although vintage Ferraris have been better known for their power than their handling or brakes, the 330GT was a superb all-around performer.
Best of all, the engine made all the great V-12 mechanical threshing-machine sounds that identify the cars from Maranello, so even with kids in the back seat a driver could feel a little bit like Ascari or Villoresi as he or she ran to the 6600-rpm redline in every gear.
Ferraris have never been cheap, and the 330GT was no exception. At a time when the base price of a Chevrolet Corvette Sting Ray coupe was $2947, the 330GT cost $14,200. A total of 455 Series II 330GTs had been built when production ceased in 1967.
There was a time in the late 1980s when Series II 330GT 2+2s were bringing $125,000 to $150,000, but in today's more rational times, a concours Series II 330GT 2+2 will struggle to top $50,000, and a decent used car should cost $30,000 to $40,000.
Nothing on a Ferrari is inexpensive, but the primary area of concern when buying a used 330GT is the engine. A complete valve job starts at $7500 and an engine rebuild begins at $20,000. If a car has been sitting for a while, the dampers may freeze, and a new set of four will cost more than $1500. Most body and trim parts are available, and the "parts for sale/parts wanted" section of the Ferrari Market Letter (a biweekly publication) is a treasure trove of resources. Overall, Ferraris are robust cars designed to be driven hard. And with the 3000 to 5000 annual miles that most enthusiasts put on thirty-year-old cars today, a car in good condition may need nothing hut an occasional oil change for the next ten years.
At today's prices, the 330GT 2+2 Series II lets you experience the glory of a vintage V-12 Ferrari for the price of a modern sport- utility vehicle. Oh yes and the Ferrari, over time, might even prove to be a decent financial investment. But that's probably the last reason anyone should buy one.
—Keith Martin
PRICES: $30,000-$40,000 for a nice driver, $50,000 for a near-show-condition car.
CLUBS: Ferrari Club of America, P0. Bo 720597, Atlanta, Georgia 30358 (800-128-0444, www.ferrariclubofamerica.org);
Ferrari Owners Club, 2012 La Cuestra Drive, Santa Ana, California 92705 (714-632-2657, www.ferrariownersclub.com);
Ferrari Market Letter; PO Box 870709, Stone Mountain, Georgia 30087 (770-381-1993, www.ferrarimarketletter.com).
SPARES: T. Rutlands, Tucker, Georgia 770-493-8852.
APRIL 1999