Santa Fe Fare
SECOND-YEAR CONCOURS DRAWS STRONG LIST OF CLASSICS
BY DENISE MCCLUGGAGE
AS LADY SUSIE MOSS put it, "I love these boutique car shows! "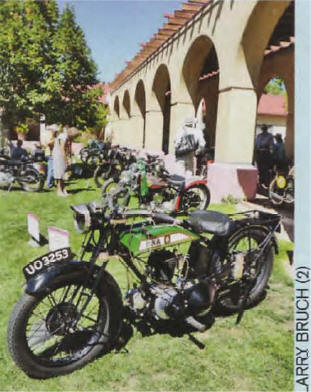 One of the six-cylinder motorcycles.
She and Sir Stirling were on hand for the prototypical boutique car show for their, and the show's, second year. The Santa Fe Concorso on Sept. 25 proved that last year's inaugural event was not a fluke success.
The weather was again New Mexico's best, with a spur-rowel sun in a turquoise sky. South western archways framed fine rolling stock such as the 1967 Maserati Ghibli GT Coup e and the 1953 Cadillac Series 62 Coupe by Ghia , the latter of which won one of the two Best in Show awards. Equally pedigreed horses, denizens of the equestrian center known as La Mesita where the show is held, arched their heads out of stall windows to survey a lawn full of brethren in transport.
A boutique show is small by definition and unique by design. The Santa Fe Concorso features only about 75 vehicles, but all-as Spencer Tracy would say- are "cherce." And idiosyncratic. Santa Fe sometimes pairs then and now, such as a 1957 Mercedes-Benz 300SL roadster with a 201 2 AMG SLS roadster, a Mazda Cosmo from 1967 and a hydrogen Mazda RX-8 of a future date, or a Jaguar E-type from then with now's Jaguar XKR.
The oldsters were plentiful, including a 1927 Kissel Gold Bug Speedst er, a 1932 Lincoln Boattail Speedster, a 1917 Detroit Electric Opera Coupe, a 193 1 Bentley 4.8 Liter Le Mans and a 1933 Rolls-Royce Phantom II Continental Sedanca DHC, which was the other Best in Show. Amelia Island was the first concours to award two "bests" - one for sport and one for elegance, and Santa Fe has followed. The Rolls, owned by Jay and Christine Moore of Lahaina, Hawaii, won Best in Show, Elegance. The Ghia Cadillac, from the Petersen Automotive Museum, won the Sport division . (A list of awards is at www.santafeconcorso.com.)
One theme of the show was "The Need for Speed," with fast machines and ground- effects pioneers such as Jim Hall's 1966 Chaparral 2E Can-Am car and Paul Rego's 1978 Lotus Type 79, plus an A. J. Watson 1959 "Simonize Special" in which Jim Rathmann set a racing speed record and a Holman and Moody 1967 Honker II Can-Am car from the late Tom Mittler's collection. A 1969 McLaren M6B GT might have been paired with the 1996 McLaren F1 that Ralph Lauren sent.
Two-wheelers were well represented by the World's Fastest Indian of movie fame and the World's Fastest Harley-Davidson. Among silent two -wheelers was an 1886 penny-farthing.
Rejoining Sir Stirling as an honored guest was AI Unser, with one of his Pikes Peak cars from the Unser Racing Museum in Albuquerque. Sir Stirling was paired with Bob Bondurant in a Q&A about their racing careers. Unser joined Bill Moss (unrelated to Stirling), former NASCAR driver and builder of Talladega Raceway, for another Q&A.
A panel on restorations was led by Paul Russell and Jim Stranberg. Saturday morning was tour time. Participants took to the hills with a twisting drive up Route 4 to what is likely the second largest caldera in the world.
Beverly and Dennis Little, founders of the Concorso, announced next year's dates: Sept. 28 -30. Lady Susie said she'd be back for her favorite boutique show .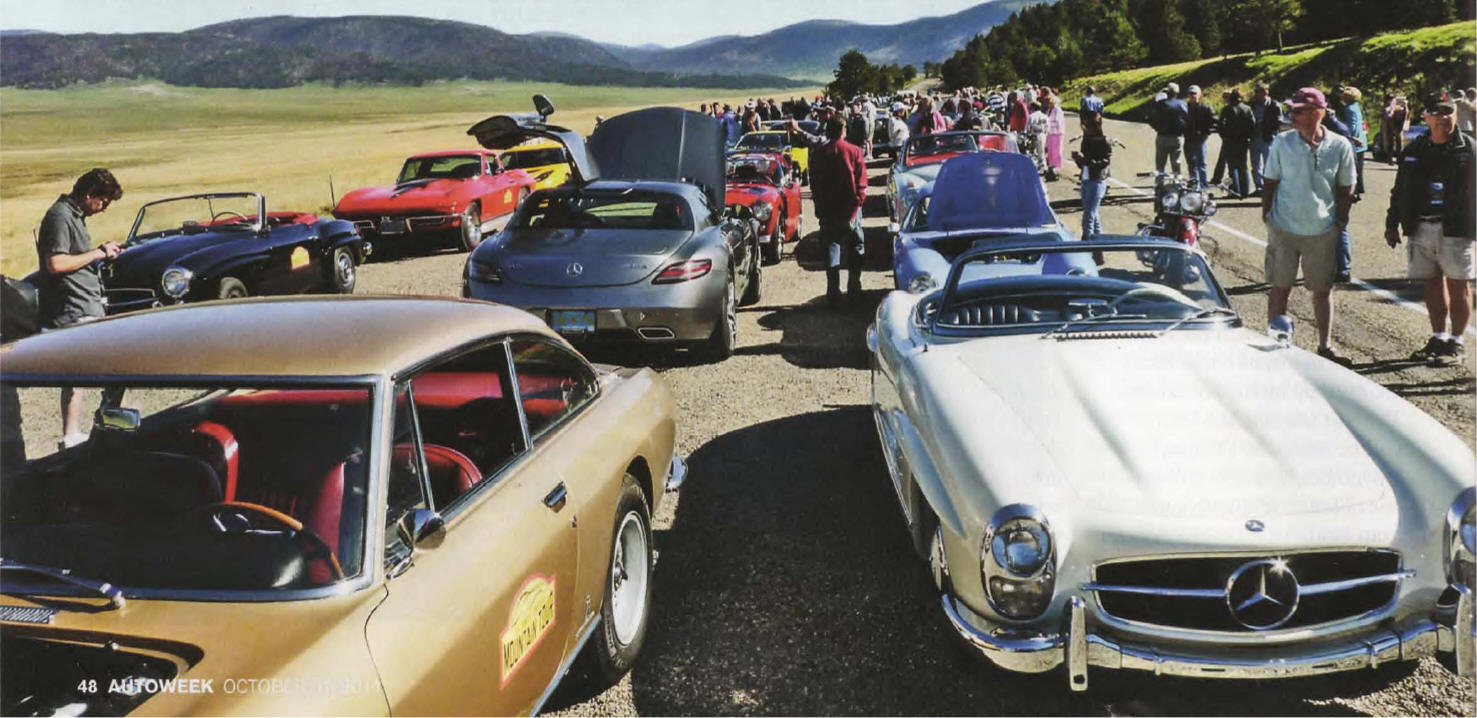 The tour group parks along the caldera, the center of a collapsed volcano.
October 27, 2011 AUTOWEEK
Copyright 2011 by Crain Communication Inc.