MARANELLO, ITALY—Ferrari's replacement for the "two plus two" went into production early this year. It's called the 330-GT and at present the production line is almost entirely devoted to this model in order to build up a stock. Not that there won't be a waiting list; there always is for a Ferrari, but deliveries have already begun.
The type 290 engine of the 330-GT is a new unit with the bore centers farther apart than in the 400 Super-america, although bore and stroke are identical (77 x 71 mm, V-12). Clearly, Ferrari will enlarge this engine when more displacement is needed. The 330-GT is rated at 300 bhp @ 6600 rpm; well above the 240 bhp @ 7000 of the "two plus two." Wheelbase is two inches longer, and the independent front suspension differs from the 250-GT series in having needle roller bearings on the king-pins and a thicker anti-roll bar. Pininfarina styled the body and has been criticized for the headlight treatment, but no one has questioned the value of quad lights. Mike Parkes said they showed a clear superiority during night testing. Ferrari hopes to maintain a 3-car-a-day production schedule in 1964, shared among the 330-GT, the 250-GT Berlinetta, and the 250-LM. Also planned is a larger model to take the place of the 400 SA.
The racing department is busier than ever, it seems, and there are new models for both sports car and GP races. The new 275-P has an enlarged (3.3-liter) version of the Testa Rossa V-12 located ahead of the rear wheels, and the 330-P has the old-block 4-liter in what is basically the same chassis.
For Grands Prix, Ferrari will use two V-6 cars (as raced at Monza last year), two V-8 fuel-injection cars, and two 12-cylinder cars destined for high-speed circuits. The 90° V-8 has a bore and stroke of 64 x 57.8 mm and a displacement of 1487.5 cc, and reputedly puts out 215 bhp at 10,000 rpm. On the flat-twelve, they are still experimenting with different bores and strokes, and no power figures are available. Team engineer Forghieri seems to expect something like 225 bhp @12,000 rpm. Air intake pipes on the V-8 have been relocated with a port on top of the head; the flat-twelve has side ports with the intake on top and the exhaust below. To meet the torque characteristics of the 12— cylinder engine, Ferrari has come up with a 7-speed transmission! It's a good thing that the current F-1 only has two years to go. —Pete Coltrin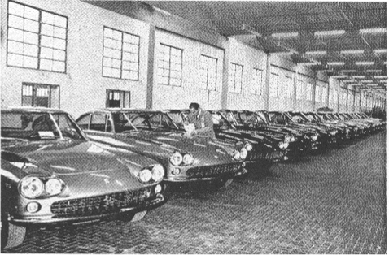 A batch of shiny 330-GT coupes fresh from the Maranello Assembly line await collection