Dead but not dishonoured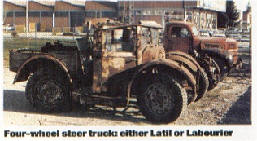 This dumped Ferrari is for real. It's one of two 330GT 2+2 models which have been found on a former demolition site in Reggio Emilia by Belgian correspondent Jean-Christophe Mousset.
Given the sound-looking bodywork but the apparent lack of mechanicals, the cars - 1964-65 twin-headlight models - have most likely been cannibalised to make GTO or Testa Rossa replicas.
Keeping the dead Ferraris company is the carcass of a four-door Alfa Romeo 6C2500, a rare beast indeed. As far as! can make out it's a Pininfarina berlina of 1950-53, and if so would have been on a Sport chassis. Again, it's probably yielded its mechanicals to make a fake two-seater or coupé.
Not your sort of thing? Well, maybe a naked Fiat Topolino chassis in another corner of the site might appeal - it looks complete, and the tyres are holding air. Finally there's a wonderful four-wheel steer truck; it's almost certainly a B-type Latil, a French-built agricultural tractor.
Classic and Sportscar, August 1995
Copyright 1995, Classic and Sportscar
Published with permission of Classic and Sportscar