Face like
A HORSE
Could there be such a thing as an ugly Ferrari?
Yes, says Mike McCarthy, tongue not quite firmly in cheek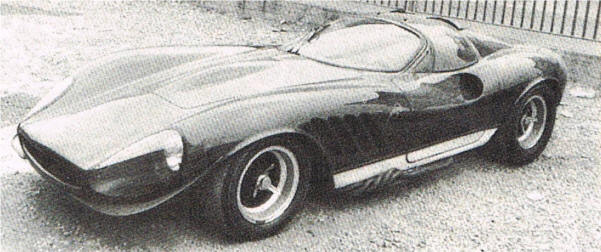 The ugliest of them all?
The Thomassima III tried to apply P3/4 lines to a front-engined car
Somehow the words ugly' and 'Ferrari' don't go together. They're immiscible, like oil and water. You really have to try hard to produce anything ugly on such glorious underpinnings. But it's been done, and gloriously badly too.
Until the mid-fifties, of course, Ferrari only made chassis onto which the Italian coachbuilders — Touring, Farina (both Stabilimenti and Pinin), Vignale, Gina which gave great scope for some horrors to appear, but in general this wasn't the case. In fact some of the great Ferrari bodies appeared in those early years, particularly from Vignale. They employed a young Giovanni Michelotti, and he responded enthusiastically to the glamour of the Ferrari mechanicals. Touring, of course, came up with the 'little boat', the barchetta-bodied 166, an all-time classic shape which AC pinched for the Ace and developed into the bulbous Cobra.
The honour of the first truly horrendous shape must be laid at the door of one of the Marzotto brothers, Gannino, who had a gent called Reggiani design a body for his 166MM. Reggiani has, fortunately, sunk into the annals of history, and it's not surprising. 'Uovo', or Egg', as the car was instantly nick-named from its shape, may have been ugly but at least it went; it was leading the 1951 Mile Miglia before it retired. Rumour has it that tins was actually the second body on this car, and that the first was even more evil,..
Left: The Felber FF converted a 330GT into a cycle-wing replica with fatal results. Below left:
Zagato flattened the nose of his 1971 3Z, based on a 250. Below: The original ugly Ferrari, the Marzotto's Uovo (egg)
Like all Ferraris, ugly ones can be divided into four types: single-seaters, sportscars, road cars and show cars. Up until the late sixties there were no ugly single-seaters. The Squalo may have been a bit dumpy, while the Chiti shark nose wasn't the happiest of air intakes, but at least Ferraris were sleek and smooth and rounded. By 1971 they were beginning to go square, and in 1972 the 312B3 appeared, the original flat iron with massive snow- plough nose incorporating two huge NACA ducts. Fortunately, it vanished before being raced, to be replaced by the F1/B3, a much neater, Lotus 72-like device. In the seventies the 312T2 and T4 could hardly be called pretty, but the former did give us side air intakes winch were to inspire Pininfarina when he reshaped the Boxer into the Testarossa — if 'inspire' is the right word...
Above: Not only the Italians got it wrong —
this 330GTC-based special was created in England.
Right: Ruined 250 GTO —
but the 'Breadvan' was very quick.
Below: odd fin and bulging headlights do nothing for Phil Hill's 1954 Carrera 375MM.
Below right: Pininfarina's Cr25
The main-stream sports-racers too survived unscathed for most of their lives, and indeed provided some of the all-time classics; the 250MM, the 375MM, those sensuous Dino Ferrari-inspired Scaglietti bodies of the fifties, the GTOs, the P3s and 4s. One of the few glitches came from Vignale, though; alongside some of his most stunning designs he came up with a stumpy spider with faired-in headlamps cutaway doors and portholes down the side. Phil Hill didn't improve matters very much when a fin was added to his 1954 Carrera entry version. From the front it looks like a miserable schoolboy. As a school report might have said, 'could do better'. And the very last of the sports-racers, the 312PB, could be called aerodynamic-ugly.
Which made hiccups, when they came, all the more horrendous. Carlo Abarth no less must take the blame for one; based on a 166MM chassis, the body was designed to be totally detachable via a multitude of Dzusz fasteners. The best thing that could have happened to it was to throw it away at that point and start again. The 1962 Chiti-nosed 4- litre prototype, complete with basket-handle rollover bar and bedecked with humps, slots, scoops, vents and other holes definitely comes into the ugly class — but at least it won Le Mans, driven by Hill and Gendebien. It was also Ferrari's last front-engined sports-racer. And, of all things to do, Messrs Drogo and Bizzarini tried to improve the GTO; the result, for obvious reasons, was called 'The Breadvan'. Effective, yes; but ugly.
When it comes to the road cars there've been some uninspiring designs in the mass -produced models, insofar as any Ferrari is mass-produced, but from the 250GT Europa on, Ferrari's road cars have been the height of style, the perfect car for swanning around Monte Carlo. The GTE was, by Ferrari's standards, rather mundane (which was why well- used ones formed the basis of so many specials) but it wasn't ugly; the same could be said of the 308 GT4. Until, of course, we come to the F40. Purposeful, yes. Exciting, yes. Ugly, yes.
And so to the one-offs (which of course includes almost all pre-1955 Ferraris). Here is where we have the right royal cock-ups. Michelotti/Vignale lost their way in 1954/55 when they started using over-powerful grilles and an excess of ornamentation. Ghia did some strange things, notably a 410SA with enormous fins which echoed the Chrysler Gilda/Dart theme, and didn't get him anywhere at all. Boano's 410SA had a reasonably clean grille but droopy-drawers fins, as if they couldn't stand up under their own weight. The poor 410SA seems to have come in for more than its fair share of artistic abuse, because even Pininfarina fronted an otherwise clean if square-cut shape on a 410SA with a huge square-cut Volvo-like bare grille. It ;vas built for Gianni Agnelli, who should have known better. Drogo again uglied up a SWB and a 330GT via square noses and angular lines plus exaggerated front and rear overhangs.
The vogue for square-edged design in the seventies, in fact, did nothing for Ferraris, which must be curvaceous, and led a good few designers up the garden path. One such was Bertone, who produced the 'Rainbow' on a 308 GT4 chassis. There's not a curve in sight — nor a good line either. And even Pininfarina dropped a danger now and then, such as with the Cr25 on a mythical Ferrari chassis: it was a great gormless thing, with a front bumper-cum-wing that must have been inspired by a Neanderthal gorilla. Still, we can forgive him the occasional oddity...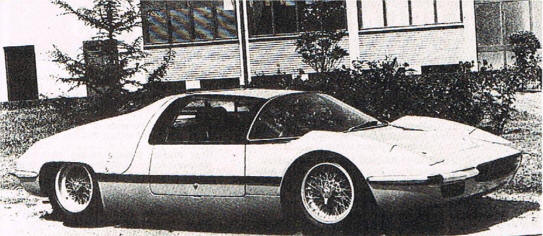 One of Luigi Chinetti Jnr's less successful attempts —
beneath this bulbous, ill-proportioned monster lies a beautiful 275P
But the person who has tried his damndest to devise ugly Ferraris is the American distributor and head of NART, Luigi Chinetti, aided and abetted by Michelotti who went from bad to worse. In 1967 there was an angular and awkward Targa-top 330GT; the last Vignale-bodied Ferrari was also for Chinetti, also on a 330GT chassis estate - but was a bland estate. A Ferrari estate? In 1974 Michelotti and Chinetti were at it again with the NART spider, while in 1975 they settled for a Corvette rip-off.
And so to the ugliest Ferraris; in ascending order of ugliness they are the 1971 Zagato 3Z (all angles and a flat shovel nose), the Chinetti/Bob Peak 275P (a Dino put through a mangle then shoved on the air line), the Felber FF (a replica, heaven help us, of the original Ferrari cycle-wing spider on a 330GT chassis, an over-blown Panther Lima Iook alike designed by Bob Jankel and built by Panther) and, top of the league, the Thomassimas, gross caricatures of P4 bodies on lesser chassis. Even the worst replicar makers did it better- They're so bad they're brilliant.
Above: 1962 4-litre prototype was smothered with scoops, humps, and holes, but won LeMans.
Right: Drogo's extended, squared- off nose and tail ruined a good 330GT

Left: Hey — shovel- face! 1971 312B3 never actually saw a race.
Right: Bertone's Rainbow.
Below left: Michelotti started losing his touch with this Europa.
Below right: Bullets and flash fins on a Ferrari? Oh Ghia...
Copyright 1998, Classic and Sportscar
Published with permission of Classic and Sportscar