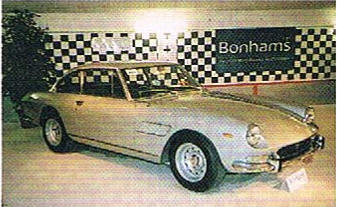 1967 330GT Series II, £27,819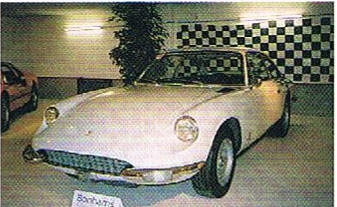 1970 365GT, value at £21,250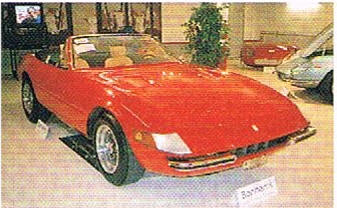 Superbly chopped Daytona, £117,104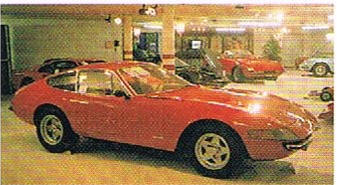 Restored '72 365GTB/4, £59,846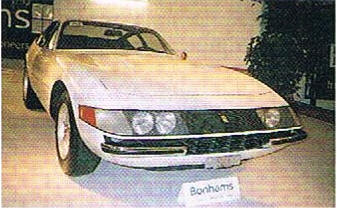 Plexiglass-front 365GT8/4, £65,371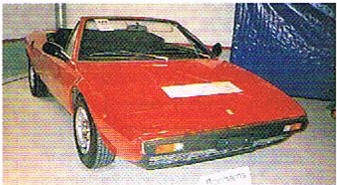 Spider-converted 208GT4, £11,022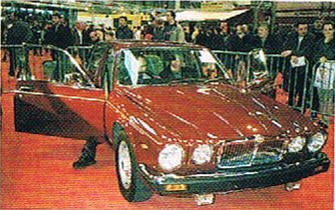 Barely driven XJ6 S3, £6843, Coys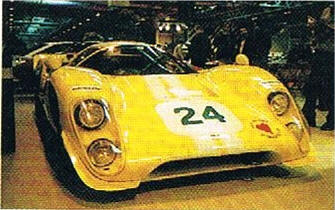 Le Mans 1968 Lola T70, £89,500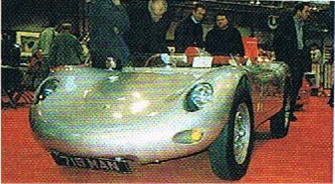 Well done Porsche 550 rep, £12,075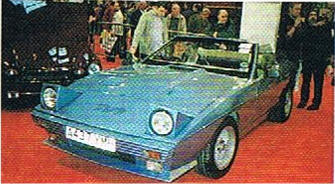 TVR Tasmin 350i cheap at £3105
CAR
AC Cobra Mk IV
Alfa Romeo GTV 2.0
Alfa Romeo
Austin Mini Cooper Mk1 998 racer
Austin Mini Cooper 'S' Mk2 1275
rally
Austln-Heatey 100/6
Auutin-Healey 3000 Mkll
Auntin'Healey Sprite Mkl racer
Bentley 4¼ tour
Bentley Mulsanne
Bentley s3 Cont PW
BMW 2002tii
BMW 3200C5 lhd
BMW 320i auto conv
BMW 750IL auto
BMW M535i
BMW M635Csi
Brabham BT 21X Repco single-str
Chevrolet Corvette 5.7 auto conv
Chevrolet Corvette 5.7 auto T-top
Daimler DB18 Consort
Daimler Double Six SIll
Daimler V8 250 auto
Delahayn 235 Chap cpe
EIva FJ slngle-str
Evante 14OTC MkII
Facel-Vega FV3 cpe lhd
Ferrari 166 Spider Corsa
Ferrari 208GT4 Btn conv lhd
Ferrari 246GT lhd
Ferrari 246GT I to rhd
Ferrari 246GTS
Ferrari 250GT Lusso lhd
Ferrari 250GT Lusso lhd
Ferrari 250GTE S3 lhd
Ferrari 275GTB/4 lhd
Ferrari 275GTS conv lhd
Ferrari 308GTB GRP
Ferrari 308GTB/C racer
Ferrari 308GTBi lhd
Ferrari 328GTS lhd
Ferrari 330GT S1 lhd
Ferrari 330GT S2 lhd
Ferrari 330GTC lhd
Ferrari 330GTS conv lhd
Ferrari 355GTB lhd
Ferrari 365gt 2+2 lhd
Ferrari 365GTB/4 Brand conv lhd
Ferrari 365GTB/4 lhd
Ferrari 365GTB/4 lhd
Ferrari 400GT Ban auto conv
Ferrari 412 lhd
Ferrari 512BBi lhd
Ferrari 550 lhd
Ferrari Testarossa lhd
Ferrari Testarossa lhd
Flat 600
Jaguar 420G
Jaguar B-type S1 3.8 rdstr
Jaguar B-type S1 3.8 rdstr + h'top
Jaguar B-type S1 3.5 cpe
Jaguar B-type S1 4.2 racer ÷ h'top
Jaguar B-type S3 5.3 2+2 + Web
Jaguar B-type S3 5.3 2+2 lhd
Jaguar Mk2 2.4
Jaguar Mk2 3,4
Jaguar Mk2 3.8
Jaguar Mk2 3.8
Jaguar XJ6 Lad Avn conv
Jaguar XJ6 S3 4.2
Jaguar XJC 4.2
Jaguar XKI20 comp-spt
Jaguar XK150S 3.8 cpe
Jensen Interceptor Ill
Lanchester LA10 Mull 6-wind sal
Lancia Delta Integrale HF 16v
Land-Rover S3 swb-est
Lea Francis 14hp spt
Lea Francis spec-spt
Lola '170 Mklll
Lotus Europa S2
March-Ford 732/742 F2 single-str
Marcos LM600 racer
Martini-Renault MkIV F Fr single-
str
Maserati 222SR 2.8 auto
Maserati 280 Bi-tur auto conv
Mercedes-Benz 280SL + h'sop lhd
Mercedes-Benz 280SL lhd auto
Mercedes-Benz 350SLC auto lhd
Mercedes-Benz 600 lhd swb auto
MG Midget racer + h'top
MG Midget
MGB GT Mklll cpe
Monteverdi 375L Fis auto lhd
Morris Minor 998 racer
Porsche 3568 conv lhd
Porsche 550 replica
Porsche 911 2.7 lhd
Porsche 928S4 lhd
Prost-Mugen Honda Fl single-str
Proteus Jaguar C-type rep
Proteus Jaguar C-type rep
RAM Fl slngle-str
Riley Scott MkVII IRC single-str
Rolls-Royce MPW cpe
Rolls-Royce Silver Shadow II
Rolls-Royce Slvr Wraith PW auto
limo
Rover PS Mklll
Strathcarron SCSA
Triumph Spitfire 1500
TVR Tasmin 350i
Volkswagen Beetle lhd
Westfield SE 1.7
YEAR
1987
1982
1971
1964
1968

1958
1962
1960
1937
1991
1963
1976
1964
1992
1988
1987
1986
1968
1989
1984
1951
1988
1964
1955
1959
1991
1957
1947/48
1975
1972
1969
1974
1964
1964
1963
1967
1964
1977
1979
1982
1989
1964
1967
1967
1966
1996
1970
1971
1970
1972
1979
1986
1982
2001
1985
1986
1964
1969
1961
1962
1963
1966
1972
1973
1963
1961
1963
1965
1975
1986
1975
1953
1959
1972
1932
1990
1979
1948
1946
1968
1971
1973
1995
1969

1992
1990
1972
1978
1975
1969
1972
1966
1974
1970
1957
1963
2000
1977
1989
1997
1978
1992
1985
2000
1969
1979
1955

1966
2001
1977
1984
1998
1992
COND
exc/lm/fo
fair/refurb
fair/restd (o)/sh
exc/restd (o)
v.good/restd

v.good/Welch eng
v.good/restd/rnods
restn (s)/no eng
good/1960s bodied
v.good/orig/lm
v.good/repaint/orig int
good/repaint/gh
good/repaint/orig int
good/fsh
good/no
fair/gh
v.good/repaint
v.good/bi
v.good/gh
exc/vlm/rhd
good/gh
v.good/fsh
v.good/restd
v.good/v.orig/fo
v.good/restd (o)
fair/eng refurb/lm
exc/restd lo)
exc/restd/hi
good/chop In)
exc/restd (a)
v.good/restd (a)
v.good/repaint/org int
exc/orig int/hi)
exc/restd/hi
v.good/refurb
supb/refurb/lm
v.good/restd (o)
v.good/restd
good/restd (o)
exc/restd
exc/orig/ln/oo
v.good/repaint 10)
v.good/restd (0)
v.good/restd (0)
v.good/repaint/lm
exc/fsh
repaint/rnech refurb
supb/restd (o)
v.good/refurb/lm
exc/restd (o)
good/eng refurb/gh
v.good/repaint/orig int
v.good/restd
supb/Fiorano-spec/lm
v.good/restd
v.good/mech refurb/lm
good/refurb/lm
v.good/restd
fair/hi
v.good/ex-NZ/new int
exc/restd
exc/restd
v.good/refurb/man
exc/restd
fair
v.good/restd/man
v.good/refurb/man
good/restd (o)
v.good/lm/fo
supb/orig/vlm
v.good/v.orig/hi
exc/restd/Beatty eng
enc/restd
good/gh
v.good/restd (o)
fair
exc/restd/90 2.5 egg
exc/restd
v.good/restd/hi
supb/restd/hi
fair/mech refurb
v.good/refurb/hi
good/hi
good/refurb

fair
v.good/sh
v.good/new eng/fo
good/oo
fair/fo
exc/MB restd
fair/refurb
v.good/restd/ll-spec good/refurb/fsh
v.good/restd
poor/much refurb
v.good/restd
v.good/914 eng
fair/mods
good/eng refurb
v.good/no eng/hi
exc/built 1988
v.good/p.built/no eng
fair/no eng/hi
v.good/inc
good/refurb (o)/hi
good
v.good/repaint/v.orig

v.good/lm/fo
exc/vlm
fair
fair/refurb
exc/fsh
v.good/lm
SALE
Coys
Barons
Barons
Artcurial
Coys

Coys
Coys
Coys
Coys
Artcurial
Artcurial
Barons
Artcurial
Barons
Barons
Barons
Coys
Coys
Barons
Barons
Barons
Barons
Barons
Artcurial
Coys
Coys
Artcurial
Bonhams
Bonhams
Bonhams
Coys
Coys
Bonhams
Bonhams
Bonhams
Bonhams
Bonhams
Coys
Bonhams
Bonhams
Bonhams
Bonhams
Bonhams
Artcurial
Bonhams
Coys
Bonhams
Bonhams
Bonhams
Bonhams
Barons
Bonhams
Artcurial
Bonhams
Artcurial
Bonhams
Coys
Barons
Coys
Coys
Coys
Coys
Barons
Artcurial
Barons
Barons
Artcurial
Barons
Coys
Coys
Barons
Coys
Artcurial
Barons
Barons
Barons
Barons
Artcurial
Artcurial
Coys
Coys
Artcurial
Coys
Artcurial

Barons
Barons
Coys
Artcurial
Coys
Coys
Coys
Barons
Barons
Artcurial
Coys
Artcurial
Coys
Barons
Barons
Artcurial
Coys
Coys
Coys
Coys
Barons
Barons
Artcurial

Barons
Coys
Barons
Coys
Barons
Barons
PRICE
£34,500
£1100
£3180
£8424
£8000

£12,075
£13,455
£633
£14,663
£21,975
£16,847
£2350
£8057
£5936
£2150
£1475
£6440
£17,250
£7950
£12,084
£4240
£4823
£6360
£29,299
£17,643
£4320
£33,694
£491,402
£11,022
£46,937
£55,950
£38,000
£150,253
£270,294
£35,167
£290,384
£117,104
£24,701
£26,244
£14,172
£29,394
£16,271
£27,819
£47,452
£113,086
£38,350
£21,520
£117,104
£65,371
£59,846
£6396
£15,221
£36,624
£144,718
£27,834
£25,194
£1438
£8480
£25,875
£18,975
£25,300
£28,750
£10,600
£14,650
£4240
£12,614
£12,452
£6201
£5178
£6843
£4240
£33,638
£27,834
£4346
£4611
£1750
£4028
£13,185
£18,312
£89,500
£2875
£27,834
£31,050
£5860

£1550
£5565
£12,360
£5860
£1323
£22,425
£4140
£5512
£2756
£14,650
£3450
£27,834
£12,075
£5300
£5300
£21,975
£26,300
£24,725
£13,800
£20,700
£8056
£6731
£23,439

£1650
£14,663
£2150
£3105
£6890
£4240
Only vehicles believed sold are listed. Prices include buyer's premium, but not the VAT payable on it.
FEATURED SALES AND PREMIUM RATES
Barons, Sandown Park, Dec 15 (buyer's premium 6 per cent); Artcurial/Poulain, Paris, Dec 16(15 per cent); Bonhams, Gstaad, Dec 20(16 per cent); and Coys, NEC, Birmingham, Jan 11(15 percent on first £30,000 bid, and 10 percent on remainder).
GUIDE KEY
f-fair; good - good; v.good - very good; exc - excellent; supb - superb; conc - concours; sh - service history; fsh - full service history; g.hist- good history file; hi - historically interesting; orig - original; v.orig - very original; n.orlg - not original; lm - low mileage; vlm - very low mileage; del miles - delivery miles; oo - one owner; fo - few owners; p - poor; refurb - refurbished; renov - renovated; restd - restored; restd (o) - older restoration; p restd - partially restored; compl - complete; inc - incomplete; to - taxes owing; not reg - not UK registered.
COACHBUILDERS KEY
Ban - Banham, Brand - Brandoli, Btn - Bertone, Chap - Chapron, Fis - Fissore, Lad Avon - Ladbroke Avon, Mull - Mulliner, MPW - Mulliner Park Ward, PF - Pininfarina, Prot- Proteus, PW- Park Ward