Ferrari will rise from ashes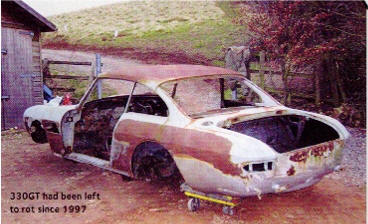 You don't get much Ferrari 330 GT 2+2 for £400-odd, but Mark Butler has proved that if you are sharp-eyed enough and brave enough you do get something. In his case a bodyshell. The Leamington Spa-based enthusiast spotted this 1965 Series 2 shell on eBay at that point selling for just £100 and, after a few bids, secured it for £420. He now plans to build a car out of it.
He takes up the story: "It was registered in the UK in '65 with the licence number GMO 5C. Around '77 it was exported to the USA where it remained until the mid- to late '90s. I know the car was auctioned by Brooks in '97 as a restoration project with the engine rebuilt and out of the car. Then there is a gap — though I believe the drivetrain was used in a Testa Rossa replica and the remains were sold to a vehicle dismantler who went bust. The owner of the yard sold the car to me to cover the outstanding rent.
"Some 500 Series 2 cars were made, of which 37 were right-hand drive. This one is chassis number 7663 which was the first rhd Series 2 car manufactured. Because of this I think the car is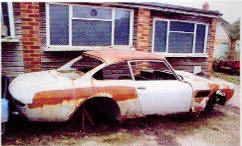 Floors are missing from mammoth rebuild project

worth saving in history and guidance some way, shape or form, although until I have done some further examination it's hard to say exactly how I'm going to go about this, never having tackled anything on this scale before."

As a result the fearless would-be restorer would welcome advice, from model and marque experts. He concluded: "I would like some advice on cross-checking the chassis number to the Pininfarina body build number just to confirm that the two stack up before I invest great amounts of time or money into this.

"If anyone has any details on what the floor should look like on this car then please let me know because mine is missing. I have heard that the Series 2 should have a GRP floor but unless the Italians have invented GRP that rusts then it wasn't the case on my car. I know pretty much everybody on the planet would not touch this with a bargepole, but if I can make it work then I'll be happy."

Contact him with any info by e-mail to mel.butler@virgin.net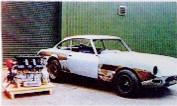 As it was in 1997, with rebuilt engine
Classic & Sports Car
Copyright 2006, Classic & Sports Car
Published with permission of Classic & Sports Car