CAR and DRIVER/MARCH 1965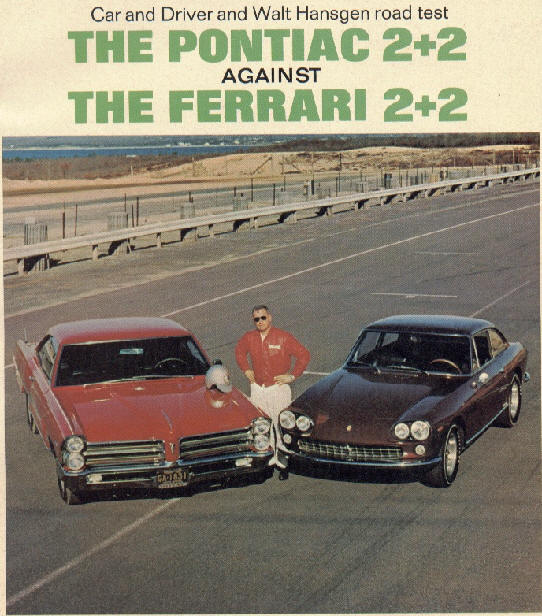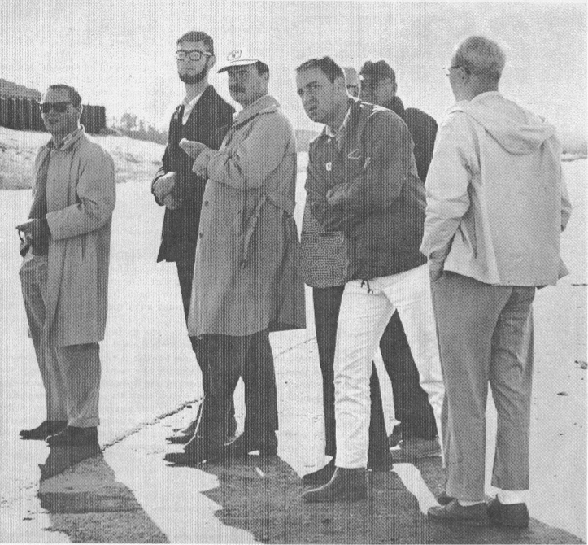 Car and Driver and Walt Hansgen road test
THE PONTIAC 2+2
AGAINST
THE FERRARI 2+2
Exactly one year ago, we published a road test of the Pontiac GTO. We liked it enormously, said so, and opined that Pontiac had earned the right to the name——whether Ferrari had it first or not. The subsequent response proved that it is possible to love both wisely and too well. Now we present the next round—the Pontiac 2+2 versus the Ferrari 330/GT 2+2. Racing driver Walt Hansgen joined us at the Bridgehampton road circuit, drove both cars under the same conditions, and gave us his most candid impressions of each. We have woven Walt's observations into our own, and he had some pretty cogent things to say. For the benefit of those who are about to compose blistering attacks upon us for our Letters column, our address is One Park Avenue, New York 16, and we have wives and mothers, so watch it.—Ed.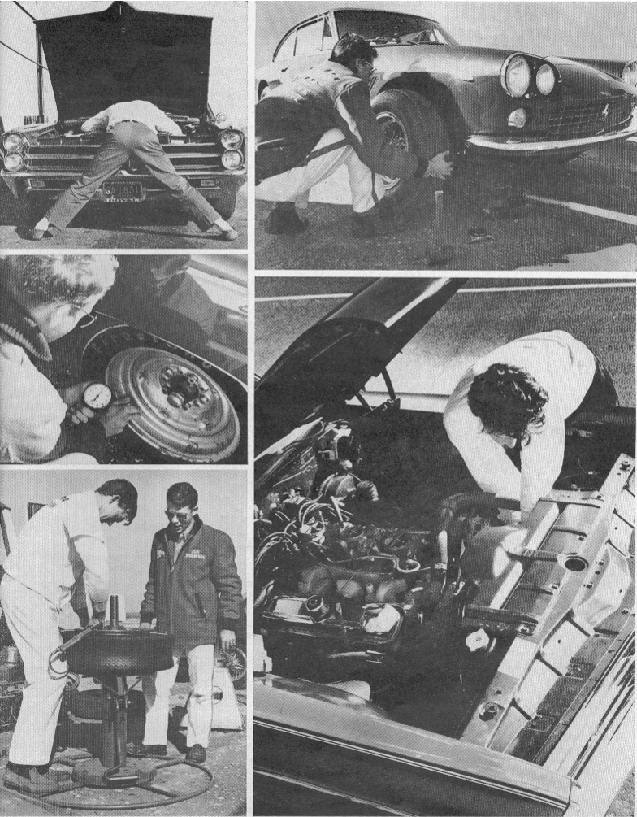 It's doubtful if Pontiac had any idea of the conflict that would erupt when they started naming their cars after various Ferraris and European tourist attractions. Even though the controversy is limited to the rarefied atmosphere of automotive enthusiasm, it is loud and bitter enough to give pause to a parent corporation that has made a few billion dollars from non-wave making.
Numerous individuals and publications have levelled savage attacks upon Pontiac for model names like LeMans and Grand Prix, but those were nothing compared to what happened last year when they called their big-engined Tempest the GTO. To make matters worse, we liked the car and approved of the name, and thus started a civil war among our readers
that rages on to this day.
Obviously, Pontiac's decision to market their 1965 2+2 as a larger version of the GTO was certain to add new fuel to the year-old fire. You can imagine our delight. We contacted Ace Wilson's Royal Pontiac in Royal Oak, Michigan, and asked for a properly set up 2+2 as soon as possible. At the same time, we asked Mr. Luigi Chinetti for a Ferrari 330/GT 2+2.
Both parties agreed without hesitation and provided us with cars that were the very best of their respective kinds—the Ferrari was, in fact, Luigi Chinetti, Jr's personal car, set up by the same mechanics who prepare the North American Racing Team machinery.
The Pontiac 2+2 is a Catalina sport coupe with a 421 Cu. in. V-8 (hydraulic lifter) engine, stiffer suspension, and special interior and exterior trim. As we tested it, it was equipped with the hottest (376-hp), three carburetor version of the big V-8, a four-speed transmission with long, close ratios, power steering, power brakes with metallic linings, limited slip differential with 3.42 final drive ratio, and the stiffest shocks, springs, and stabilizer bar offered in the Pontiac catalog. Its wheelbase is 121 in., its overall length 214.5 in., and its test weight 4400 lbs.
Walt Hansgen: "My basic impression of the Pontiac is that It's a tremendously large car to be driving around a road circuit. The hood seems very, very wide and very, very long and when you first get in and drive off down the track—just sort of getting used to it—you get the feeling that It's going to go straight at the first corner. Surprisingly enough, it doesn't just go around the corner, It does a mighty fine job of it! It leans considerably, but it seems to lean to a certain point where it decides that it just isn't going to lean anymore—and at that point it's quite controllable. The steering response is very good."
The Ferrari 330/GT 2+2 is essentially the same car as the old 250/GT 2+2 with a 4-liter (242 Cu. in.) engine and new styling. The 330/GT designation is based upon Ferrari's traditional system of naming his V-12 engines with the cubic centimeter displacement of a single cylinder. The Ferrari has a wheelbase of 104.2 in., overall length of 189 in., and a test weight of 3430 lbs.
Walt Hansgen: "I thought the Ferrari was just a nice size for two people with occasional use for the rear seats—very occasional, I'd say. It's a perfect size for American roads and conditions and so forth—about like the Pontiac GTO, not too big. I think the Ferrari would be an absolutely perfect car. It's extremely smooth on the track. The handling is better than you'd expect from a road machine."
The Pontiac 2+2 and the Ferrari 2+2 are similar in many respects. Both represent ultimate automotive performance as interpreted by their respective industrial philosophies and the economies that spawned them. If one totalled their relative strengths and weaknesses and took an average for each car, the net result would be nearly equal. Both are good cars. They are fast, safe, and luxurious. They provide their drivers with a brand of automotive excitement seldom experienced off the race course. How ever, the existing differences are important ones, and they're the kind that make owners and would-be owners give each other bloody noses and smouldering grudges.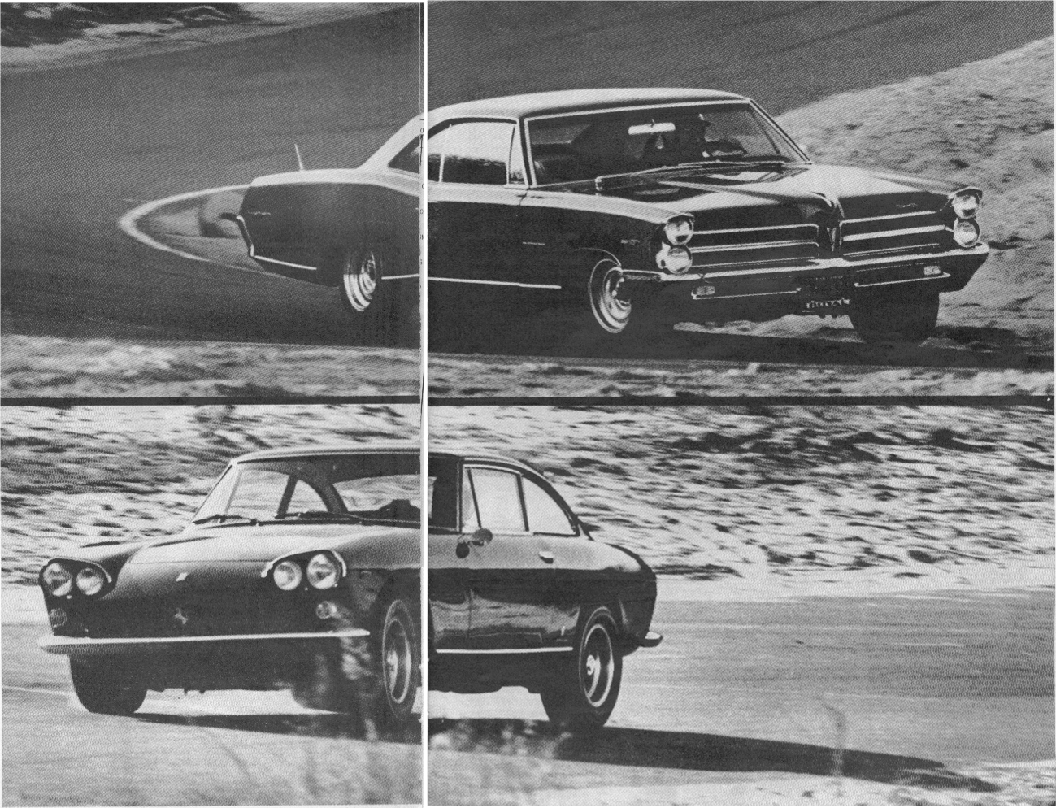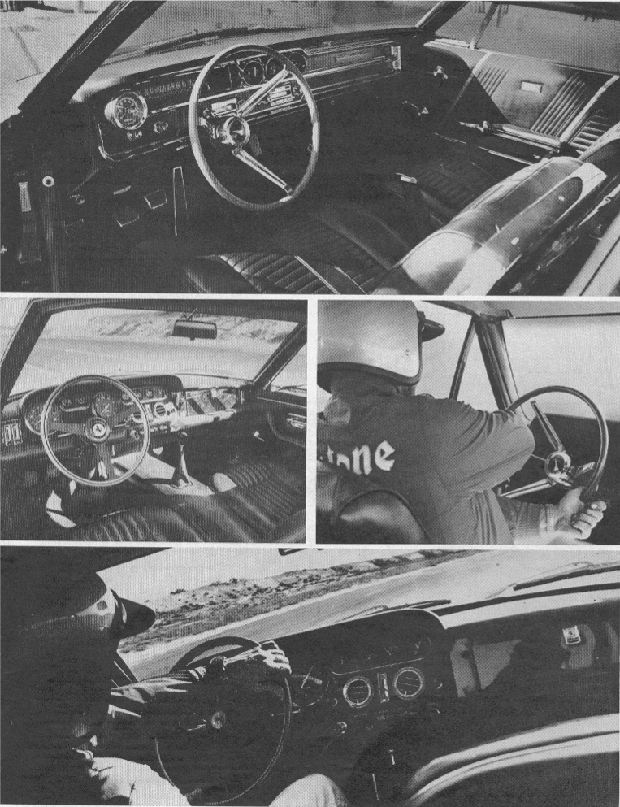 The basic difference between them is one of personality—like the one we've noted between New York and San Francisco. San Francisco is probably just as good as New York. It is, however, a little insecure about its status and has an unfortunate tendency to fish for compliments—to beg strangers for approval and reassurance. New York, on the other hand, doesn't give a damn whether you like it or not. New York knows that it's Number One, the Top Dog, and for all it cares, you can drop dead tomorrow.
By this definition, Pontiac's 2+2 is like San Francisco and Ferrari's is like New York. The Pontiac longs to be loved, and its designers have worked hard to make it live up to all of its performance publicity without sacrificing American-style good looks and shiny, super-car interior comforts. The Ferrari couldn't care less. It is almost arrogantly self-confident in its refusal to compromise, and if you don't like it, it seems to infer that you are a person lacking in taste, virility, and intelligence.
To further define this difference, it could be said that the Pontiac is a Car in the accepted American sense, while the Ferrari is a Machine. The Pontiac was designed to cause a series of sensual impressions in the onlooker and prospective buyer. First, it is flamboyantly good-looking, with great swooping curves and erotic distribution of masses within its total configuration. Second, it is extremely easy to drive and very comfortable for both front and rear seat occupants. Only when the full force of six carburetor throats is applied is it anything like a handful, or in any way demanding to drive. It is smooth on all but broken surfaces and only rarely does its suspension betray the stiffness that makes it possible to hurry through corners at really respectable speeds. Crosswinds blow it around some, but not too badly.
The Ferrari is something else. Its styling is not going to start any riots. It is only comfortable for the man who loves it and is willing to adapt himself to it. It is hard to drive, in that the controls are stiff, heavy, and hyper-accurate. The effort required and the neophyte's tendency to under-control have an intimidating effect upon the faint-of-heart. The engine occasionally spits back through the carburetors in a snort of contempt when the clutch is not engaged smoothly or the revs are allowed to get too low. It knows it was meant to go fast and it sulks and surges and overheats when it gets balked in heavy traffic. The ride is harsh as hell on any surface at any speed under seventy-five, but smooth as glass at anything over eighty.
If the Ferrari was a woman, she'd be about thirty-five with an athletic figure and sad eyes. She'd be a lousy cook, sensational in bed, and utterly unfaithful.
The Pontiac would have an enormous bosom and the pretty-but-empty face of an airline stewardess. She'd be earnest but uninspired in both kitchen and boudoir, and your friends would think you were the luckiest guy in the world.
Our test was a two-part affair. First, we ran them against each other at Bridgehampton with Walt Hansgen driving. Then we used them both as normal family transport—as we do all of our test cars—to evaluate them under the specific conditions for which their designers had conceived them. Both suffered through the worst traffic New York City has to offer, both were driven on long turnpike trips, and we took them well off the beaten track and onto some pretty dismal little lanes as well.
For the track testing, the Firestone people very graciously sent us an engineer and a racing technician and a jazzy little Ford Econoline van jammed full of their superb new Indy-based road racing tires. With this enormous contribution we were able to fit both cars with tires that offered the best-possible compromise, limited only by rim widths and body clearances. Since both cars were geared for their respective optimum speeds on Bridgehampton's 0.7-mile straight, they were starting as evenly matched as a $4,000 car and a $14,000 car can be.
We drove the Ferrari out from Manhattan on a busy Friday afternoon, loaded with one wife and three children, and had to fight the ghastliest traffic imaginable. The water temperature soared clear off-scale, while the oil temperature inched upward in the same frightening direction. We had been assured that this was no cause for concern, but that didn't keep us from being concerned. Down the road, when traffic began to thin and air started to ram through the grille again, the water cooled to its normal 190°, and the oil levelled off at about 160°.
That night, the Ferrari spent its time screeching up and down the deserted little roads that criss-cross the eastern tip of Long Island as sundry staff members and Firestone people sampled the delights of Italian machinery. Meanwhile, the Royal Pontiac lads—three of them—were pushing through from Michigan in the big red honker, having been unable to leave beautiful downtown Royal Oak until after work.
Next morning the Ferrari got its Pirelli Cinturato tires changed to the new Firestones and after a few more enthusiastic demonstration rides, went to the Westhampton drag strip. It turned a fastest quarter-mile of 96 mph in 14.61 seconds. It should have gone faster, but the rear suspension simply couldn't handle the massive loads of full-throttle, drag racing starts and the axle bounded up and down furiously, hammering away until we lifted slightly or changed to second gear. On a good run, the car would peak in third at the end of the quarter. It is the fastest Ferrari street machine in our experience.
The Pontiac, conversely, came off the line like a Navy Crusader off a catapult, wheels spinning, rear end down, and no axle tramp at all. Even with the standard equipment 3.42 axle ratio, the Pontiac's best quarter-mile was 106 mph in 13.80 seconds—plenty spectacular enough for us, but the cause of some headshaking and excuse-making from the Royal mechanics, who wanted us to use 4.11 ratio and slick tires.
Back at Bridgehampton, everybody bashed around the track in the Ferrari and various other machines, and when the Pontiac was ready to go, Walt Hansgen climbed aboard and went out for a quick warm-up tour, throwing a fan belt in the process. He coasted back into the pits, expressed some amazement that anything so big could go so fast, and waited for a new belt. Three more times he roared off, and three more times he coasted in with the belt dangling under the front end. On two of these occasions the belt took a water hose with it, and the intrepid Hansgen disappeared into the weeds, having spun in his own coolant.
While mechanic Milt Schornak was sorting out the Pontiac's fan belt troubles, Walt took the Ferrari and after a couple of quick laps pronounced it everything one expects a Ferrari to be. For most of the afternoon, the Ferrari just sat around looking bored while the Pontiac got all the attention. Occasionally, some staff member would leap in and go screaming off down the race track, but mostly it just sat and awaited Walt's pleasure.
Milt finally came up with an ingenious fix for the fan problem—he removed a heater hose bracket and fashioned a fan belt keeper from it. It worked like a charm, and we were off and running again. (This fan belt business evidently only happens to the hottest 421 and 389 engines when used with the four-speed transmission, but it's still an annoyance that should have been fixed before the cars ever got into the public's hands. We understand that Pontiac Engineering is fixing it now, and cars sold by the time this article appears should be cured.)
Now the timed tests began. Walt went out in the Pontiac and turned a series of four laps—the fastest a pretty respectable 2:01.33. He then took the Ferrari and repeated the four lap series—this time with a fastest lap of 2:00.85. The Ferrari was less than half-a-.second faster on the Bridgehampton circuit than the Pontiac! The Pontiac was faster on the straight, hitting its 5500 rpm red-line top speed of 127 without any trouble and flashing past the start-finish line like that Navy Crusader we talked about. The Ferrari had more trouble reaching its peak in fourth, and was only just touching the limit as Walt flew past his shut-off marker for the first turn. The Ferrari was driven without engaging the electric overdrive, as there was no place on the circuit where it could be used to any advantage.
Walt Hansgen: "The Pontiac—for a street machine—is an excellent car by American standards. It's quite safe and the handling is excellent. This is something we haven't had in American cars for some time and I think the 2+2 is a good approach. I'm sure that it would handle very well on a wet road under touring conditions, and the limited slip differential—I don't know what make or type it is—is really a good one. The brakes were very good too, but the decorative metal trim on the pedal made heeling-and-toeing difficult. Bridgehampton isn't the sort of course that's very hard on brakes, but these were certainly more than adequate. And it has plenty of performance to get you out of any trouble you might get into. Man, if you ever need power, it's available!"
The American car was very impressive and great fun to watch as it slammed around the course with Hansgen at the helm. He drove the whole track in fourth except for the55 mph hairpin, which he took in third. He could actually have spent more time in third and perhaps gone faster, but the morning's fan belt troubles made him reluctant to shift gears any more than necessary. He drove with his right foot on the accelerator and his left on the brake, often cornering hard with the throttle wide open, jabbing the brake simultaneously—sometimes to steady the car, but more often to break the rear end loose and scrub off speed with the resultant slide.
Walt Hansgen: "The Ferrari lapped faster than the Pontiac by a very small margin. I'd say that this was due somewhat to better handling and a little bit to its brakes. The limited-slip was good, but I wouldn't say it was any better. Of course, it didn't have the work to do that the Pontiac's did. l don't think the Ferrari would be quite as good in the rain as the Pontiac, but that's largely, because of the disc brakes—disc brakes are generally pretty poor in the rain, until they're hot. In general road conditions the would be quite a bit more comfortable, although its size would bother me. The Ferrari is a perfect size for American driving."
As one might expect, the Ferrari was considerably less spectacular to watch than the Pontiac. It was very quiet and arced around the corners with none of the Pontiac's dramatic slides or smoking wheelspin. Since it was slower on the straights, it obviously made up a lot of time in the corners, which is exactly what you'd expect a $14,000 GT machine to do. It was an object lesson in the old adage that "class will tell."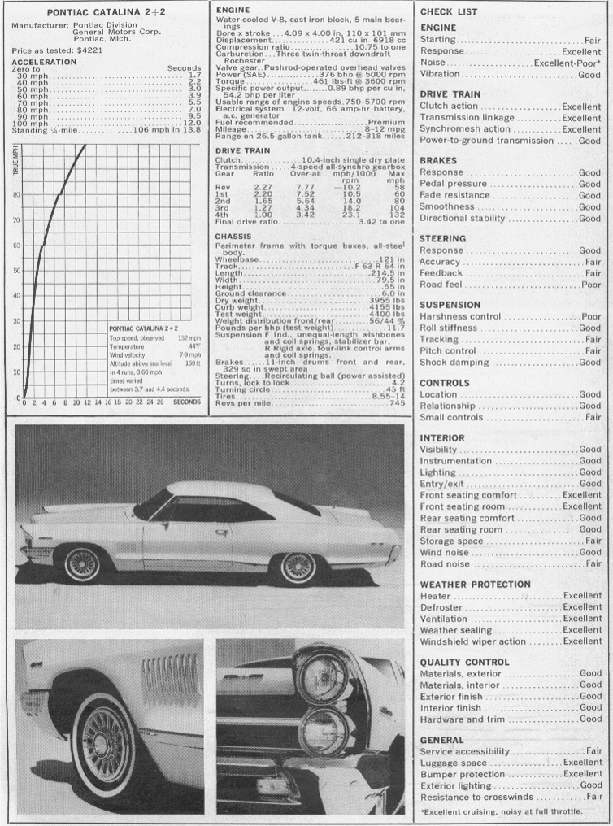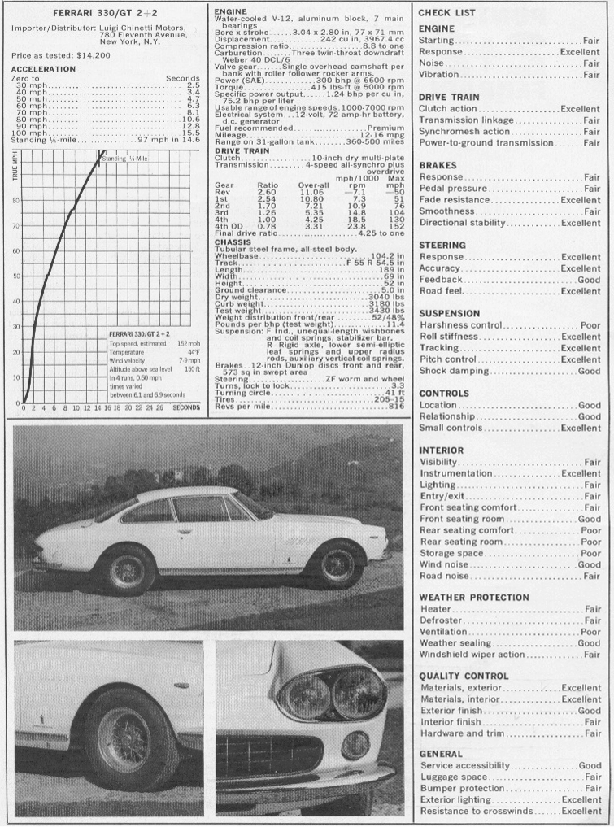 It occurred to us the next morning that the Ferrari's hood hadn't been opened since we picked it up. We finally opened it after breakfast to replace a blown fuse and while we were at it we checked the oil. It had used less than a quart. Like we said, class will tell. Its only other problems were a broken exhaust-pipe hanger—repaired by the Royal mechanics— and ferocious juddering in one front brake. This vibration occurred only when the brakes were hot and being used hard, and went away when they'd cooled. Walt Hansgen allowed as how not atypical for such that they usually stemmed from a slightly warped disc, or foreign matter of some kind trapped caliper mechanism.
Off the race track and on the road, where cars like these are most effectively tested, they're both marvelous. The Pontiac is an outstanding example of what can be done with the traditional, much-maligned American sedan. The Ferrari is the finest-possible example of what can be done when exciting transportation is the designer's only goal and cost is no object.
Walt Hansgen: "I think that it would be pretty hard to ever accept the Pontiac as a sports car. Sports cars have traditionally been small two-seaters, and the Pontiac—even though it will do practically everything that the Ferrari will do
—is just too big. I'd like to have the 'feeling' of the 2+2 in the GTO-size package.
"Probably the best category for the 2+2 is something like the European 'sports sedan' because of its size and the number of people it will carry comfortably. On that basis, the European sedan would be so far overshadowed by the Pontiac that there wouldn't be any contest' just don't think the Europeans can build a car as cheaply as this, with this kind of performance and—quite frankly— with this kind of handling. Of course, all this would be dependent upon the fact that you're not concerned with how much fuel you're going to use.
"The Ferrari costs about $10,000 more than the Pontiac, but if you have the price in your pocket, it seems to me that you'd have to go a long way to beat the quality you'd get, regardless of the model. I don't think there's another car on the road like it. You get an awful lot of snob appeal. You're not going to see one on every corner and—forgetting that side of it—you're also-getting a fine, precise machine that has proven to be very satisfactory and reliable. We just never hear of a Ferrari breaking down."
There are several levels of snob appeal, and both cars have it. The Ferrari is the ultimate snob's car, because it really only impresses the most knowledgeable man-in-the-street and the luxury-oriented jet-set crowd. The Pontiac is very gratifying for the more typical snob because it stops everybody. Small boys, truck drivers, women, even sports car people and the outer-fringe upper classes cannot resist a second look—and in many cases, a thorough examination and a lot of questions. This might be called "useable status." The status achieved with a Ferrari has very little trading value until you start to move with the international bunch.
Driving the Ferrari is a very refined thrill. For any man interested enough in cars to buy this magazine, it is a moving, emotional experience. Sitting in that seat, holding that lovely Nardi steering wheel at arm's length, looking at all those perfectly round, over-informative instruments, the keen type knows that he's sitting where Phil Hill sat—that he's sharing this moment not with the hoi polloi, but with Alberto Ascari, Peter Collins, Mike Hawthorn, Fon de Portago, and a lot of other giants. He wants it to ride hard. He wants the steering to be too heavy. He wants a stiff clutch. He wants to be uncomfortable until he squirms around and finds exactly the right position. Nothing worth having ever comes easily, and the Ferrari- lover is actually reassured by the machine's non-compliance. He may never drive at those speeds at which it becomes twitchy and light and scalpel- accurate to control, but he knows that it will, and he knows that other cars won't, and that's all he needs.
Philistines and Rambler-drivers will find fault with all this, and per haps wonder aloud why anybody would want such brute performance in a land where it is absolutely illegal and non-functional, but we don't really care what they think, do we gang?
If the Ferrari never tries to put anybody on, never tries to be any more or any less than it is, the Pontiac is one wild put-on from beginning to end. It is—to all intents and purposes—a perfectly straightforward American two-door sedan that rides a little hard and is a little unstable in a cross wind. That's on one carburetor. When the throttle is suddenly pressed home and all six throats snap open, the effect is a stunning transformation. The noise level rises from near-silence to a hard, fiat roar. The pressure on the nape of the neck and the pit of the stomach is almost unbearable. The acceleration is phenomenal—the car is literally launched from a stand still to a hundred-miles-per-hour faster than you can absorb the sensations—so fast that you don't even look at the instruments, just listen for the peaking point and slam the lever into each new gear as hard and as fast as you can. (This latter sensation could forever silence those rapturous purists who go on and on about the old Mercedes SSK and the sublime effect of opening the throttle and engaging the supercharger. Compared to this fully-appointed American passenger car, the SSK was a mild-mannered pick-up truck.)
It was our pleasure to be rumbling along at about 3000 rpm in second gear with a full load of passengers, when a sudden burst of acceleration was called for. We banged the pedal to the floor, squirted out to pass, and a beautiful, non-enthusiastic girl in the back seat threw her arms over her face and let out a long, piercing scream, which subsided only when the driver's right foot was lifted. Nobody can dislike a car that'll do a thing like that.
Aside from high quality materials, the Ferrari's interior is spartan in the extreme—even to black crackle-finish enamel on all un-upholstered surfaces. Any feeling of luxury comes only from the prior knowledge that this is indeed a $14,000 automobile—there are no easy clues for the philistines. The Pininfarina styling is not particularly elegant either—bearing an unfortunate resemblance to Bertone's efforts for the Iso-Rivolta and being nearly invisible in a crowd. The front end is positively dumb with its four superbly bright, but very awkward Marchal headlights. Somehow though, that prancing horse emblem and the discreetly emblazoned name are enough to offset any styling mistakes. As in some people, there's an inner fire that shines through and makes it beautiful in spite of itself.
The Pontiac enjoys no such advantage—it looks like a lot of other Pontiacs and Buicks and Oldsmobiles and it has to work hard with small details to make its point. Fortunately, the point is made. Even to the tyro, the car seems somehow laden with high-speed menace. To the initiated enthusiast, that first impression of high performance could be phony, but a closer examination still bears it out. In spite of all the shiny vinyl and chrome and metal-edged pedals and tinted glass, the Pontiac 2+2 lets you know that it isn't a car to trifle with. And once it's running, all bets are off. The idle is pure race car, and the exhaust note is quite enough to discourage any body from trying to kick sand in your face at the beach. It makes us think of The Scarlet Pimpernel, a noticeably effeminate Englishman who composed poems by day and was a great duelist and lady's man and Champion Of The Underdog by night—sort of a walking Q-ship. Somebody commented after it had been running for a while that it still didn't look like a race car, but it sure smelled like one.
In the area of sound the two cars are as different as night and day. Cruising in the Pontiac is practically silent, while the Ferrari makes all that threshing machine noise we've come to expect and love from overhead cam V-12s. At full throttle the Ferrari's sound gets louder and smoothes out to a high-pitched moan, while the Pontiac lets out a bellow of rage that drowns out everything inside the car and can be heard for about four blocks outside.
Also on the subject of noise, the Pontiac was fitted with an AM-FM radio with their reverberator system—a pair of speakers wired so that the car is filled with a kind of stereo "echo-chamber" sound. Our staff is equally divided on whether the effect is best suited to the Mersey Beat and a little mobile frugging, or Bach Oratorios and prayerful contemplation. In any case, it is some crazy noise. It would be great for listening to old radio horror shows like "The Mummers" and "I Love A Mystery."
Where does all this leave us? Here's the way we feel:
The Ferrari 330/GT 2+2—We doubt that any car is worth $14,000, but the Ferrari comes closer than anything else. Besides, when the price gets beyond Eight Grand the point is academic anyway. Poor people can't afford it, and rich people don't care one way or the other. We'll say this though— if the Aston Martin DB-5 is worth $12,800, and the Maserati 3500-GT is worth $12,000, the Ferrari is easily worth any price the Commendatore should choose to ask.
Is it worth $10,000 more than the Pontiac 2+2? No. At least not for what it does. But it may be worth all of that and more when you consider how it does it, and what it represents as an automotive tradition and status symbol sine qua non.
The Pontiac 2+2—Statistically, the Pontiac is as good or better than the Ferrari. It can do, and does, all the things the Ferrari doe. But it's awfully big. Also, it took a team of three talented mechanics and a of hard work under the hood to make it do what the Ferrari did all day with its left hand. But maybe that's not the way to evaluate it. It's not a road racing car—what it's really supposed to do is provide the one-car man with a true multi-purpose road machine. One car that he can buy very reasonably. One car that will give him a combination of performance and road-holding and passenger comfort that he'd normally need three cars and a huge bank account to get.
We had originally planned to use a Pontiac GTO—our first love—as a comparative benchmark for the test of the other two cars, but our only GTO had a deformed piston due to excessive amounts of timing-advance and drag racing enthusiasm. Even so, it lapped Bridgehampton at 2:05— within four-and-a-quarter seconds of the Ferrari! Not bad for an ailingV-7.
For some reason, nobody in GM Motors management—and Pontiac is no exception—is very comfortable about small and intermediate-sized cars. They applaud the rousing success of the GTO, but they really figure that a bigger car, with the same characteristics, would be more palatable to the public. The 2+2 was produced for this reason, but it doesn't quite come off. It lacks the light-footed agility and compact tautness of their GTO. We're confident that a decent GTO would have blown off both the Ferrari and the big Pontiac, know 'til next year will we?
Walt Hansgen: "I believe that cars like the Mustang, the Barracuda, and the GTO will open up a whole new group of sports car-type people, and change a slot of people's thinking. When they realize the amount of money they're spending, and the kind of performance they're getting, there'll be a definite move toward cars like this. Then the foreign car people will do a counter-reaction and come up with cars that will compete more favorably in this light.
"The American public will buy American cars, regardless of what else is available. The Pontiac 2+2 is no sports car or GT car, but it really is an excellent automobile. If we could get every American car on the road to handle and perform this well, I think we'd be doing a tremendous job toward having safer American highways. But I sure wish that GTO had been running better." C/D

Copyright Car and Driver, 1965