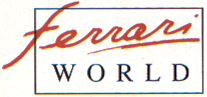 STOCK IN TRADE
by William Kimberley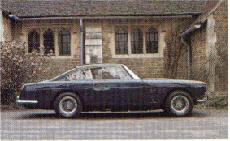 A rare 330 America which has recently surfaced in Britain.
The 250 GTE and 330 America, despite the names, were virtually indistinguishable from the outside, but look under the bonnet, however, and it was a different story for a 4-litre V12 had replaced the 3-litre V12.
The Type 209, as the powerplant was designated, was another of Gioacchino Colombo's creations.
In its initial form it developed a whopping 400 bhp, but it was substantially reduced for this 4-seater GT.
While the bore and stroke remained the same at 77mm x 71mm to displace 3967cc, the compression ratio was reduced from 10.0:1 to 8.8:1 while smaller 40DCZ6 Webers replaced the 46DCFs.
The result was a more manageable 300 bhp at 6600 rpm and a torque of 277 lb ft at 5000 rpm.
It was this engine which was installed into the 250 GTE's chassis at the end of 1963 for a limited production run of around 50 examples.
The example that David Miller of Forza 288 of Grayshott has for sale is one of around 25 that are said to have escaped the ravages of being turned into 250 GTO or California replicas.
Built in 1964, the car went to South Africa before coming to Britain in 1981 for a year and, metamorphosing from white to blue.
It then spent six years in France before returning to the UK in 1987.
As is to be expected the 10 year old paintwork has a few nicks and scratches while the slight crazing on the offside headlamp is the worst blemish.
The chrome wire wheels are also a little pitted.
While these surface defects can be rectified without too much difficult (although at some cost), the mechanics seem to be in good order.
The engine, gearbox and running gear have all been recently overhauled - everything stripped down and rebuilt by Rardley Motors while the interior has been re-upholstered and trimmed.
While David Miller was not prepared to divulge the selling price of the car other than to say "price on application" there's no doubt that it's a rare and very beautiful car.
Ferrari World Issue 18, May/June 1992
Copyright 1992, Hyde Publishing Group