TOP ITALIAN CARS IN BRITAIN
Part two of a series in which MOTOR SPORT interviews some of the owners

Patsy Burt's hill-climbing and sprinting activities are sufficiently well known not to need recalling here. She feels that her Ferrari 330GT is the next best thing in general handling to her racing car. The car, which was collected from the factory in 1965, has now done about 30,000 miles, mainly on longer hauls on the Continent. " It provides an ideal excuse for going from restaurant to restaurant," she maintains. For general shopping and business she now has a Mercedes-Benz 280SL, but having once owned a Ferrari, she would never be without one.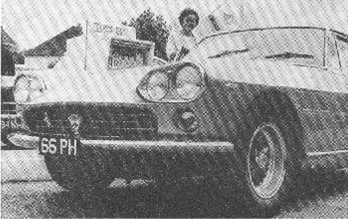 Patsy Burt with her Ferrari at Bookham.
Miss Burt's previous cars had all had a sporting flavour, such as Aston Martins, Jensens, Triumphs, a twin-cam Fiat sports car and, just before the Ferrari, an Alfa Romeo 2600 Coupé. She thought that she may have been swayed in her decision to buy because of the Ferrari reputation. It was a matter of a choice between a Mercedes- Benz 300SE Coupé and the Ferrari, and the Italian car scored mainly because of its racing car-like handling. The engine and all running gear have been faultless, the electrics so-so and the brakes not so good. Having stood idle for a period, on initial application they tend to lock on. Ron Smith, a director of Patsy's PMB Garage in Bookham, Surrey, worked out the cost in tyres; he reckoned about per week, if the driver was careful.
Ideally, Miss Burt would like the Ferrari with a Mercedes-Benz- type of automatic transmission—a statement that might upset other Ferrari enthusiasts. She thought it well worth the money if the owner is interested in driving properly. If the driving angle is good, one would put up with the minor irritations; on the way back from Italy with the new car, 14 faults developed, including a leaking boot and windscreen wipers that would not switch off. But it is a car that makes one drive properly. The Mercedes, she thought, would get the driver out of any trouble on the road with little effort, but if the Ferrari gets a little out of line on a corner, it tends to let the driver know.
The car has been serviced regularly by PMB, although odd jobs have been done by Maranello Concessionaires. Patsy thought that the 70-m.p.h. limit was a waste of Ferrari's talents of building motor cars. When the Ferrari is travelling at 70 it is about half-way up its power range and certainly a great deal more stable than a bread-and-buffer car at the same speed. But on the Continent the Ferrari really comes into its own. In this country, Miss Burt said, it's all stop-start, stop— start, but there they understand speed.

MOTOR SPORT, MAY 1968