1964 —
FERRARI SPEAKS
Gruff Borgeson Reports on Maranello
One of the adjectives most commonly used in describing Commendatore Enzo Ferrari and the domain he has built is 'feudal'. The adjective fits in its most literal sense. The Maranello plant only lacks a moat.
Once each year Ferrari holds court for the benefit of the international motoring Press. They flock to Maranello in droves. never knowing what to expect; things depend wholly upon Ing. Ferrari's whim at zero hour. At the latest meeting, for example, several journalists got a look at a new flat-twelve Formula I machine. Then the boss himself swept into the room. swept the visitors out, and that was that. Most of the nearly 200 journalists had to beg scraps of information from the fortunate handful who had at least a peek at the new car.
How these meetings go depends upon such impulsive on-the-spot decisions by the sole power in this domain and by how he feels when he gets out of bed that morning. If his mood is a rough one, walk lightly. He may single out some writer who he feels has committed an act of heresy in print and, before his assembled peers, dissect and utterly crush the hapless soul with Jehovah-like wrath. Or, if his mood is bright—as it was on January 11—even deliberate taunts fail to touch him. He speaks extemporaneously with great eloquence. spiking his words with sparkling and subtle humour that is often Rabelaisian hut always wholesomely so. This was his mood at the last meeting and it crowned the princely feast that he placed before his guests. And he had a great deal to communicate.


'Our 1964 production schedule calls for the completion of three cars per day. The 250/LM Berlinetta. direct descendant of the Le Mans-winning prototype, will be homologated. One hundred of these cars are to be completed by April and are now under construction. Along with the improved and ever valid 250/GTO, this will assure our driver- clients of an effective means of repeating their performances in the Manufacturers' Championship, in which they already have given Ferrari two world titles.
"We will participate in the major races in 1964, above all in Formula I and, secondarily, in Gran Turismo prototype competition. I say secondarily because it is not possible to assemble an equally strong force in both areas.
"Therefore, our official activity will not be restricted to any championship. It will take into account technical, commercial and competitive considerations and, far from least, our relation ships with the individual organizers. One F1 car will be reserved for our driver-collaborator. John Surtees. A second F1 car will be assigned to Lorenzo Bandini. The characteristics of these machines will be announced in the near future.

The cars
"During the year we will have available:
Two modified six-cylinder cars of the type which made its debut at Monza with Surtees;
Two eight-cylinder cars. The new engine is being completed very satisfactorily at this moment;
Two 12-cylinder cars intended for high-speed circuits.
"For GT prototype competition we are preparing the type 275/P and 330/P cars. Their specifications will be announced before the start of the racing season.

The drivers
"As for drivers, we plan to offer rides to Scarfiotti, Maglioli, Abate and Baghetti of Italy and to Guichet of France. We plan to have two official F1 drivers.
"We cannot speak of Vaccarella and Mairesse since they are not in physical condition to resume competitive activity.
"To this activity of the company we must add that of three organizations which work closely with us: NART—the North American Racing Team—directed by Luigi Chinetti and with Pedro Rodriguez as chief driver: Maranello Ltd., directed by
Colonel Hoare, and which will have the services of Graham Hill; and the Scuderia Francorchamps, directed by Jacques
Swaters, which will have the services of Lucien Bianchi.
"As for Formula 2, a new car is under development. But the programme visualized by the company—primarily F1 and secondarily G.T. Prototypes—is of such importance and of such vast technical significance that F2 will have to wait for a later date, after we have seen its beginnings and its development in the hands of the organizers. This formula could become very effective training ground for future drivers.

The new formula
"The Ferrari company doubts that it will participate in the 1966 Formula I of the CSI. The two years which separate us from its beginning demand a technical and economic effort that seems impossible to accomplish in the time available.
"In fact the solutions dictated by the '66 formula are utterly onerous, It is not thinkable to compete in the G.P. of Monte- Carlo with a 3-litre car of 1100 lb. and capable of 400 h.p. and more, which is suitable to Rheims, Spa, Monza, etc., but is ill-adapted to a drawing-room circuit such as that of the Casino.
"The new formula presents a serious challenge to many accessory manufacturers. Tyre manufacturers, for example, are going to have to find ways of coping with the problems of tyres for vehicles which will be running at speeds in excess of 185 mph.
"To be ready for the starting grids in 1966 we would have to begin design and construction today. This unfortunately is not possible and thus, with the expiration of the present formula, Ferrari's cycle of activity in Formula I racing may reach its end.
"Does racing improve the breed? Of course we believe that it does. If it does, then it is clear that after 45 years of
struggle in competition we must represent a select breed of the purist stallions.'

and now for a closer look
at the Ferrari 330 GT 2 plus 2
Highlights of the annual Press meeting was the introduction of the 330 GT 2 plus 2. This four-litre car replaces the three-litre 250 G.T. 2 plus 2 but the two-seat 250 G.T. Berlinetta remains in production.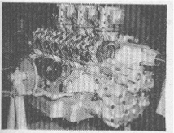 The changes in the four-litre chassis are all evolutionary. The new engine is essentially a scaled-up version of the very satisfactory and reliable three-litre. But it is not the smaller engine, bored and stroked. Production patterns and tooling are new and a number of changes have been made in addition to those of scale. The cylinder centres are more widely spaced for improved water circulation and location of the sparking plugs. The water pump now is belt driven and a 40-amp. alternator replaces the former dynamo. The new bore and stroke of 77 x 71 mm. results in a swept volume of 3,967 c.c. and a claimed output of 300 b.h.p. Very reliable sources indicate that this figure is on the conservative side by almost 10 per cent. It seems ridiculous to say, but the previous 2 plus 2 was scratching a bit for top-gear performance. To say this of the new 2 plus 2 truly Would be ridiculous. In overdrive fourth gear it has hurtling acceleration.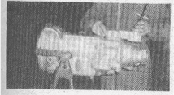 Transmission components have been scaled up and improved. In place of the previous single ball races the larger new transmission is fitted with double ball races throughout. The clutch is larger and the Laycock overdrive clutch and internals all have been enlarged to match their new loads. Overdrive control has been improved. Previously the overdrive was controlled by a simple off-on switch. If you were in overdrive and changed down to third (not overdrive of course) and then back to top you found yourself back in overdrive fourth and perhaps bogging a little. With the new control any down change cancels the overdrive setting, preventing upward changes over too broad a ratio. A touch of the little finger on a steering column lever puts you back in overdrive at the flicker of an eyelash. With this improvement the overdrive now is above criticism—a statement which could not be made before.
The new frame, basically unchanged. is a conventional tubular structure utilizing electrically-welded elliptical tubes. The previous rear axle housing was of light alloy and carried 7/32 gears. The new one is a much quieter cast-iron Timken taper-roller unit with 8/34 gears. The four-litre engine can easily afford the small weight penalty.
The new car's suspension also is evolutionary. In front, there are the straight forward parallel wishbones which are forgings. But now the coil springs are carried on pivoting cups so that they never are in bend but always purely in compression, and the diameter of the anti-roll torsion bar has been increased from 16 to 18 mm.
Aft, an improvement introduced on the later series of the previous car is carried over into the new one. This is the use of coil springs around the shock absorbers to bear part of the load which previously was carried by the leaf springs atone. This permits a reduction in the number of spring leaves and in inter-leaf friction. Fore and aft location of the rear axle continues to be by leading, parallel radius arms.
The ride of the previous 2 plus 2 was definitely on the hard, race-car side and this was not entirely appropriate to even a fast four-place tourer. Now the Koni shock absorbers are adjustable over a range from touring-soft to competition-hard.
The brakes continue to be Dunlop discs but now the front-brake callipers are aft of the wheel centre-line and the assemblies are shrouded, all for water protection. And now the front and rear braking systems—master cylinders, reservoirs, servos, their total circuitries—are entirely separate, a feature of which Ferraris are justly proud.
The new car's steering is by worm and peg and the king pins are supported on needle roller bearings. The steering has the feel of the transport wheel of a big precision lathe: light, utterly firm and utterly precise.
And now for the body, and controversy. It has four headlights, a relatively bulbous rear and it is the most genteel of Ferraris to date. The obvious question and the one over which the assembled automotive Press argued was, "Is this body true to Ferrari spirit and tradition?" Some saw it as a complete, radical break. Others, perhaps more subtly informed, saw it, as a logical evolutionary step.
Pininfarina is the author of the body and is totally responsible for its aesthetic and practical content except for some practical changes which Ferrari insist upon in the light of their own know ledge and experience. To understand this body well it is essential to be aware of the Pininfarina role in Ferrari history and evolution.
Pininfarina have been designing and building Ferrari bodies for well over a decade. These were built in series" of one or a tiny few until 1958. This was pure cottage industry and in that year PF and Ferrari reached an accord that lifted Ferrari from the artisan to the industrial level. That was the production of the 250 Gran Turismo Ferrari. One thousand of these " industrial " cars were made and all concerned benefited from this rationalization of the product. Costs dropped and parts became readily replaceable, among other things. What makes this step industrial and not technical was adherence to the two-place configuration.
This first industrial step launched Ferrari as a new force in the automotive manufacturing world. It was a very successful step. The next step was all purely technical and it was a very dangerous one, It came in 1960 with the concoction of the first four-place 2 plus 2. Ferrari had the problem of trying Jo maintain two-place roadability, if not acceleration and speed, in a four-passenger car, in spite of radical changes in loading and in centre of gravity. Pininfarina had the problem of trying to provide habitable interior dimensions while still preserving minimal external dimensions along with the fiercely taut external Ferrari image. These problems were surmounted, to the satisfaction of the harshest critics, in the solution that was the 250 G.T. 2 plus 2, the "old" car. It was this technical change, coped with extremely well, that was Ferrari's greatest hurdle in coming of age as anything but a producer of fast two-seaters. The Ferrari image remained quite intact.
THE MOTOR January 29 1964