From left to right the 275 GTB, the
330 GT and the 275 LM (still
commonly called the 250 LM). About
£24,000 altogether.
Charles Bulmer goes motoring in the higher bracket
If you have never driven a Ferrari— and I hadn't until very recently— you can start with all sorts of misconceptions. In the early 'fifties I rode in the late Tom Cole's 212 Ferrari and he told me that the steering was so heavy and kicked so badly that it wore right through the palms of his driving gloves during the Targa Florio. Of the three cars which I was able to drive, through the kindness of Colonel Hoare and Maranello Concessionaires, the 330 GT was the best one for correcting this sort of image.
This Pininfarina four-seater saloon replaces the 250 2 + 2, which was sometimes criticized for lack of low speed torque. It has the characteristic 60° V12 light-alloy engine with seven-bearing crankshaft, one overhead cam shaft to each bank, a 77 mm bore and a longer stroke (71 mm) to bring the capacity up to 4 litres—330, as with all Ferrari type numbers, is the capacity of one cylinder. You can't accuse this one of lacking low speed torque—it pulls with powerful turbine smoothness from very low revs and then goes on pulling harder and harder as you sweep past things with extraordinary rapidity. You might call it a slogging-type low-revving Ferrari since its 300 b.h.p. is developed at only 6,600 r.p.m.
This represents about 125 m.p.h. in direct top gear of the four-speed all synchromesh gearbox—the overdrive is claimed to give another 25 m.p.h. Two hundred miles on busy and sometimes crowded roads covered our total experience of all three Ferraris so there was no opportunity to check performance claims or to learn and exploit their full potentialities but the 330 certainly felt like a car with over 200 b.h.p./ton. What made this doubly impressive was the fact that it was equally a luxury saloon of the highest class.
Judged by these standards you could comment on a hint of road harshness from the radial ply tyres and you might detect that the engine was marginally less smooth than the shorter stroke versions. In the absence of high speed wind roar there is just enough exhaust note left in the upper rev range to remind you pleasantly that this is a V12 Ferrari. Seats, driving position and finish are superb, steering, clutch, brakes and gear change all have that light, positive action which you register and then cease to notice consciously.
Designed by
Pininfarina, built by
Scaglietti the 275
GTB is the very
direct by very
civilized
descendant of a
long line of racing
coupes
If the 330 GT represents the luxury end of the GT range, the 275 GT Berlinetta lies at the sporting end as you become aware immediately you settle into the enfolding, reclining bucket seat and find all the controls in the right places. This has the shorter stroke (58.8 mm) 3.3-litre version of the V 12 engine; the one we drove with a 9.2 compression ratio and 3 double-choke 40 mm Webers is rated at about 260 b.h.p. (net) at 7,000 r.p.m. although some of the latest models are coming through with six Webers and 280 b.h.p. at 7,500 r.p.m.
So with a dry weight of over 22 cwt. (say 23 to 24 cwt. in kerb trim) its power/weight ratio is not vastly greater than the 330 GT but this is a real revving engine which delivers maximum torque at about 5,000 r.p.m. while still remaining perfectly smooth and flexible at low r.p.m. and completely devoid of tricks and temperament. You can trickle along slowly in built-up areas or you can use 7,500 r.p.m. and all five synchronized gears in the close ratio box; for the latter you need a lot of space because it is geared for something like 100, 130, and 160 m.p.h. in third, fourth and fifth.
The gearbox lives at the back in unit with the final drive but the gearchange gives no clue to this. That hackneyed phrase about the racing prototype of yesterday being the production car of today seems to be as true of Ferrari as it is doubtful of most other manufacturers and like the recent Le Mans cars (and un like the 250 GT) the Berlinetta now has independent rear suspension. It doesn't give a soft ride, nor is it hard—just firm. Apparently it started out much softer but most Ferrari owners prefer heavy damping.
It has rack-and-pinion steering, Dunlop disc brakes all round and suffers from the perennial problem of all outstandingly fast cars—the availability of suitable tyres which don't shed their treads at high speeds or slide off the road in the wet; German SP Dunlops were chosen.
The Berlinetta isn't really a car you can summarize easily; 60 miles on the road doesn't disclose any faults it may have—it merely appears to do everything easily, efficiently, quietly and superlatively well. All the controls are so well harmonized that anyone could drive it. This is how it should be—you don't need the drama that is built into slower and lesser sports cars because you can derive all the excitement you want from sheer performance.
The LM Ferrari — the
one that hasn't been
tamed yet
Anyway, at the risk of contradicting everything I've just said, the car for drama is the third member of the trio, the 275 LM rear-engined competition coupé. As I drove it, it was exactly as raced by Graham Hill—it even had racing plugs in because they never use anything else. We intended to keep this car out in the country where it belongs but when Col. Hoare drove it he decided that three months' total rest had left the steering rather stiff and it had better go back to be greased and have the tyre pressures checked. So in the end we made two long journeys into deepest Bournemouth and out again.
It didn't feel entirely at home among the buses and the shoppers because the racing clutch is a bit difficult; the driving seat is fairly reclining and non-adjustable--the clutch pedal felt rather a long way off but it turned out to be quite light and it needed only a little prod. You can slip it quite easily but it doesn't transmit much torque; on the other hand if you ease it in a fraction more it drops in firmly and leaves you a bit short of engine r.p.m. Very difficult for uphill starts at busy Bournemouth T junctions—for which the gear ratios don't seem quite right.
The engine runs quite smoothly at low speeds but it doesn't like accelerating away from them. You have to feed in the throttle gradually; it hunts and surges up to 2,000 r.p.m. and then it starts to clear and at 3,500 r.p.m. it clears completely and the rev counter needle spins round the dial. Of course it isn't geared for all this pottering—it had a fairly low final drive ratio suitable to the little straights of British circuits but this means about 160 m.p.h. at 7,500 r.p.m. in fifth gear and 145, 130, 105 and 75 m.p.h. in the other four—faster if you take it to the permissible 8,000 r.p.m. Reverse is geared for about 110 m.p.h. but the first 10 are difficult to achieve.
With such close ratios and no synchromesh to get in the way the change is fantastically quick; five gears cover a range which lies between top and second in an ordinary four-speed box and every shift is just a lightning snick which leaves the exhaust note almost unbroken and barely changed in pitch; changing down you tend to overblip because the revs mount so quickly.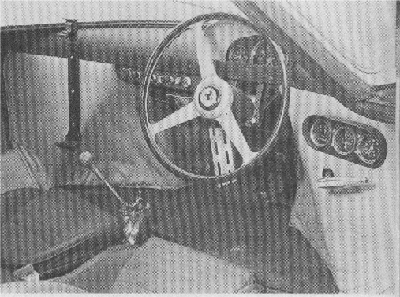 There are two seats inside the LM Ferrari but only the driver is allowed leg room and a large slotted rest for his left leg. The back-end of the body lifts off to reveal the central engine, rear-mounted five-speed gearbox and i.r.s. The spare wheel lies over the gearbox and battery.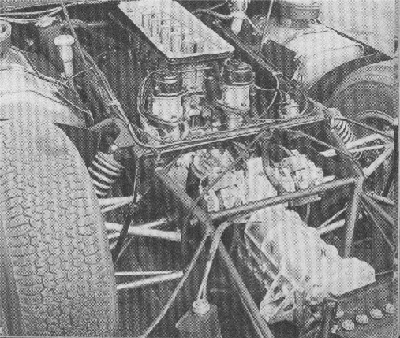 Noise inside the small, undamped cock pit is shattering; at 30 m.p.h. you can shout to your passenger but above that you have to use signals. The steering kicks strongly at low speeds on bad surfaces and the whole stiffly-damped car shakes and the aluminium panels rattle. Every thing smoothes out beautifully when you accelerate away from the speed limits and the whole car coalesces into one piece again.
Really fast cars always accelerate in a very deceptive way. You seldom experience a push in the back of a kind you've never encountered before—the difference is that the LM will register a second gear push from 50 to 100 m.p.h. of a kind which you only meet at half that speed in other fast cars. And then, of course, there are still three more ratios left but in the Friday evening rush hour round Bourne mouth they weren't a great deal of use.
The LM left an urgent, frustrating desire for more. With its engine detuned to the tractable Berlinetta standard and a smaller petrol tank behind the passenger's seat to improve leg room it would make a splendid road car, with its big windscreen and short bonnet. The mid-engined racing coupé is getting quite popular (e.g. Porsche 914, Ford GT, Elva-B.M.W.)— isn't it time for touring counterparts to appear?
Motor week ending May 1, 1965