BELLISSIMO,
FERRARISSIMO
With prices of Classic Ferraris rising faster than inflation, it is good to see so many owners still using their cars for their true purpose by giving them a good blast around the tracks, sprint courses. hill climbs, test days and even on the drag strips. Ferraris in particular, I have always felt, deteriorate faster than any other car if they are not used and revved. When I attend sporting events related to different makes of car I always notice the marked attention that Ferraris receive whether on the track or in the paddock, especially if they are red, which they frequently are!
Some of my personal highlights as a Ferrari fancier this year were as follows:
At the Prescott Hill Climb, Bugatti meeting on the 7th August, the 250 GT was the one that envinced the most glorious sounds. When that beautiful V 12 is in full throat there is simply no other sound like it and this quite superb car sent shivers down my spine: maybe it was the space where I stood when it came charging up the hill that had some special acoustic sound or echo but I'm sure that's not it. Still it's competing that counts.
Thirteen Ferraris. made up of eight, eight cylinder 308's, four Dino 246's and a solitary 12 cylinder belonging to Juliet Home competed at the Ferrari Clubs Sprint at Curborough Farm near Lichfield on August 14th. Tony Birch put up the best Ferrari time of the day with 37.17 seconds. The overall best time was 36.29 which went to Ferrari Club member Christian Mineeff in his modified Dino powered Lancia Stratos. By comparison Christian's time in his 308 GTB was 41.10. The previous week to this I saw Tony Birch win Class Six at the MG Sprint on the same course.
For me the high spot of the year had to be Ferrari Day at Brockett Hall. It is difficult to convey the feelings and emotions that occur at events like this, dominated as they are by a kaleidoscopic array of colour here, predominantly red and I don't know how many Ferraris that day : no matter the number everywhere one looked a different model appeared. Nearly every type of production Ferrari must have been there. Even though I spent most of the day at this event I did not see all of the cars that I wanted to yet it was enthralling to listen to the different sounds of the many and varied engines. As you may have gathered by now. I am a 'Sound Man' and I thought I could differentiate between models by closing my eyes and listen to the engines running. Unfortunately not one of my guesses were correct except of course that every one was a Ferrari! Brocket Hall is a fine venue for Ferarri events like this but I have to admit that I like Birtsmorten Court better.
Another highlight of my year has been my visit to Nathan Beehl's Studio in Bedfordshire. Everything and I mean everything there is for the connoisseur. If you are a Ferrari lover, take my advice and pay him a call - you'll be well
rewarded.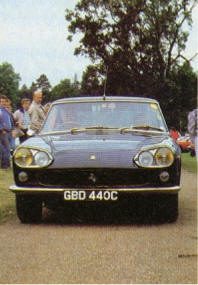 Under-rated
330 GT 2+2