STRETCH of the IMAGINATION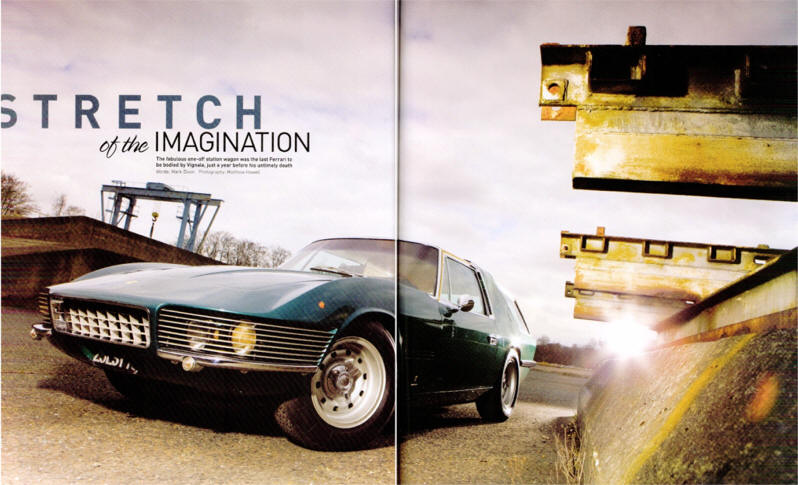 The fabulous one-off station wagon was the last Ferrari to
be bodied by Vignale, just a year before his untimely death
Words: Mark Dixon Photography: Matthew Howell
Right and below
Only the glass tailgate lifts
up, limiting access — but
Chinetti says the 330GT
Vignale was never intended
to be an 'estate'.


Above
In company with another Chinetti-
penned Ferrari 'extended coupe' —
the 1975 Daytona, built in the UK by
Robert Jankel.
You can't trust all you read on the internet or, indeed, in classic car magazines. Look up Italian coachbuilder Alfredo Vignale on the web and you will be told by dozens of sources that he died at the wheel of a Maserati in late 1969, just three days after selling his company.
Trouble is, none of these sources says exactly what kind of Maser the unfortunate Alfredo was doing when he met his end. And a quick email to Italian automotive historian Adolfo Orsi, whose family had a controlling interest in Maserati from 1937 to 1969, brings the following response: 'l am 100% certain he was not driving a Maserati on the dawn of November 16, 1969. Alfredo Vignale was a very modest man and I remember him as driving an ordinary sort of car, possibly a Fiat.'
Disappointing, really: if you're going to die in a car, at least it should be in a car with a bit of style.
But Alfredo's company did go not with something of a bang rather than a whimper. One of the last cars to he bodied by Vignale before It was taken over by Alessandro de Tomaso was a fantastical Ferrari 330GT station wagon, commissioned by Luigi 'Coco' Chinetti Jr, son of the famous American importer of Ferraris. Vignale bodied a lot of Ferraris, perhaps as many as 160, and the station wagon was the very last, being shown at the Turin Salon in November 1968.
Chinetti himself never thought of this car as a station wagon — me it was always an extended coupe he says down the line from his home in Florida. 'In retrospect, the gas tank behind the seats restricted space and it might have been better to relocate it, but there was plenty of room for picnic hamper or whatever, never liked the tailgates on station wagons — there always the risk you'll get crushed by a car behind — and on the Daytona we did [see Octane issue 48] we fitted lift—up side panels. I once had lunch with Bill Mitchell and he rolled out a Pontiac with side access panels, just like my wagon!'
In the mid-1980s, together with commercial artist Bob Peak, Chinetti had proposed making a limited-production, rear-engined V12 sports for based on the Ferrari 275P and styled by Michelotti. Only a single prototype was built. The 330GT Vignale wagon was also intended to go into limited production, but difficulty in finding usable chassis meant that it too remained a one-off.
'Bob Peak was a very talented guy, who lived up the road from me in a house he had designed himself,' continues Chinetti. 'He financed the project and turned my drawings into renderings that we sent to Vignale. For me, men like Vignale and Michelotti were true artists, whereas others were simply industrial designers. Pininfarina, for example, turned out some real duffers — the 330GTC was unsaleable in America! I got on wonderfully with Vignale; Alfredo was one of the most talented people I've ever met.
Alfredo Vignale certainly had a glorious early career as a maker of custom-bodied Ferraris. Born in 1913, the fourth of seven children, young Alfredo was shaping metal by the age of 11 and joined Stablimenti Farina as a panel heater when he was 17. He founded his own carrozzeria in 1948 and, often working in conjuction with Michelotti, he soon became the coachbuilder of choice for anyone who wanted a special Ferrari. Vignale clothed over 100 of the Maranello cars by 1953 and Vignale-bodied Ferraris won the Mille Miglia three times and the Carrera Panamericana too, but these successes counted for little when Enzo Ferrari decided to make Pinin Farina his preferred bodyshop.
'FOR ME, MEN LIKE VIGNALE AND MICHELOTTI WERE TRUE ARTISTS,
WHEREAS OTHERS WERE SIMPLY INDUSTRIAL DESIGNERS'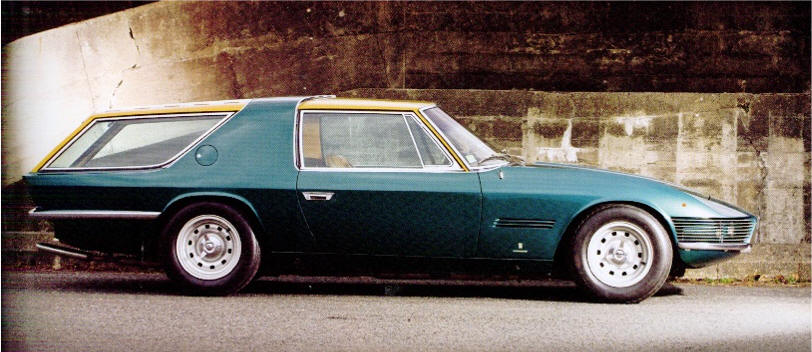 So Alfredo turned to alternative sources of income, most notably Fiat. In 1961 he moved to much larger premises at Grugliasco, just outside Turin, where he also bodied cars for other marques such as Lancia (Appia and Flavia) anti Maserati (3500 and Sebring). But Vignale's labour- intensive production techniques were too expensive for the 1960s and the flow of work dried up, leading to a buy-out by Alessandro de Tomaso in 1969. Last-ditch commissions by Vignale included three prototypes for Tatra of what became the 613, and the third prototype Monica supersaloon, pet project of l,awrenceTune founder Chris Lawrence (see Books, page 136).
During the winter of 1968-'69, Lawrence spent several weeks at Vignale's premises while the Italians stitched together the Monica bodyshell and, as one of the last people to get to know Alfredo, his experience is instructive: 'He was a bit of an old rascal but I got on quite well with him by the end. On one occasion he passengered me when we went for a blast up the autostrada in the no. 2 Monica. He directed me onto a sliproad and told me to keep my foot down, so I was probably doing 100mph when we suddenly came upon a sharp right-hander. Somehow we got around the curve, after which he said "This a very good car" - and I realised he'd deliberately not mentioned the corner to see how I dealt with it! Too bloody right it's a good car, I thought, or we'd be stuffed into a tree by now.
'I had the impression that he was a talented man but he seemed a bit crotchety with his staff -- he was irascible, but in a likeable sort of way. I suspect he understood a lot more of what I said than he let on.'
And what kind of car was he driving then?
'Oh, something quite ordinary; I think it was an old Fiat...'
Back to the Peak/Chinetti Ferrari: according to the 330GT Registry, chassis number 7963 was completed in December 1965 but Vignale didn't start the conversion until 1967. The finished car, resplendent in metallic brown with contrasting yellow-gold roof sections, was exhibited at the Turin Salon in late 1968, where it caught the eye of American journalist Jerry Sloniger, writing for Sports Car World:
'Vignale should do well with their '68 offerings... Must intriguing (not to be confused with most tasteful) Vignale offering, a yellow and off-brown station wagon with imitation yellow fur rug in the luggage compartment, parcel rail on the roof and air conditioning. Coco Chinetti and Bob Peak expect to sell several dozen a year.'
Right and below
Transverse fuel tank limits
usable space in load
area; rear passengers
have proper bucket seats,
however,


'COMPARED WITH THE
DAYTONA-BASED CAR, THE
330GT IS REASSURINGLY
USER-FRIENDLY'
Regrettably, the show would actually be Vignale's swansong. The company was acquired by Alessandro de Tomaso in November 1969 and turned over to production of the De Tomaso Pantera, but, when both the USA and Ford woke up to the fact that this supercar wasn't actually very super, production ceased and the factory was closed in 1974, the Vignale name being absorbed into Ford's Ghia subsidiary. Vignale the carrozzeria had left the building, both literally and metaphorically, although the name has periodically resurfaced on Ford-sponsored show cars, most recently a 2004 Focus convertible.
As for the 330GT wagon, it remained with Chinetti for a while before ending up in the collection of French enthusiast Jean-Claude Paturau, who had a penchant for one-off shooting brakes — it shared garage space with the Lamborghini Flying Star II. Somewhere along the line the base colour was changed from metallic brown, to its present metallic green, which suits the car well in a 1970s futuristic sort of way Recently it went up for auction, along with the Chinetti Daytona wagon, at Coys' Monaco sale in May 2006, and for a while was based at Coys' London showroom, where Octane pitched up for a test drive.
Compared with the Daytona-based car, whose main instruments are grouped infuriatingly in the centre of the facia, the Vignale 330 is reassuringly user-friendly. Its interior is as traditional as the exterior is avant garde, with a conventional dash layout and comfortable tan leather seats, and lashings of bright metal trim everywhere — all round the inside of the doors, on the seat-reclining mechanisms and the ashtrays. The basic Blaupunkt radio looks unexpectedly cheap — was it just a motor show space-filler, perhaps? — but otherwise this is a high-class interior, and for once the rear-seat passengers get to enjoy it too; there are proper 'buckets' in the rear, and reasonable legroom thanks to the thin-backed front seats.
Access to the rear load space is by a lift-up glass tailgate, and Chinetti is absolutely right in that the Vignale lacks the practicality to qualify as a station wagon. But as a piece of rolling sculpture it is right on the button, the deeply slatted headlights, massively long rear bumper blades and speedboat-like central roof divider adding up to a vision of the future that would look perfectly at home in a Gerry Anderson TV production. The Ferrari script, discreetly sited beneath the tailgate, is the final element that irresistibly reels in confused onlookers.
Firing up the 4-litre V12 involves a short pre-flight sequence of flicking on battery and fuel pump switches, followed by a couple of squirts on the throttle to prime the triple Weber 40 carbs. Twist the key and after a moment's churning the motor springs into lie with a muted vroom, a refined note in keeping with this car's laid-back image.
Into first — the clutch is ankle-twistingly heavy, and sakes up sharply at the top of its travel — and ease the Ferrari off the line; it pulls away briskly enough but already you can sense the 120kg or so extra weight that was built into the 'extended coupé' body. The car is all-steel and, according to Chris Lawrence, Vignale used a lot of lead filler in his creations — Lawrence famously took an electric drill to the scuttle of the just-finished no.3 Monica to prove how much. But its clear the V12 Ferrari engine is man enough to maintain the 330 Vignale's grand touring credentials, even though we're keeping to a self-imposed 4000rpm set out of deference to the car's recent lack of exercise.
That's more than enough to breach the UK speed limit; humming around the M25 motorway at a steady 70mph the Vignale must look quite otherworldly in its Space 1999 colour scheme and wearing 'exotic' French plates. Rolling on balloon-like Michelin 215/70XWX tyres, which wrap the original 330GT alloys, the Vignale rides comfortably but off the motorway there's the odd chirp as robber and wheel arch become acquainted over sudden bumps — the front end looks to have been lowered an inch or two since the 1968 show debut — and there's also noticeable hut nor unpleasant body roll when cornering.
The car's pronounced front wing tops make it easy to place in traffic, a feature that Chinetti was very keen on - 'I love the reassurance you got at night from from the little marker lights on the fenders of old Citroens'.-. and like most old cars the Ferrari is now quite narrow by modern standards, so town driving is a breeze.
'Coro' is clearly still fond of his design. The one area he wasn't totally happy with was the standard 330 windscreen: 'I would have liked to make a bespoke screen to help soften the roof line, but that would have added maybe $800 to a build price that was already around $5000.'
Unlike Chris Lawrence, whose first encounter with Alfredo Vignale was unexpectedly memorable — upon seeing a freshly delivered body buck for the Monica, Vignale exploded: 'You do not design the car! I am the designer!' — Chinetti claims that Vignale had no problems with taking Bob Peaks renderings of the 330 wagon and translating them into metal. 'God no' Vignale was absolutely spectacular! We just drew it up and sent it off!' Perhaps Lawrence just caught him on a bad day; after all, by early 1969 the writing was very much on Vignale's wall.
There's one last question that has to be asked, and Chinetti mulls it over carefully before replying. 'What was Vignale's everyday car... You know, I think it was a middle-of-the-range Fiat.'
Below
Other road users can't believe their eyes when they see what appears to be an estate car with a Ferrari badge...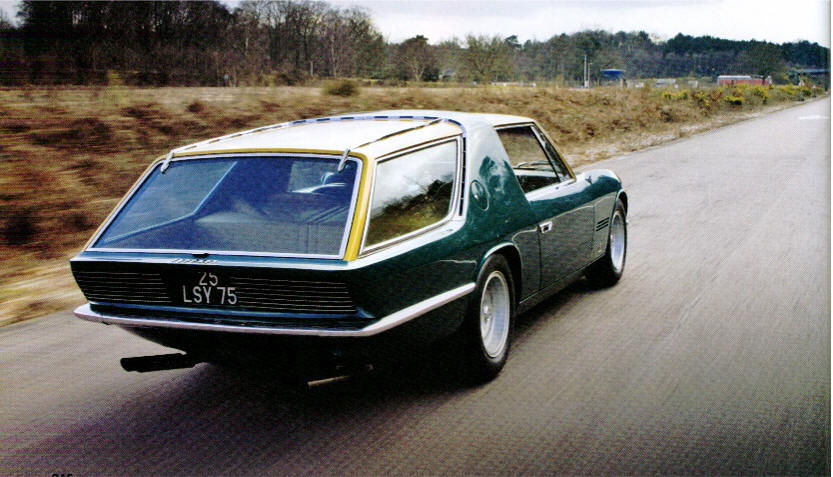 AS A PIECE OF ROLLING SCULPTURE IT'S RIGHT ON THE BUTTON A VISION OF THE FUTURE
THAT WOULD LOOK RIGHT AT HOME IN A GERRY ANDERSON TV PRODUCTION.
Ferrari
330GT
Vignale

SPECIFICATIONS

Engine
3967cc dohc all-alloy
V12, three Weber 40DCZ6 carburettors

Power
300bhp @ 7000rpm

Torque
240lb ft @ 5000rpm

Transmission
five-speed manual,
rear-wheel drive

Suspension
Front: independent via
wishbones, oil springs,
telescopic dampers,
anti-roll bar. Rear: live
axle, semi-ecliptics,
telescopic dampers.

Brakes
disc, all round

Weight
c1500kg
(standard car 1380kg)

Performance
top speed c150mph
Thanks to Chris Lawrence and Luigi Chinetti Jr, and to Coys of London, www.coys.co.uk. For the 330GT Registry visit www.parrotbyte. com/330GTRegistry
© 2007 Dennis Publishing Limited