AFFORDABLE
EXOTICS
Seven super cars for under $20,000
BY PETER BOHR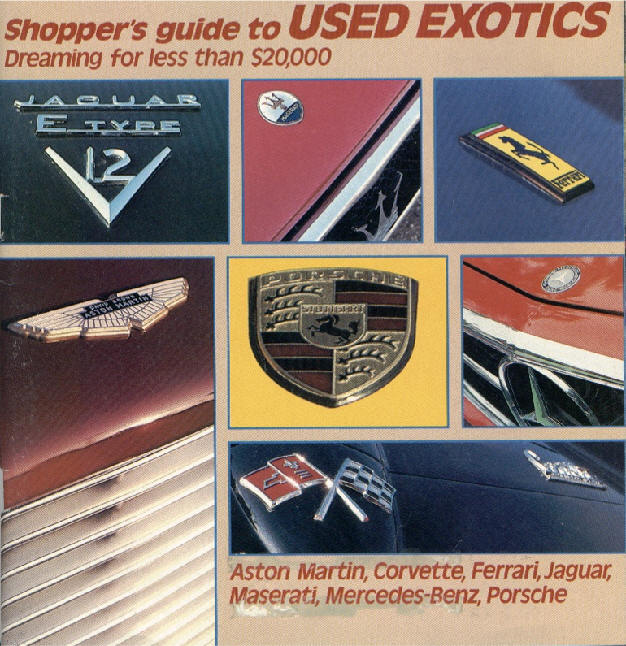 This is the third year that we've presented Road & Track's choices of the best used cars for enthusiasts. But in
a break with the past, this time we're making no pretense about our selections being sensible or practical.
This year we selected used enthusiast cars in the $10,000 to $20,000 range. For that kind of money, there are plenty of nice, sensible brand-new cars. So if we're only considering used cars, we reasoned, why not let our hearts rule?
Why not indeed! To hell with practicality; we're talking dream cars. Handcrafted Aston Martins, genuine 12-cylinder Ferraris and stunning Maserati Ghiblis are all available for the prices of new Nissan Z cars, Toyota Supras, or for that matter, Chrysler K-car convertibles or Volvo station wagons.

Selecting the best ?
As in past years, we began the selection process with a wide-ranging list of candidates. This year the list contained about 30 cars, from the venerable MG TC to the modern Porsche 928.
To make the initial list, each car had to fit several requirements. First, because the subject is used cars, we limited the contenders to those built during the Fifties, Sixties and Seventies. Second, we only wanted cars that had been officially sold
by their manufacturers in this country (which ruled out something like the Fiat Dino) and cars that aren't nearly impossible to find (which ruled out something like the Monteverdi). Third, of course, we only wanted cars that appeal to driving enthusiasts. And, fourth, there was the matter of prices: the car had to be available in the used-car market for prices between $10,000 and $20,000. True "concours quality" examples of some of the cars on our list sometimes sell for more than $20,000. Nevertheless, the cars that be came our "seven best" are ones you can reasonably expect to find in good-to-excellent condition within our price range.
Because the list of candidates was considerably smaller this year, we decided to limit our favorites to seven cars instead of the usual ten. From the initial roster, each staff member picked his or her seven favorites by private ballot. After the votes were tallied, there was a surprising consensus on most of our final choices. The Porsche Speedster was among them, but as I explain in the profile of the Porsche 911, it was disqualified because we later discovered that decent examples are too hard to find for less than $20,000.

Making the grade
As is customary, we gave each of our choices a report card. To arrive at the grades, we compared each car to our other choices, not to some mythical, ideal vehicle. The letters denote the following: A = Excellent; B = Pretty Good; C = So-So; D = Lousy; F = Unacceptable.
This year we omitted a grade for fuel economy because our "seven best" are all terrible gas gluttons. But we do give fuel economy figures in the specification and performance-data tables. In the tables you'll also find parts and labor prices for a typical engine rebuild. These will serve as a rough guide to the general maintenance costs of a car.
Finally, you'll note in the tables that we've published Used Car Classic features on several of this year's "seven best." We've recently compiled and updated all the Used Car Classic articles ever published in R&T. Appropriately, the book is entitled Road Track's Used Car Classics and is available for $10.95 (add your state's sales tax) plus $3.00 for postage and handling from Road & Track, PO Box 1126, Redlands, Calif. 92373.
Road & Track thanks the following people for making their cars available for photography:
Ray Sanchez, Aston Martin DB5; Sonja Keith, Chevrolet Corvette; Matt Kunsler, Ferrari 330 GT 2+2; Richard Bartkus, Jaguar V-12 E-Type; Brent Taylor, Maserati Ghibli; Mel Grau, Mercedes-Benz 280 SL; Pete Wachob, Porsche 911.
ROAD & TRACK October 1985
Copyright 1985, CBS, Inc.
In order to keep the web page size small, each car is in a separate page. Please click on the specific car below:
1958-1970 Aston Martin DB4, DB5 & DB6
1963-1967 Chevrolet Corvette Sting Ray
1961-1967 Ferrari 250GTE 2+2 & 330GT 2+2
1963-1971 Mercedes-Benz 230SL, 250SL & 280SL