JOHN SURTEES
SUPERCARS I HAVE KNOWN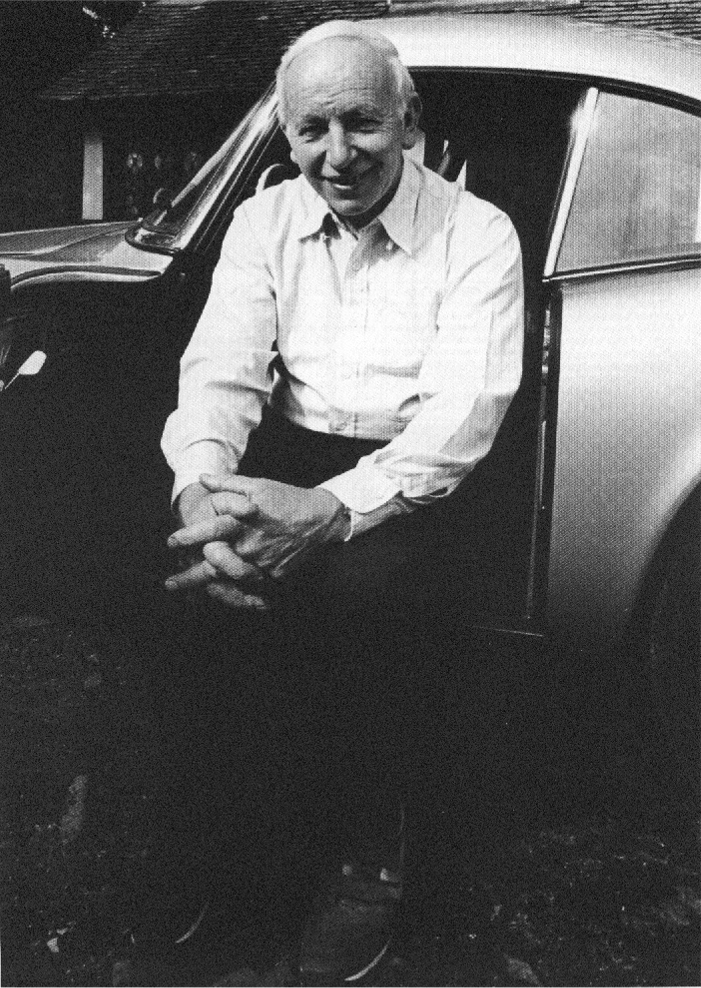 John Surtees, car and bike world champion,
is choosy about his road cars. While
driving for Maranello, he was offered a
Ferrari coupe, but initially turned it down

My first car love affair was with a Jowett Jupiter in 1955 when was 18, while serving my apprenticeship at the Vincent motorcycle works in Stevenage. Although I had been riding a motorcycle back and forth to work during the week from my home in Croydon, I was growing tired of getting wet every day: during one particularly bad storm I stopped in Hatfield, saw this lovely gold Jupiter in a showroom and couldn't resist it. I soon gave up riding bikes to work, although I continued to race them.
I didn't modify the Jupiter in anyway because I was too busy, working a full day at Stevenage and having to get home to prepare my bikes in the evenings. But it gave me excellent service, and was under-rated by many people. My memories are of superb performance and roadholding.
I then set my sights on something a little quicker. My father knew the Aldingtons at AFN, the Porsche agents, so I ended up with a 356 Super 90 that had been used as a demonstrator and had hardly any miles on the clock, It was a marvellous little car, but you had to be very wide awake to drive it, In those days we didn't have such a variety of tyres, so we couldn't change the handling characteristics of a car: today, people say cars of that period handle well and are fun after trying them on modern radial-ply tyres. You have to remember that our tyres were much more primitive.
Because I was doing so much travelling, I was perhaps less alert than I should have been. You can imagine what happened. Having just called in on a girlfriend in Hatfield, I was taking the swerves alongside Hatfield House when I lost the Porsche in the biggest possible way. I did a number of 360deg pirouettes up the road before landing in a ditch, virtually undamaged.
I came to the conclusion that, although it was a nice little car, I needed something more forgiving, particularly since I tended to drive fairly hard even when I was tired. I didn't have the time, either, to modify the car to improve its handling because I was dedicated to racing and preparing motorcycles. Being a motorcyclist, I was used to seeing nice engines, so I was most impressed when I looked under the bonnet of a friend's Aston Martin DB2/4. I just couldn't resist twin overhead camshaft engines at the time.
The car wasn't particularly exciting, or quick, but it felt solid and sound, and had very predictable handling. So I bought a secondhand DB2/4 on hire purchase, just like the Jowett and Porsche, and kept it for about the same time, a year.
At that time, motorcycle racing didn't take me abroad, so I just used my cars for going to and from work. At weekends we would load up our van with bikes and take them to a meeting at, say, Cadwell Park, before driving back down to compete at Brands Hatch the next day. Mother and father liked to drive the van and made a full weekend of it by setting off on Friday, but I couldn't take too many liberties with my apprenticeship, so drove up overnight.
The Aston stood me in especially good stead because its hatchback was really useful. There had been a problem with the Jowett and Porsche when you were living out of a suitcase, because they had hardly any room for bags and helmets, whereas you could just open up the back of the Aston and stick everything in with no trouble at all. It wasn't a particularly exciting car, but was trouble-free over a mileage of about 30,000 to 40,000 a year.
I had moved on from racing Vincents to riding for the works Norton team, Even so, you had to win something at the weekend, otherwise there wouldn't be any money in the kitty to pay for the next race. There were no big retainers or anything like that. We could win four races at Brands Hatch — 250cc, 350cc, 500cc and the invitation — and come away with £25. By then I had progressed to wages of around £15 a week, so there was only just enough to race on, which was another reason to try to achieve that little bit more. Norton did not involve me in a full continental series, but I wanted to compete in all the world championship events.
By 1956 I was at a crossroads and had to decide what to do. I joined the MV Agusta team and won my first world championship for 500cc bikes that year, but also ended up in hospital in Stuttgart after breaking an arm during a 350cc championship dice with Bill Lomas. As it took a long I me getting fit again, I had time to think properly.
I also discovered that continental travel took large chunks of time: I rushed around in a Ford Zephyr while my mother and father transported the machines to the events. After the sports cars, though, I yearned for something a little more exotic than the Ford. Domedico Agusta had said he would like to do something special for me for having won the world championship. At first I hadn't realised that he had been paying me far less than his Italian riders, but now I knew he owed me something. So I thought I'd get him to buy me a nice car.
Naturally, I found a Gullwing Mercedes appealing, and John Young in Streatham had one in powder blue which had done very few miles. As Mercedes had a place down by the Oval, I took it there for a check-up. Although I loved driving around in it, I realised that it wasn't quite the car for me because it was too nervous, rather like the Porsche.
I needed a nice forgiving car. The grand prix scene was totally European — we didn't go to America or Canada, then — and we didn't use planes much, so we usually travelled by road: one day you might have a grand prix in Italy, then you'd rush back to Britain for a few days, tear off up to the Swedish Grand Prix and then go back to Italy to do some testing. You would spend days on the road at any one time. I realised that, if I bought the Mercedes, I would have the same problem I had with the Porsche: owning a car that needed total concentration. This would have been fine if I had little else to do other than carry out a driving programme, but wouldn't have worked when whistling from A to B on roads I didn't know. I considered converting the Gullwing to the sports specification, which had stiffer springs and so on, to make it much more forgiving, but I thought that wasn't fair, that the car was lovely as it was.
During early 1957 I went off to Hockenheim to compete against the BMW5. Alex von Falkenhausen, BMW's chief engineer, was there with a 507 in the paddock: it was the first time I'd seen one. I had a look at it, found it interesting, and he said: 'Take it out, try it through the woods.' I was able to spend the best part of an hour with it, liked it and asked if I could have one. After a while I got a letter from BMW, which said: 'These are very precious cars because we don't build many, but we could find you one in blue-grey which could be available with both soft and hard top in so many weeks.' So I had to ask Agusta if he would like to contribute towards a BMW.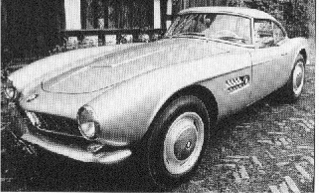 Surtees has had
long-lasting affection for BMW 507 car, a reward for winning
his first world motorbike championship, has relaxing
character, is undemanding to drive fast

I had discovered that Falkenhausen's car seemed to have the Jekyll and Hyde character that I was looking for, a car I could potter along in and go through city centres without really being noticed, and without making a lot of noise. I hate noisy cars, which drum your ears out if you're sitting in them, and turn everybody's heads when you drive past, A nice noise, like the sound of a Ferrari V12, is different, but I can't stand cars that are loud for the sake of it.
The BMW also seemed to go quickly, had a good ride, a nice handling balance and was reasonably forgiving, whereas the Mercedes was obviously more of an out-and-out sports car. Happily, Agusta didn't mind buying a BMW, so I duly took delivery. Initially, though, I was very disappointed. It just wasn't the same as the one I had driven. Whereas Falkenhausen's car had quite a good range of power from 4000rpm right up to 6000revs or so, this one had everything at the bottom and just didn't go as well. It was very flexible, had quite a good initial punch, but went flat at 5000 of course, I got straight back on to BMW, who told me that its engine was a little different, and it hadn't converted mine.
After some discussion I had my car converted to produce around 185bhp. Combined with an undershield, that gave the car a little more speed. Then I did a test programme with Dunlop and BMW on disc brake systems and ended up fitting discs to the front and back. I stayed friends with BMW and used the car on and off until I joined Ferrari in 1963.
I did quite a lot of miles with the BMW when I was motorcycling between 1957 and 1960. After that, I became involved in the car racing world in which you didn't rush around between events quite so much. When I was with the Bowmaker Lola team, we travelled as a group, so the BMW didn't see much use One of my father's friends kept it because we had no room: he gave it the occasional run which was quite good for it, because it would have deteriorated badly if it had been left standing for three years. But when I drove it out to Italy to see Ferrari, they said: 'You can't have a German car here. You've got to have a Ferrari.'
Quite frankly, I didn't want one, because I was too fond of the BMW. The factory had rebuilt it in 1959 when we were doing the disc brake programme and it had done only 36,000miIes since then: it was like a new car. As I didn't want to put a lot more miles on it and it didn't seem worth falling out with Ferrari over a road car, I agreed to take one. Initially, I wanted a Lusso, but realised that it had about the same size boot as the BMW: and I'd had problems with the luggage space on that. So I had a 330GT instead, because I'd just got married and needed more room. In fact, I had two 330s. One was a super car, the other was a bit duff.
Neither was what you would call a super sporting machine, but they had a nice straightforward single-cam 12-cylinder engine that could rev reasonably well up to about 6000. By this time I had got much more involved in cars and started tinkering with them. I changed the shock absorber settings and the anti-roll bar to make it a little stiffer. I was also fairly particular about the tyres, because at any one time there is a tyre which really suits any given car, although that's changed to a certain extent today because the tyre business has become so competitive. I think we had the Ferrari on Pirellis at that time because Michelin was only just getting into that scene.
I used the first 330GT for about a year and a half, then got a new one for 1965. That was never quite so good: it wasn't as quick, and didn't handle so well, no matter how much you checked the settings. You get cars like that, especially when they are hand built. So my mind went back to a Lusso, but Mr Ferrari told me that it was being phased out. He said: 'You've got to try one of the new ones: like a GTB. The problem with the Lusso is it's too beautiful. A Ferrari should be aggressive, a Ferrari should be angry.'
I tried the GTB and found it was the biggest heap I had ever driven. It was a dreadful motor car. I had crossed swords with Mike Parkes, who was Ferrari's development engineer at that time and I certainly couldn't agree with what he'd done with the GTB. I thought it was awful and, for a while, Ferrari agreed. He hesitated about putting it into production, but it represented a big investment, because all the panels were stamped out instead of being knocked out by hand: it really was a big step for Ferrari. At any rate he had a good think about it, so it went through a lot of changes during the early years.
Ferrari also had to change the car's mechanical configuration because you needed a whole autostrada to keep an early one straight at more than 80mph. It had aerodynamic problems and a sort of floating axle location which meant that the rear suspension steered, It needed a big programme totally to rehash it; I sort of tried one a few times, but stuck to a 330GT until I left Ferrari in the middle of 1966.
I have fond memories of the 330GTs because I love 12-cylinder engines — as a car it did nothing especially well, but then I think road cars often have to have the best compromise. You will rarely find a car that does anything extra special, but if it is relatively sympathetic in the way it behaves under differing road conditions — especially when you're travelling fast in difficult ones — you've got a good car. It needs to give you messages and you need to be able to create a relationship with it. You might be thinking about business when you are driving, whereas in the perfect world you would be concentrating hard. It's then that you need such a car.
It's different on the race track for the simple reason that all you have to do is get on with the job in hand. You've tuned the car as well as you can, while everybody else has worked to make it go around a given circuit as quickly as possible. You can never do that with a road car, which is why I have always needed this sort of Jekyll and Hyde machine.
It has to be a car in which I can potter along, listening to the radio, and looking at super countryside, yet has to be capable of getting from A to B quickly if I need to. It has to have a responsive engine and roadholding, without feeling as if it has no suspension. That's why I like my 507 so much.
It wasn't intended to be a race car. It is forgiving, it's comfortable and it's quick. The best I've seen is 148mph. It becomes a little more difficult to drive as you go faster, but it communicates well, so that it is safe to drive fast.
During the first years I used the BMW, I knew Lofty England at Jaguar quite well and tried some of his cars. The best was one of the ex-works 3.8litre saloons, which had all the bugs ironed out: it was a nice car, so I tried Jaguars again after the Ferrari phase. But every time I gave them a little test, something went wrong, so I never felt able to use one regularly.
I think I did three test trips to Paul Ricard in three different Jaguars: a six-cylinder E-type, a V12 'E' and an XJ-S, and had trouble. When you look at the attention to detail on the BMW and on a Mercedes (and even, to some degree, a Ferrari), you realise they are a different sort of car. I certainly had less trouble with my 330GTs than I did when trying to run Jaguars.
I didn't own anything else particularly interesting until I bought a Mercedes 450SLC. I suppose it was like the 507, but behaved in a slightly more sophisticated manner, and was made in far bigger numbers. It was an ex-factory car and turned out to be fantastic. Not only did it perform as well as the later 5.0litre version, but the handling was much better.
The most pleasurable road car I've run in recent years was the Mercedes 2.3 Cosworth: the gearbox let it down, but otherwise it was the ideal Jekyll and Hyde car.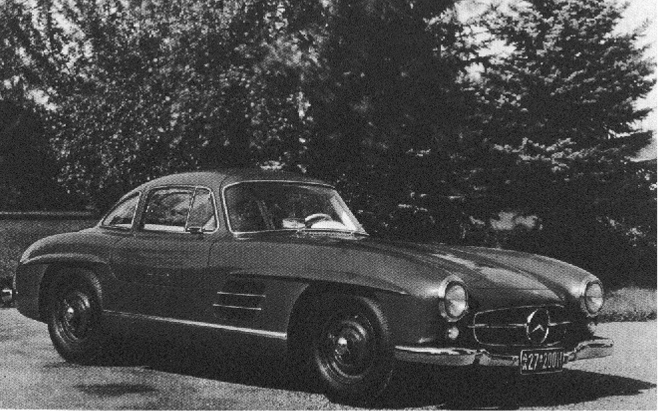 Gullwing Mercedes 300SL
was an attractive proposition, but Surtees found that, like his Porsche
356 Super 90, too much concentration was needed to get
the best from it on long drives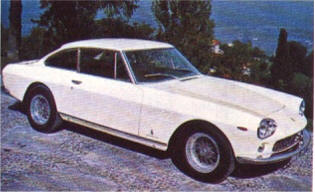 Surtees reluctantly
accepted two Ferrari 330GTs from factory. First
eventually pleased him, second did not.
He preferred the idea of a Lusso

SUPERCAR CLASSICS September 1988