SUPERCARS I HAVE KNOWN
Mike Loasby


Experimental machinery and racers have provided highlights for this ex-Aston engineer

Britain lost a veterinary surgeon but gained an automobile engineer during my time in the sixth form at Monmouth School. My friends there included Robin Herd and Alan Rees. The Bible that we studied with immense zeal during divinity lessons was, in fact, a Cyril Posthumus book on motor racing. Robin and Alan were inspired to such an extent that they were two of the five partners who founded March Engineering in 1969.
Contrary to all the rules, transport to and from school was provided by Alan's Morgan. He soon graduated to an AC Ace while I, like so many of my generation, started with an Austin Seven. My father withstood attempts to convince him that I should have an MGA, but several years of hard talking eventually produced a superb Lotus 11 which had a De Dion rear axle and disc brakes on all four wheels. The Coventry Climax FWA engine produced about 85bhp to propel a sleek, stripped car of only 7.75cwt.
Sitting on the floor, just four inches from the road, made the performance of such a simple and efficient sports-racer seem all the more vivid. My best time for the 105-mile drive between home in Wales and work in Coventry, where I was an apprentice with Alvis, was 83 minutes for a route that included getting through Gloucester, Tewkesbury and Evesham. Superb economy was one of the little Lotus's most remarkable and admirable characteristics. Several of those 210-mile round trips were completed on four gallons. Traffic was very light by today's standards, of course.
The Lotus was bought with a view to racing, but it was considered prudent to spend two or three months on the road before starting my career on the track. My first race was at Mallory Park. I went there full to the brim with confidence, but missed official practice and was sent out with the marque sports cars, which included TR2s and MGAs. They absolutely hurtled past me. It was a classic case of the complete novice who thinks he knows it all before he's started.
My second Lotus 11, an ex-works car bought from Alan Rees, sported twin-choke Webers and was quite a bit faster. It went well before a broken track-rod end put it head-on into the bank during a race at Goodwood, I came away with concussion, abrasions and shock, but didn't break anything — apart from the Lotus.
Alvis took a wonderfully benign view of my racing. Preparing the car, which occupied a great deal of my time, was apparently considered part of my training. The last of the chief engineers during my time with the company was Mike Dunn, who treated me very generously and shared my interest in motor-sport. We had a lot of success in Alvis Owner's Club sprints, driving a very non-standard TD21. The 3.0-litre engine was producing just over 100bhp when I arrived on the scene. That was considerably more than the 85bhp predicted originally, but a lot less than the final figure, which was about 200.
Mike is now Rolls-Royce's director of engineering. He called me, quite recently, with the news that our engine had surfaced after all those years.
Alvis came very close to a tie-up with David Brown's organisation while I was at Coventry. The most tangible evidence of the relationship was an Alvis powered by Lagonda's 4.0-litre engine. This was a very potent car on which I did a lot of development work.
Lapping the Motor Industry Research Association's track at more than 130mph — quick for a big car in the early 1960s — was one of the highlights. My intrepid passenger said he felt safer inside the car than outside, watching it running at high speed on 'bacon slicer' tyres. I had to steer well clear of the ropes at the top of the banking, because the tail drifted about three feet higher than the nose.
Coventry-Climax was the first stop after Alvis, then I moved on again to become Aston Martin's development engineer, right at the end of 1966. Racing, at that stage, was provided by a Formula Three Brabham-Cosworth, which I built myself with help from Alan Rees. Nothing matches the thrill you get from driving a single-seater, so my two 'serious' seasons with that car were sheer delight. I can still recall the pure joy of relying on the throttle to four-wheel drift through corners such as Gerrards at Mallory Park, with the steering wheel in the straight-ahead position.
The start of my first Aston Martin stint coincided, more or less, with the building of the first DBS prototype, powered by the relatively old six-cylinder engine. The performance wasn't exactly startling for what was being labelled a 200mph car. Top speed was 140-ish.
Work on the all-new V8, which was destined for the DBS, produced two very interesting cars: road versions of the 5.0-litre V8 racing engine, as used by Lola, were installed in a DB4 and a DB5, which were used as rolling test beds. I covered a great many miles in the DB5 — 'The Old Banger' — which was every inch a supercar. The engine poked out nearer 400bhp than 300. Serious stuff. It could spin the back wheels in third gear on a dry road.
We used to drive from Newport Pagnell to Inverness and back, clocking about 1000 miles a day and getting paid for our pleasure. The DBS test programme, based at David Brown's factory in Sunderland, also involved covering 1000 miles in the hours of daylight.
The Old Banger and its DB4 counterpart both topped 150 mph with ease. They also handled well, certainly when judged by the standards applied at the end of the 1960s, Narrower tyres made them easier to drive than many of today's cars, because they were much gentler at the limit of adhesion. The limit was lower, but you knew when it was being reached. Today, it can be like falling off a cliff.
Forgetting about a left-hander was my only excuse for putting The Old Banger off a test track in the Midlands. I tried to slow down in a straight line, but the tyres encountered nothing more helpful than a scattering of loose gravel. Keeping the nose pointing in the general direction of travel reduced the risk of rolling when we reached the ploughed field at the edge of the track. Having arrived there, with the roof still facing the sky, it was then a question of accelerating hard enough to avoid bogging down. What really intrigued me, at the end of the incident, was how many thoughts had raced through my mind in the space of a few seconds.
One of the DBS-V8 prototypes had Brico fuel injection, but that didn't develop the required power, so we switched to carburettors and produced an engine that delivered in the region of 440bhp. The theory, of course, was to go for a high output, which could then be reduced in the interests of reliability. Driving that car in Italy, while testing tyres, enabled me to reach the highest speed I have ever recorded in a road car. We reached a genuine 172mph on the Naples-Rome autostrada.
That was recorded at a time when I was very favourably disposed to Pirelli's method of testing high-performance tyres. Other manufacturers wanted you to maintain a constant speed for hundreds of miles, which could be tricky in the days before suitable tracks were available. Running within plus or minus one percent of the 100mph mark was also exceedingly tedious. Pirelli's alternative — drive as fast as possible for 600 miles — was much more my cup of tea. On the day of the 172mph maximum, we set out at 6:30am and returned at 11:45 am. The DBS had covered 640 miles in 315 minutes, including brief stops to take on fuel and check the tyres. That delightful and exciting car never felt anything other than rock-solid and perfectly safe while running very fast for mile after mile. Wonderful.
All car manufacturers like to keep in touch with what their rivals are doing, so I was able to drive a Ferrari 330GT and a Lamborghini 400GT while the DBS was being developed. I remember the 400GT as quieter than the Ferrari, but both of those V12 engines sounded fantastic. Although it went well in a straight line, the Lamborghini wasn't as good a handler as the Ferrari, which impressed me by going as fast as it was claimed to go. It rolled past 160mph quite easily.
In general, the 330GT struck me as slightly less civilised than Aston Martin's DB4, which I had always regarded as not the most civilised of high-performance road cars. But that's not being derogatory. My lasting affection for the Lotus 11 should identify someone who prefers his cars to be sporting and stimulating. Incidentally, the DB4 still appeals to me as a beautifully proportioned car.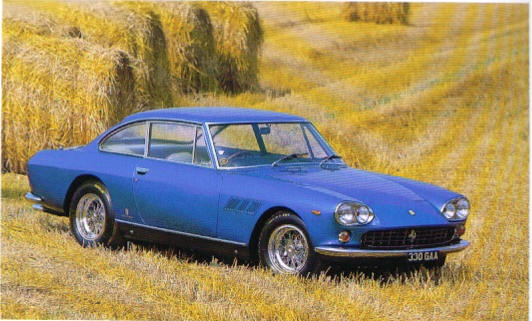 Another car brought in for comparison was Ferrari 330GT, which was 'less civilised' than DB4

The Ford GT40 remains my all-time favourite. Gorgeous looks and plenty of power combine with handling qualities that can be honestly described as fantastic. We did some tests to compare the cornering speeds of the DB6, the DBS and the GT40. The 'steps' were very dramatic indeed. Like the little Lotus, the Ford gave the impression that I was part of a machine that could almost be thought' along the road. But there's a huge difference in performance. You have to be on the ball when driving a GT40.
The spartan Lancia Stratos was a supercar that made a wonderful noise and was shatteringly fast. But it also stands out as the most twitchy car I've driven and could be a real handful. Being so square' may have had something to do with that, but the main reason probably involved the suspension geometry. Unlike the GT40, which flowed along the road, the Stratos demanded constant effort. Being able to see out through the bodywork was an unusual feature.
John Pope's astonishing Vauxhall Special — a pure racer, built for the 'funny' saloon class — must be the fastest car I've ever driven in a straight line, on the test track at Cranfield. Power to the tune of about 600bhp came from an Aston Martin V8 with twin turbochargers. Pulling seven-two in fifth worked out at rather more than 175mph.
After a spell at Triumph, I returned to Aston Martin in 1975, as chief engineer, and became director of engineering in '76. That was the most exciting time of my life, because the company was struggling to survive. The Lagonda, styled by William Towns, was created in eight months as a way to tell the world that we were still in business and looking to the future. Although slower than the Aston in a straight line, it was 10-15mph quicker around corners, thanks to better geometry.
The mid-engined Aston Martin Bulldog had gullwing doors and was another car built to attract attention. The original specification included beam axles at front and rear, to maintain as much tyre contact as possible, but the real thing was more conventional. The twin-turbo V8 was good for about 800bhp, or a mere 600-and-something in shopping tune. Top speed, on paper, was 254mph.
Developing the V8 Vantage was another interesting Aston Martin project. The first dozen or so customer cars were back in the service department within days, all with crushed noses. They were reasonably quiet, and drivers didn't appreciate just how fast they were going.
I was involved with the ill-fated De Lorean project from 1978 to 1982, then set up the Midland Design Partnership. A four-wheel-drive Ford Sierra Cosworth provides my day-to-day transport. My wife runs what used to be my 3.0-litre Alfa Romeo 75, which has bags of character and handles superbly, because the geometry's right. We've become more and more delighted with it after two years and 40,000 miles.
Interview by Phil Llewellin

SUPERCAR CLASSICS December 1990