SPORTS CAR GRAPHIC APRIL 1964
[Some pictures omitted]
FERRARI 1964
The genius and the moods of Commandatore Enzo Ferrari are well known and that is probably why so many people make the trip to the cold, grey town of Modena during the winter to attend his yearly press conference. I always make this trip and I am usually not disappointed, as Ferrari always seems to manage to show us some thing new and different, as well as to make a real show out of the gathering. Although this year's meeting did not produce very many nouveautés, we saw and heard enough to make the trip worth while. His new 330 GT machine and his new eight and twelve-cylinder Formula I engines were officially shown for the first time. Designed and produced by Pininfarina, the 330 GT is taking the place of the three-liter, two-plus-two coupé. Compared with this car, the new 330 GT is apparently a great improvement, mainly because its 12- cylinder engine is now a four-liter power plant giving over 300 horse power instead of three-liters for 250. This also means much more torque down low, and with the peak horse power being reached at 6,600 rpm instead of 7,000, the car is quieter. Thanks to a wheelbase which is two inches longer (104 instead of 102 inches) and a better arrangement of the seats and interior, the car is now roomy enough to accommodate four adults quite comfortably and the meaning of its designation as a two- plus-two becomes a true one. In spite of its longer wheelbase and bigger engine, the 330 GT is only 160 pounds heavier, while its horsepower is greater by fifty, plus extra torque all the way up. Thus it is not premature to write, before even testing this car, that its overall performance should be noticeably better than the three-liter model, which sometimes had a bard time matching the acceleration of quite a number of American cars. The four speed gearbox, with over drive, has been kept on the car, and with a back axle ratio of 8/34 it will do 152 mph at 6400 rpm, in overdrive. The speeds through the gears are first going to 50 mph, second to 75, third to 100, and fourth to 125.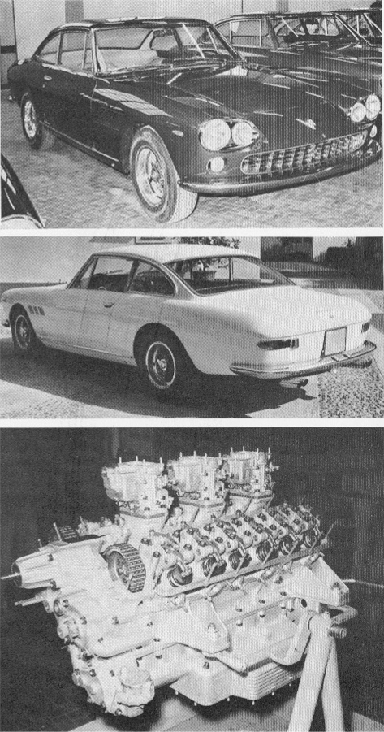 Already in production is the 330GT, at top, with its 4-liter, overhead-cam V-12. The coupe is in 2-plus-2 configuration with large glass area, good access. U.S. price will be $14,000.
Although the 330 GT and the three-liter have many common styling features, particularly from a side view, the 330 GT is actually quite different, mainly because of its new front grill, newly shaped twin head lights, the larger, more wrap-around windshield, and a more rounded back end. The 330 GT is a well balanced, elegant looking car but perhaps it's not as exciting looking as a Ferrari should be with its glamorous name and racing background. The advantage, however, of a clean, conservative styling is that it does not age quickly, and since Ferrari cannot afford to change his production GT model very often, this is a very important factor.
Ice and heavy snow all over the northern part of Italy prevented us from driving the new 330, but according to Mike Parkes, who is mainly responsible for the development of this car, it is a wonderful automobile, quiet, very comfortable, and yet very fast and handles quite a bit better than the three-liter, a car which certainly had a good reputation in this field.
Undoubtedly frustrated by having his cars make such a poor showing in Formula I racing last year against the English, Ferrari is going all out to gain back his once leading position in this field. In Monza, at the last Italian Grand Prix, he showed us his first monocoque car and a new V-8 engine. Ferrari sent four cars, including two monocoques, and two drivers to Mexico and South Africa, a tremendous effort on his part, and now he has unveiled the two new powerplants which will be used in his new monocoque car in the coming season. One is an improved version of the V-8 first seen at Monza (which has never yet been actually raced) and the other one is a fiat-12. Both of these engines have four overhead cam shafts, Bosch fuel injection systems, and six speed gearboxes. Apparently the V-8 engine will be used mainly for the slower and medium fast courses, while the 12-cylinder will be used for the fast circuits such as Reims and Spa. In case of the V-8 we can expect 205 to 210 horsepower at 10,000 rpm, while the 12-cylinder is expected to give the impressive figure of 220 hp at 12,000 rpm. The twelve certainly looks like an exciting power plant; it is very compact, and I understand that it is only ten pounds heavier than the V-8. Incidentally, it is the first 12-cylinder Formula I engine (of the current Formula, that is) to be seen so far.
Ferrari did not seem to be anxious to give many details on his new sports car, but it is almost certain that, unless he decides at the last moment to come out with a new monocoque sports car, the machine he will run this year will be almost identical to the rear engine one which won the Championship in 1963. However be will mostly use four-liter, 12-cylinder engines and perhaps a 3.5-liter 12-cylinder engine called the 275 P (P for Prototype).
Ferrari Formula I drivers for next season will be Surtees and Bandini, while the names of Maglioli, Scarfiotti, Guichet and Rodriguez have been mentioned for sports and GT races. Graham Hill, Bianchi and Bonnier will be also racing for Ferrari, under the colors of some private teams in most Manufacturers' races.
In Grand Touring category Ferrari's hopes are resting on his new 250 rear engined Le Mans model but it is not yet sure that Ferrari will be able to make 100 of them before the season starts, which would prevent it from being homologated as a GT car. Meanwhile his faithful GTO model is receiving a new body shape and is being made lighter and lower, which should give it better all around performance. Apparently Ferrari can make the GTO lighter without breaking the rules, because this car was always heavier than the homologation weight.
Ferrari did not give any details on the new Formula II, but I heard that the ASA firm (who bought the rights for the 1-liter Ferrari) may have made an agreement to race a couple of Formula II Ferraris under their own banner. The car would be a monocoque Ferrari and the power plant a new one-liter twin overhead cam engine which is said to be giving more than 130 horsepower. This is perhaps true, but I doubt it a bit myself as the best Formula II engine figures given so far have been 119 hp for Abarth, 115 for Renault and 112 for the Ford Cosworth.
As we can see, Ferrari is well armed to be quite successful in every field this season. Actually he should do very well in Formula I because of the high horsepower of his new engine. He may find things much tougher in both sports and GT racing because of the official participation of Ford with their new, powerful cars, and perhaps also with the appearance of some privately entered Chevrolets, as at Nassau where the John Mecom team made a clean sweep for General Motors.
Asked what he thought of the new Formula I for 1966, Ferrari said that he is not interested and will stop racing in Formula I at that time. I have heard that before, and I personally doubt if Ferrari will quit Formula I racing, a field in which he has always been deeply involved.
Very relaxed and apparently optimistic, Ferrari seemed ready to meet the challenge of the British and the American cars and, if four liters is not enough for a sports car, I would not be a bit surprised if Ferrari would show up during the season with a new five-liter V-12. Ferrari has built such engines in the past and he has always been very fond of them, and, after all, it may take that much to overcome the formidable Ford invasion this year in Europe.

SPORTS CAR GRAPHIC U.S. Copyright 1964