1964 Ferrari 330 GT 2+2

Chassis number: 6201
Engine number: 6201



ntroduced at the 1964 Brussels Motor Show as a successor to the 330 America, the 4-liter, 300-hp, Mark 1 330 GT 2+2 with 4-speed synchromesh gearbox had well-spaced ratios and a single dry-plate clutch in unit with the engine, with a Laycock electrically operated overdrive fitted behind the gearbox. The rear axle had an 8/34 ratio, good for 152 mph at 6,400 rpm. With disc brakes all round, 100 mph to 0 braking was possible in just 375 feet. A popular model and a true GT, with some 1,080 examples being sold, the 330 GT is a genuine four-seater with generous luggage space.

Jaguar Cars originally purchased this car, and it was then stripped by Jaguar technicians to study. Employee Bob Blake, the American responsible for the design of the FHC E-type, bought and kept the car for nine years. It shows approximately 58,300 miles, believed to be original.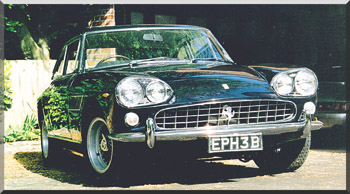 Offering perhaps the most affordable entry into classic V12 Ferrari motoring, in Oxford Blue with gray hide and Borrani wheels, this attractive car is said to be in very good overall condition.

Estimated at $22,000 to $27,000, S/N 6201 sold for $27,600 at Brooks' Goodwood Festival of Speed auction on June 23, 2000. Richard Hudson-Evans, SCM's man on the spot, judged it #2 condition with worn but original leather, and a recent good respray.

For the guy in the 1960s who rhapsodized about a sports car but also had a family, buying a Ferrari 330 GT 2+2 finessed the whole problem. Even though it had a back seat, it still carried the prancing horse on the nose and provided the unmatched sound of 12 cylinders from the four-tipped exhaust. Ferrari sold over 1,000 in 3½ years, almost matching the combined total of the two-passenger Lussos, Berlinettas and Spyders built during that period. People bought these cars for daily transportation. My family of five traveled 4,000 miles, from Atlanta, Georgia, to the Black Hills of South Dakota and back, in the early '70s in our 1965 four-headlight 330 2+2.

In the case of this particular car, buying a Ferrari knowing it was taken apart by Jaguar is an interesting gamble. We can only hope that Jag engineers had a greater attention to detail than the folks on the Jag production lines in the '60s.

With engine rebuilds pushing $20K plus, it would have been nice, as well as prudent, to have had the opportunity to perform a leak-down test, and to make sure the overdrive was functioning, before bidding. But that's the chance you take at auction. Also, these early cars, before S/N #7500 or so, didn't have valve seals, so it's rare to find one that doesn't smoke. In the old days, just as kids weren't encased in car seats, some smoke was tolerated and even expected from a '60s Ferrari. Not today. A couple of years ago, a friend driving through Carmel after leaving Concorso Italiano in his beautiful but smoking 250 GTE 2+2 was chastised by more than one pedestrian and yelled at to get off the road

Adding factory-type valve seals is a $5K to $10K proposition. And while a good, experienced amateur can do a lot of the greasy work on rebuilding the engine to save costs, building the heads has to be done by an experienced Ferrari mechanic. 330 heads are especially critical because the large valves are 4 mm longer than 250 valves, and the heads leave little room for error and little metal around and between valve seats. Cracks between plug holes and valve seats are common because of this lack of metal; specialists who will attempt welding repairs on irreplaceable heads are scarce and expensive.

It's a myth that the switch from the early, inelegant four-headlight model to the relatively attractive two-headlight car coincided with a host of mechanical improvements. In fact, in early 1965, starting with S/N 6939, my old four-headlight car, a new five-speed was used, replacing the difficult-to-repair Laycock overdrive. The Peugeot magnetically clutched cooling fan gave way to a straightforward Lucas thermostatically controlled fan motor, and pedals became hung rather than through the floor, with a significantly improved brake booster. 125 of these four-headlight, five-speed cars were built before the two-headlight body went into production in late 1965. Starting with S/N 7553, most of these last 455 cars had the desirable, smog-fighting valve seals. Many came with A/C, power windows, and other refinements. Half of the improvements for the owner, half for the mechanic. The gearbox/valve seals/improved braking and cooling combination make spending a little more for a later 330 a prudent decision.

If this car has reasonable mechanics, it's a very inexpensive way to enjoy a traditional Ferrari V12 without leaving your family behind. Just be careful to fill the photo album with shots emphasizing the side or rear quarter view. But if you're seriously in the 2+2 market, consider moving up to the $35,000 range for a later car. It's well worth the difference.—John Apen

(Photo and data courtesy of auction company.)

Years produced
1967-1967
Number produced
1,800
Original list price
$12,000
SCM Price Guide
$30,000-38,000 (2- and 4-headlight models)
Chassis #
Right front chassis/engine mount
Engine #
Right rear engine mount
Tune-up
$1,800
Distributor cap
2 @ $250 each
Clubs
Ferrari Owners Club, 8642 Cleta St., Downey, CA 90241;

Ferrari Club of America, 15872 Radwick, Silver Springs, MD 20906
Web sites
FerrariOwnersClub.org;

Ferrari@softhome.net
Alternatives
Lamborghini Espada,

Ferrari 400i, Jaguar SIII E-type V12 2+2
© 2000 Alfa Romeo Exchange, dba Sports Car Market magazine.