Events Carolina Trophy
A Tour through Tar Heel Country

There's charming and rural and then there' the Tail of the Dragon,
offering 318 curves in just eleven miles

by Liza Montgomery; Photos by Terry Shea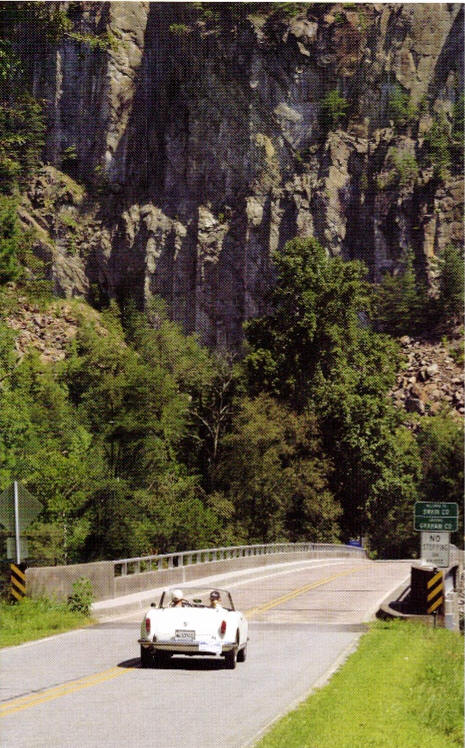 Alfas and curvy roads are a perfect combination

For some reason, enthusiasts in the South seem to like to give names to their roads. Part of the beauty of the Blue Ridge Mountains lies in stretches that
conjure up images of sleepy Southern charm, and are called things like Tater Knob and Snake Bite Holler. Then there are the tarmac sections better left to the clear-
headed. such as the Tail of the Dragon at Deals Gap.
This juxtaposition of placid and perturbed made for an enjoyable inaugural Carolina Trophy, run September 6-10 by 21 vintage road ralliers, and described by participants Bruce and Shelley Menkowitz as "an autocross and a hill climb in one." More than just a leisurely jaunt through the hills, this was a time—speed—distance "tulip" rally, where participants were penalized one point per second for missing their target time over the 700—mile route. The Menkowitzes drove their 1967 Morgan +4 SS and were presented with the Organizer's Choice Trophy.
"The routes were universally loved," said event director Paul Misencik. "They wind and twist and are lightly traveled. You had a sense of driving around by yourself in an area that has the most charming, rural Americana feel." There's charming and rural, and then there's the aforementioned Tail of the Dragon, offering 3I8 curves in just eleven miles. For third—place finisher Tom Smith. who drove his 1958 Jaguar XK 150 coupe, however, "All the roads were equally challenging, never duplicated." And after three flat tires, Smith was confounded only by the fact that he could find tubes in just about any store along the way. 'We think the tubes in Jaguar wheels are somehow used in farm implements," lie said. David Williams and Henry Garazo, whose 1967 Austin—Healey 3000 made the trip from Smithburg, MD, for the event, were happy to be taken under the capable wines of Tim Gallagher and Alan Wilson. "Those gentlemen were kind enough to let me drive their 1966 Ferrari 330 GT 2+2 hack from one of the last stages," said Garazo. "That V12 experience was one I'll never forget." The first-place Premier Financial Services Trophy was won by Ronald Ahrens and Peter Schneider in their 1951 Chrysler Saratoga, who beat out Donald Polak and Remy Fox's second-place l962 Alpine-Renault A110. Bruce and Cindy Troxell's 1966 Chevrolet Corvette coupe was Class C Champion, while the Class B Champion, a 1957 Austin-Healev 100-6, was driven by Hans Huwyler and Ross Schlabach.
The top-placing all-female team was Tern Henning and Donna Bailey, who took home the Pat Moss Trophy in their 955 Porsche 356A Speedster. And the Deal Porsche Trophy for the best-prepared car was won by Gene and Gerald Ponder with a 1957 BMW 507.
Waiting at the end of the day was the Grove Park Inn Resort and Spa, a 1913 Arts and Crafts creation carved out of the surrounding mountains. According to Mitch Katz, CEO and President of Premier Financial Services, Title Sponsor of the Carolina Trophy, Grove Park's historic luxury added to the event's timeless feel. "but as with any rally or tour, what really makes for a success are the people and this one had a great collection of folks," he said.
Mitch drove his 1965 Alfa Romeo Spider Veloce with Diane Scherff. "The roads were quite challenging, yet diverse, and together with the spectacular late summer
weather, made for a wonderful driving experience".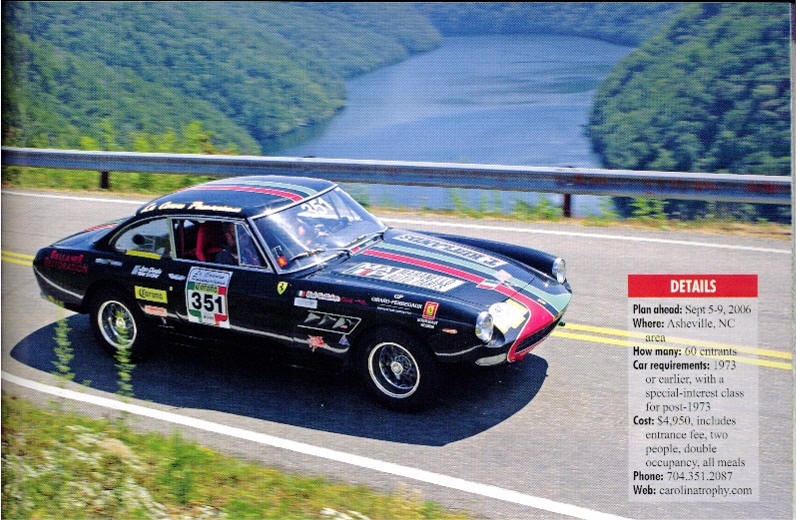 This 1955 Ferrari 330 elicited decal envy from every other participants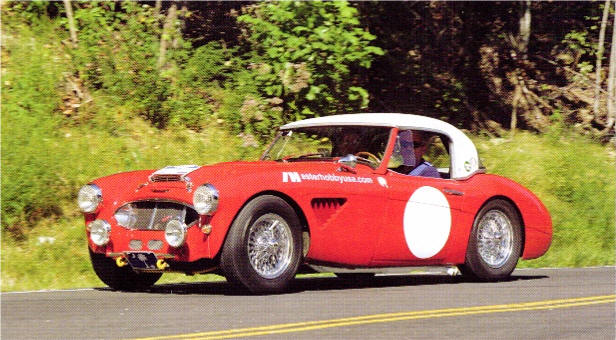 Healey with all its rally gear
Carolina Trophy SCMers

Terri Henning & Donna Bailey, Charleston, SC
1957 Porsche 356A Speedster
Bruce & Cindy Troxell, Alexandria, VA
1966 Chevrolet Corvette coupe
Gerd Schwanzkopf & Pierre Cloutier, Toronto, ON
1956 Porsche 356A Carrera GS
Tom Smith & Sean Petty, Nashville, TN

1958 Jaguar XK 150 coupe
Donald Polak & Remy Fox, Nashville, TN
1962 Alpine-Renault A110
Bruce & Shelley Menkowitz, Philadelphia, PA
1967 Morgan +4 SS
Gene & Gerald Ponder, Marshall, TX
1957 BMW 507
Mitchell Katz & Diane Scherff, Woodbury, CT
1965 Alfa Romeo Guilio Spider
Tim Gallagher & Alan Wilson, Asheville, NC
1966 Ferrari 330 GT 2+2
© 2005 Alfa Romeo Exchange, dba Sports Car Market magazine.