Bonhams Harrogate

They all but ignored the '64 409 Impala 55, favoring a barn-find Ferrari 330
GT 2+2 and the partly dismantled VW Kübelwaqen
Com

pany


Bonh

a

ms
:Date


November14, 2012
:Location


Harrogate,

U.K.
:Auctioneer


Sholto Gilbertson
Automotive lots sold/offered


62/91
Sales rate


68%
Sales total


$1,295,325
High sale


1965 Ferrari 330 GT 2+2,


sold at$108,931
Buyer's prem

i

u

m




15%

up to $47,568;


10% therea

ft

er, included


in sold

prices ($1 =£0.63)
1965 Ferrari 330 GT 2+2, sold at $108,931
Report and photos by Paul Hardiman
Markel opinions in italics
This hardy annual proved once again an extremely popular gig with the locals, who attended in large numbers. Some of the regular bidders were slightly nonplussed by the entire male contingent of Bonhams' team sporting mustaches (with varying degrees of success) in support of the light-hearted fundraiser known as "Movernber."
This traditionally well -attended northern fixture attracted everyone from locals to well known dealers and collectors. They all but ignored the lovely '64 409 Impala SS, favoring two restoration projects: The barn-find Ferrari 330 GT 2+2 and the partly dismantled VW Kübelwagen smashed their estimates. With everyone of Bonhams' phones alight, including the staff's personal cells, the 1965 Ferrari, mossy but not as rough mechanically as it looked, sold for $109k against a $48k-$65k estimate (see the profile on p. 42). The Kübel, with seats out, engine in the boot well and no reserve, went for $35k against an estimate of $16k-$24k.
The next big seller was the 1950 Delahaye 135M with tired coupe coachwork by Guillore, on the money at $88k. An MG J4 recreation made out of a real J2 was $71k and a Rolls-Royce 20/25 Shooting Brake looked cheap at $57k, considering its build costs . A 1975 Panther J72 with just 6,500 miles from new was $36k
For V8 fans, there was plenty to choose from. A restored 1965 Mustang 289 fastback was a good value at $36k, a tidy Allard P1 went for $31k, a rough Jensen FF with its original Chrysler 383 on a pallet was $I7k , and a 1957 Land Rover S1 with Rover power and later axles halved the price of a good original at just $9k.
As ever, oddities and restoration projects populated the far end of the hall, with two restored Fergie tractors at $2k (restored) and $6k (restored with added bling), and an ex-Mersey Tunnel police SIII Land Rover at $5k. A WWII "Gulaschkanone" field kitchen trailer that could have been made for the Kübel followed it in the bidding and fetched $4k.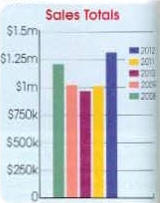 A clutch of '60s and '70s American muscle cars proved once again to be a hard sell, and at their third auction appearance in recent memory, all went home without finding new owners, except for a '66 Sting Ray convertible with 4-speed, sold at a fair $3Ik.
Over the past five years, the event has wavered little from its $1.1m average total, but things took a healthy bump to $1.3m this time around. It was one of the busiest Harrogate sales I've witnessed, and Bonhams reported more than 1,000 people in attendance. I have a hunch we'll be seeing even more smiling, mustachioed faces next year.
© 2013 Sports Car Market Inc.