This article was originally published on www.specialcar.com/9_97/ferrari/330gt.html, but that page has gone away.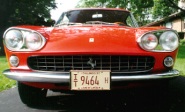 There's no disputing that 1965 was the year of the 2+2. For those of you who may not have been around at the time, Ford Motor Company unveiled its brand new Mustang 2+2 sports coupe, and in the process launched what was to become a national case of pony-car pandemonium. The Mustang enjoyed the most successful new-car launch in history during its successful 17-month inaugural year, (April 1964-August 1965) as Ford sold an amazing 681,551 cars.
Less noticed certainly, was another 2+2 "pony car" unveiled about the same year on the other side of the Atlantic by a small exotic car company called Ferrari. In 1963, in an effort to increase sales volume and make its cars more popular in the US, Ferrari unveiled the 330 GT 2+2. In fact, some of the early models were even called "America" models.
In Ferrari's eyes, the 330 GT 2+2 was no less successful than the Mustang. During its 5-year model run, the 330GT 2+2 model reached the highest total sales volume of any car Ferrari ever produced -1000 units. While that's certainly small potatoes to Ford, at Ferrari it was a landmark.
It was dubbed the 330 due to fact the V-12's volume displaced 330cc per cylinder, and was slotted in the Grand Touring class of 2+2, four-passenger automobiles. Speaking of the engine, the single-overhead-cam, 24-valve, 3967cc V-12 engine delivers a stunning 340 horsepower @ 7000 rpm. The 60° V-12 has a 77 x 71mm bore and stroke, features light alloy block and cylinders, and a compression ratio of 8.8: 1. Quite literally a "heavy breather," the car gulped air with the aid of a trio of Webber carburetors. Completing the power train is a 5-speed manual transmission. The factory estimated the top speed at 240 km/h (about 146 mph).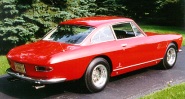 At the time a shiny red 1965 "interim" 330 GT 2+2, serial #6997 was released by the factory, Chicagoan Bob Yonkee, the car's current owner, was only a grade-schooler. The car he now owns was being driven around Turin, Italy by its first owner, Lilliana Pystonatto. Eight years later, the car was spotted in Italy by former president of Ferrari Club of North America, Dyke Rigley and imported to the Chicago in November 1973. He owned the car until 1980, when it was acquired by William Snyder, who owned the car for 17 years.
Yonkee, the fourth owner, is not what you'd classify as a typical Ferrari owner.
A true-blue lover of "American Iron," Yonkee's youth was spent admiring domestic pony cars and mussel cars of the '60s and '70s. A mechanic by trade, in 1985 he decided to have some real fun at it, and opened his own "hot rod" shop, called Seventh Heaven Rod & Custom shop. Things were going along just fine until he broke his back in an accident in 1991, was on disability for over a year, and was unable to keep his shop.
Once he was able to return to work, this dyed-in-the-wool American car guy wound up as a service writer for a Toyota dealership. Gradually, his mechanical knowledge resulted in his promotion to Service Manager inside of a year. He says he was very happy in his new position until the dealership was taken over by a big dealership chain. Since he felt quality control was no longer a priority and there was not the same attention to customer service, he left.
Not long after that, he decided to buy a retail auto stereo store in the Chicago suburb of Hanover Park. Actually the word "buy" may not be all that accurate, given that he traded his treasured 1963 Corvette 327 Split-window coupe for the store. He subsequently renamed the store "Traffic Jams." In addition to sound systems, the business installs a wide range of car and truck accessories.
"Right now I'm in the process of acquiring a second building which will house my new detail shop," say Yonkee.
While that may seem a bit outlandish to trade a car for a business, Yonkee prides himself on not being traditional. In fact, he's owned and traded dozens of cars in his lifetime, and usually goes for the "interesting" rather than the "traditional" collectible car. Over the years he's owned everything from a 1933 Essex Terraplane to 1980 DeLorean. One of his favorite projects was a 1929 Studebaker pickup.
"Ever since I was a kid, I'd had fantasies about owning a Ferrari," says Yonkee, "but I just never saw one that I considered adding to my stable. The fantasy was fulfilled a couple of years ago, when he and his father-in-law attended the summer Kruse International auction in Auburn.
"At the time, a large 600-car collection was being auctioned by the estate of a major East Coast collector," says Yonkee. "Among the many cars was a 1970 Ferrari Dino 246GT. The bidding started at about $20,000 and stalled around $27,000. So I jumped with a bid of $28,000 and walked away with the car."
Then comes the story of Yonkee's second Ferrari - his 330 GT 2+2. At the beginning of this year, third owner William Snyder decided he was interested in selling it, but wanted it to go to someone who appreciated Ferraris. He just happened to be driving around one day spotted Yonkee's Ferrari Dino in the driveway, and knocked on the door to see if he was interested. Following negotiations, Yonkee bought the car from him in February.
"The interior is all original," says Yonkee, "but the engine has been completely rebuilt. "In fact, he immediately went to work and personally restored the car's 3967cc, V-12 engine. Yonkee says the car has been repainted twice, and he has plans to have the car repainted again next year.
The intriguing thing about the car for Yonkee, which made it more desirable, was the fact it was an "interim" car.
"The 330 series started with the Mark I model, equipped with quad front headlights," says Yonkee. "However, the Ferrari faithful felt the company had gone too far in 'Americanizing' the car, so Ferrari decided to revert to the traditional dual headlight arrangement. The change was made to what were called the Mark II models, released as 1965 models. In addition to revised body work, they also received a revised suspension."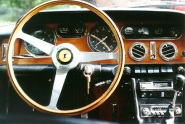 According to Yonkee, about 125 interim cars featured the chassis and mechanicals for the Mark II model, but the bodywork of the Mark I model. "As far as I can determine, there are only about 125 interim models built during the changeover. Today, they're worth between $35,000 and $58,000, depending on their condition."
The new mechanical changes included a switch from floor-mounted pedals to hanging pedals, new brakes and wheels, plus changes to the steering. The engineers decided to reposition the components to improve the geometrics. The company also switched from a 4-speed overdrive to a 5-speed manual transmission. Finally, both the Borrani spoke wheels and the Campagnola magnesium wheels were available. Yonkee has both sets.
He says the car is quite powerful, but is very heavy and doesn't handle as well as current sports cars. Yonkee drives his red 2+2 quite often, and likes the comfort the car affords. "At the time I bought the car, I was interested in finding a good four-passenger Ferrari, and this was just perfect. While it wasn't the most common 'pony car' built in 1965, it was certainly the most stunning in my view," he says with a contented smile.
Copyright 1997
Permission granted by Robert Yonkee