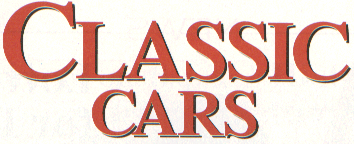 GT GENERATION
Jeremy Coulter
GranTurismo: the very words have an evocative ring to them, with their suggestive imagery of young renaissance men making lengthy, pleasurable and expensive trips around Europe. In the twentieth century, the great GT cars were designed with a similar aim in mind: to cover long distances in speed, comfort, and — very importantly — style.
Back in 1964, when life was free 'n' easy and petrol cheap, the rich potential purchaser of a GT could find a ready home for his money. If he desired Italian style, he could take his pick from the products of Alfa, Lancia, Ferrari, Maserati or Lamborghini; on the other hand, should he wish to display his good taste in a more discreet fashion, he could order an Aston Martin, a Bristol or a Jensen. Whatever his whim, there was a GT to suit the mood.
Recently, a chance discussion between the Classic Cars Deputy Editor and well-known Historic rallyist Henry Pearman happened to reveal that Henry had five of these Sixties GT cars in stock: would we like to drive them all and compare notes? Henry is probably best known to readers as the winner of the 1989 Pirelli Classic Marathon, but as 'Eagle Racing' he also buys and sells Classic cars for a living. The five cars on offer were not in concours condition by any means, but
were all usable examples of potential day-to-day transport. Furthermore, they were very different in character and, interestingly, in price when new.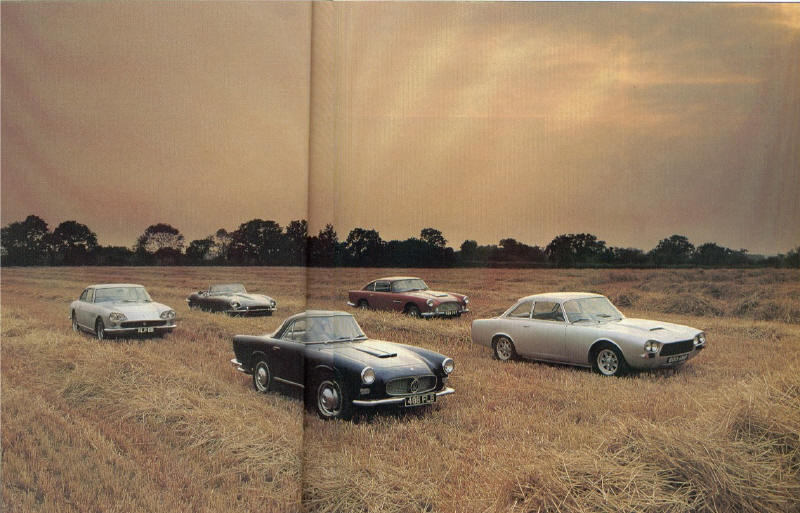 Although the cars — Maserati 3500GT, Ferrari 330GT, Aston Martin DB4, Gordon-Keeble and Jaguar E-type — were a pretty representative selection of what was available in the heyday of the GT, they were not, strictly speaking, completely contemporary. The astute among you will have realised that the DB4 was replaced by the bigger-engined DB5 two years before the 330GT appeared. Otherwise, however, they could all be bought in our target year of 1964. Which would we have chosen, assuming we were miraculously transformed into rich men: Italian chic, British tradition — or Anglo-American practicality? This was to be a straightforward Anglo Italian struggle. Would I find the Ferrari's breeding and its multiplicity of cylinders more inspiring than the lighter weight Jaguar or Aston Martin products with half the number of pots? Would the Maserati's charisma outweigh the American muscle of the specialised Gordon-Keeble?
I settled into the driving seat of the Maserati first, having noted the chrome GTi script on the boot, wondering if this was the first car to bear those now familiar letters signifying Gran Turismo Injezione. Was it indeed the first production car to have fuel injection? Its use of the Lucas system certainly pre-dated the TR5 by four years and most injected cars by around a quarter of a century. Twin-plug ignition and a five-speed gearbox add to the appeal of the Maserati's mechanical make-up.
It's a good looker too, with classic lines by Touring, executed using the Superleggera (superlight) system of aluminium cladding over a steel tube framework. In this department it shares much with the Aston Martin DB4 and the cars have a similar presence on the road, albeit more Fifties in aura than Sixties.
For all its mechanical and aesthetic appeal I could never live with the Maserati without fundamentally altering the driving position. Knees wide asunder and arms straight is no way to drive comfortably or safely. But forgetting that for a minute, the
Maserati has a lovely rasping engine with bundles of torque. The steering is light and the car generally has a delicate feel on the road, quite the opposite of what you might expect from a car from this particular stable.
An annoying intermittent electrical problem with the fuel pump limited the time I was able to enjoy in the Maserati but it left a most favourable impression.
It seemed logical to step from the Maserati into the Aston Martin DB4, a union of Italian styling, also by the house of Touring, with a lusty 3.7-litre British six, running on twin SU carburettors. This particular product of Newport Pagnell had been in storage for some time and frankly it showed. The brakes had a sluggish feel and the steering was stiff. I know the DB4's engine was rated at some 42bhp less than the DB5 that I once had, but I remember the engine of my old car as being very much livelier and responsive.
Nevertheless, it's always good to drive an Aston and settle onto those ample leather seats and grasp the big, springy, wood-rimmed steering wheel. You think an Aston along rather than aim it; there's a softer ride and more roll than you'd expect in a car with such sporting aspirations and understeer aplenty if you just mindlessly plough into a corner The understeer converts to entertaining oversteer when you treat the car with a firm hand and it's obvious why DBs are so popular.
The rolling gait of the Aston couldn't have contrasted more with the firm ride and bump-thump of the Gordon-Keeble. This is undoubtedly a handsome model and this particular example has enjoyed some 'improvements' in the shape of the fitment of a modem five-speed gearbox and recent steering rack. The muscular American V8 is a simple recipe for good performance and this 5.4-litre Chevrolet unit makes a lovely noise when accelerating hard in second or third.
The clutch is massively heavy and application of the brakes calls for a similar level of exertion to haul down the mass of iron-block motor, hefty tube chassis and thick glassfibre bodywork. It's hardly a subtle car to drive but it's fun nonetheless, although I doubt whether I could ever drive it very quickly with real confidence in its ability to stop or take the next corner without the momentum of the engine taking over As the engine got hotter, so its running at part throttle became more erratic, making it even more difficult to drive smoothly. Climbing hot foot (literally) from the Gordon-Keeble into the E-type came like a breath of fresh air. Not least because this was the only open car in this select test match. Strictly speaking, Jaguar's representative should have been a 2+2 E-type but the example that Henry had organised was sick-listed with a slipping clutch, hence the substitution. However, I did drive the 2 + 2 briefly anyway just to reassure myself that the driving experience was not too different from that of its more popular ragtop brother.
I've spent a lot of time wondering quite why I enjoyed driving the E-type so much compared with some of these other illustrious cars. There's no simple answer but the driving position is good and relaxed, the controls light and efficient and the 4.2-litre engine is lively and responsive. The handling is nimble and unambiguous, the brakes are adequate and as a package the E-type is immediately fun to drive briskly.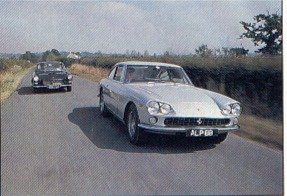 The Jaguar's array of dials and switches contrasts with the relative simplicity of the Ferrari's mock-wood fascia. The 330GT is not the most glamorous example of the marque but it offers a commodious 2+2 package propelled by a four-litre V12 driving through a four-speed gearbox with snappy overdrive. It's a comfortable, solid-feeling and well-equipped car that lopes along briskly and handles acceptably on twisting roads but would undoubtedly prefer the straighter, wider tarmac of the Autoroute du Soleil.
The triple-carburettor V12 is silenced rather too effectively to release any real Ferrari passion. Altogether this is a very civilised Sixties Grand Tourer that I'm sure was ideal for its intended role as practical supercar transport. The styling? Well, it's best described as understated which I feel matches the car's general demeanour.
Force me to make a choice from the five cars on offer and I'd take the E-type for simple driving pleasure, while for charisma and style it would have to be the Maserati with the Aston running it a close third.


Maserati 3500GT
Engine: straight six
Capacity: 3,485cc
Power: 265bhp at 5,500rpm
Top speed: 146mph
0-60mph: 8.5sec (est)
Standing ¼-mile: 15.8sec
Suspension: Front: independent coil and wishbone
Rear: semi-elliptic leaf
Brakes: discs all round
Transmission: five-speed manual
Weight: 2,977lb
Length: l85in
Years built: 1958-64 (GT), 1962-64 (GTI)
Price new: £4,984
Price now: £25,000-50,000
Aston Martin DB4
Engine: straight six
Capacity: 3,670cc
Power: 236bhp at 5,500rpm
Top speed: 140.6mph
0-60mph: 8.5sec
Suspension: Front: independent coil and wishbone
Rear: coil and trailing arms
Brakes: discs all round
Transmission: four-speed manual
Weight: 3,000lb
Length: 177in
Years built: 1961-62 (series four)
Price new: £3,680 in 1962
Price now: £20-60,000
Ferrari 330GT
Engine: V12
Capacity: 3,967cc
Power: 300bhp at 6,600rpm
Top speed: 152mph
0-60mph: 6.4sec
Suspension: Front: independent coil and wishbone
Rear: semi-elliptic leaf
Brakes: discs all round
Transmission: four-speed manual with overdrive
Weight: 3,131lb
Length: 190.5in
Years built: 1964-67
Price new: £6,522
Price now: £17,500-50,000
Gordon-Keeble
Engine: V8
Capacity: 5,359cc
Power: 300bhp at 5,000rpm
Top speed: 145mph
0-60mph: 6.Ssec
Suspension: Front: independent coil and wishbone
Rear: de Dion
Brakes: discs all round
Transmission: four-speed manual
Weight: 2,833lb
Length: 186in
Years built: 1964-66
Price new: £3,240
Price now: £10,000-25,000
Jaguar E-type 4.2
Engine: straight six
Capacity: 4,235cc
Power: 265bhp at 5,400rpm
Top speed: 153mph
0-60mph: 7.0sec
Suspension: Front: ind. wishbone and torsion bar
Rear: ind. wishbone and trailing arm
Brakes: discs all round
Transmission: four-speed manual
Weight: 2,421lb
Length: 175.31in
Years built: 1964-67
Price new: £1,896
Price now: £15.000-40,000
Mark Dixon
Mark Dixon stretches the Ferrari's legs. This was the first right-hand
drive 330 GT and, like the Jaguar, featured in magazine road tests.
Henry Pearman must be a trusting sort of chap. Here we were with five Sixties supercars, none of them worth less than 25 grand even in today's subdued market, and he was quite happy for us to go and hustle them around the countryside in quick succession. "Why don't you take the Ferrari first," suggested the Deputy Ed. "OK" I said — sounding, I hoped, a lot more casual than I felt.
This was a surprise. Somehow I'd expected the Ferrari to be a temperamental machine, the sort you have to live with for years before you learn its character. Not so. The V12 started 'on the button' and rumbled away to itself happily while I acquainted myself with the controls. All right, so the steering wheel rubbed my knees and I found the pedals awkward for heel and toeing, but in compensation there were comfortable seats and a pleasant gearchange, albeit with a curious 'spring-loaded' action.
Aesthetically I didn't care for the cheap-looking wood trim and switchgear; and the way that the rear screen filled with reflected parcel shelf was a pain. The Ferrari impressed with its general air of practicality — you really felt that you could use it as an everyday car, no problem. Somehow, though, it didn't excite. Its looks were too ordinary, its behaviour almost too well-mannered.
For the sake of contrast, I tried the Gordon-Keeble next. I suspected I was going to like this car before I even drove it, which was a good thing, because there was evidently some problem with the carburettor on the Chevy 327 engine (a sticking choke?) which caused it to cough and spit badly below 3,000rpm. The solution was obvious: drive it harder...
Best thing about this car for me was the sound it made, without a doubt — the most glorious V8 roar you can imagine. That did a lot to make up for the vague gearchange (the 'box on this car was not original; it felt and looked like a Rover SD1 unit), the heavy clutch and the spongey brakes. The interior was neatly trimmed in black vinyl, though, and the glassfibre body was of good quality too. Not a relaxing car to drive, but — with that engine sorted — it could be great fun, and cheap to maintain.
My notes on the Aston DB4 say that "the crossply tyres make handling interesting..?'! The Aston seemed much more of a Fifties product than the Ferrari or the Gordon-Keeble; an impression heightened by the heavy steering, with its lack of self-centre action. It also wandered rather badly on the straight. However, it's a gorgeous-looking car and it makes all the right noises and, of course, it's English — makes you feel like breaking into Land of Hope and Glory as you motor round the lanes of Sussex. Those are probably still the reasons why people buy new Astons today — after all, a Vauxhall goes just as quickly now.
Unfortunately, I managed about a mile in the Maserati before it expired with terminal fuel pump problems. That was a real shame, because it felt as if it was going to be a great car — light steering, good brakes and a nice 'change. I'm not a fan of the car's looks, which seem a bit dumpy, but then it was at the end of its production life when compared with most of the opposition here. Inside, it's even more of a Fifties hangover than the Aston: big chrome-rimmed instruments and a huge grab handle for the front-seat passenger. But, to judge from my marginal experience of the car, definitely better than expected.
Which just left the Jaguar. As it happened, this was a case of leaving the best till last. Now, I would be the first to admit that I'm not the world's most skilful driver, but a couple of hundred yards and I felt confident enough to drive this car quickly straightaway — it was that good. The E-type's acceleration was fantastic and I found myself tackling fast corners without any qualms that it was going to do something unpleasant. Those qualities, allied to light steering and other controls plus incredible 'come hither' looks, meant that there would be no doubt about the final verdict as far as I was concerned and, as it turned out, the others shared my opinion. Considering that the Jaguar was by far the cheapest of these cars when new, a mass-production sports car in fact, that is a remarkable achievement. Rule Britannia!

Henry Pearman
The Ferrari 330GT is a past favourite of mine. It has all the advantages of the early V12 Ferraris at a much lower price, and the sight and sound of the engine sends the spine tingling, as does the glint of the beautiful Borrani polished alloy wheels.
The engine starts instantly on the key-push starter and ticks over at an even 800rpm. Power is smooth from tickover throughout the range and the overdrive is a delight to use, responding instantly to a touch of the spring-loaded stalk. To my mind, this full four- seater represents the true definition of a Grand Tourer.
The Maserati is a new car to me and I like its shape very much — reminiscent of a DB4 with a hardtop fitted. The 3500GT was a very advanced car for its day, with a high specification ranging from fuel injection to four-wheel disc brakes. Looking around the interior, one is constantly reminded of the superb pedigree of this machine by the various badges dotted about.
The engine is extremely responsive and punchy with lively acceleration through the gears and a long fifth gear allowing relaxed cruising. The body is executed by Touring using the Superleggera method and the lightness of the bootlid, for example, is amazing.
The Aston Martin is a Series 4 DB4 from 1962. I think this is the purest shape of all the Aston DBs, before the adoption of faired-in headlamps. The view over the bonnet from the driver's seat is impressive through the deep wrap-round screen, and the car feels and looks very solidly engineered throughout. Take-off is smooth, with the torquey engine making this a relaxing car to drive; the steering feels heavy, still on crossply tyres, but it is higher geared than the Maserati's, giving an impression of more direct handling. The gearchange is slick and the overdrive allows comfortable cruising.
If the Gordon-Keeble lacks the pedigree of its companions, I think it makes up for it in other areas. This is a trip down memory lane for me as I had one about seven years ago as everyday transport and found it a very practical car It's a full four-seater and has performance equal or ahead of its contemporaries. This car also has a rack- and-pinion steering conversion and a close-ratio five-speed gearbox which transforms it. Performance from the 5.4-litre V8 is effortless throughout the rev range and, of course, there is scope for tuning!
The light and airy interior is very modern — a credit to its designer — Giugiaro, no less! The independent suspension places it ahead of the previous three on ride quality I liked it
The E-type needs little introduction. This example was one of the original Press cars (as was the Ferrari, incidentally). I have admired these cars since I was five years old and still think the shape is one of the prettiest around — and it was designed in-house, unlike all the other cars in the group, which were styled by Italian houses.
Sitting behind the wheel, you have a view over the power bulge on the bonnet, with louvres either side taking you back to the Le Mans D-types and reminding you that this is a direct descendant of a racing car. The awkward access through the small doors confirms this thinking.
A light clutch makes for smooth, easy getaways and the steering and controls feel so light after the other cars. Throttle response is crisp and instant and the handling excellent, thanks partly to the very good independent rear suspension. It's easy to drive an E-type far more quickly than you think, hence their poor early accident record! The brakes are good too, even those on the early 3.8s, when well maintained. However luggage space is poor and even the 2+2 version of this car doesn't offer the four-seater capacity of the others here, except perhaps the Aston, which is still pretty cramped in the back.
To sum up, the Ferrari has the most mystique about it and I think it always will have, which is why it is so special. The Maserati is a very pretty and advanced car with a good pedigree which will one day lead them to rank alongside Ferraris in the 'collector's car' market. The Aston Martin is the British equivalent, with as good a line as any of the competition and with the advantage of its excellent engineering. The Gordon-Keeble was originally a bit of a misfit, not helped by its glassfibre body, but today it is probably a better proposition from a practical point of view than some of its contemporaries — it certainly has rarity on its side. But it's the E-type that has all the qualities that I look for. It's easy to drive, fast or slow, and has a pedigree second to none. It would have to be my choice from this mouthwatering bunch.

thoroughbred & classic cars December 1990
© IPC Magazine Ltd 1990