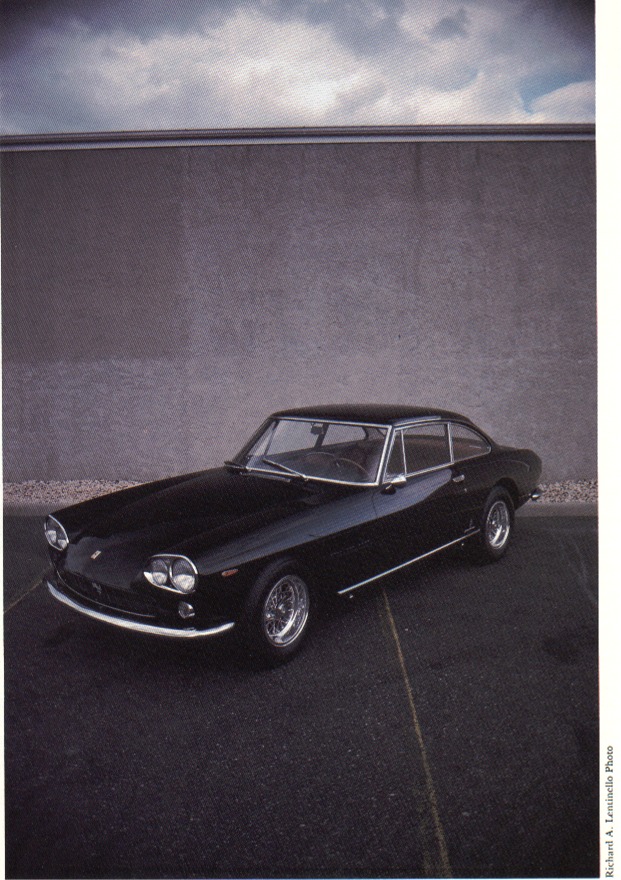 Ferrari
330 GT 2 + 2
A Show Winner Revealed
By Douglas Pirrone
During the summer of 1979, I purchased an early series 330 T 2+2 Ferrari - better known as the quad-headlamp model. After the usual inspection and a brief test drive, I payed the seller $8,100, got into my fifteen year-old Ferrari and drove home. It was a pleasant first drive as we motored along the twisting hilly roads of Long Island's lovely north shore. The car is really wonderful to drive. Ferraris are that way.
I had planned to strip and repaint it because I felt that the old paint (bright red) did not look good on such a large car and because it had some bubbling here and there, but not much. And so, the car was stripped to bare metal, primed with featherfill and urethane primers, and subsequently repainted with RM black acrylic lacquer. Because my restoration business keeps me very busy, the car sat for four years before it was compounded. As a result, there is virtually no more shrinking taking place.
I also decided to remove the valve covers to re-wrinkle paint them, and to adjust the valves. Thinking this through, I realized that freshly painted valve covers would make the rest of the engine and engine compartment look terrible. So, I removed the engine to make the job easier and the quality better. Since the engine smoked a little, I pulled off the heads and installed new valve guides. Then I wanted to do the whole engine... Following that task, I decided to re-upholster the interior and re-chrome every piece of chrome trim. All rubber trim items were also replaced. This is what usually happens once you open a can of worms.
While the car sat on jack stands, the entire front and rear suspension was completely disassembled, rebuilt and refinished. All new nuts, bolts and washers, with the proper factory-like finish, were used with the new suspension. The brake calipers were also rebuilt and refinished and were re installed with new hoses and pipes. The engine was completely rebuilt with new pistons, new liners, new valves, new guides and bearings. The entire unit was balanced and completely detailed along with the engine compartment and suspension.
The end result to this lengthly, labor intensive restoration is a beautiful Ferrari that we - Berlinetta Motorcars Ltd. took to Georgia for the 1989 Ferrari Club of American Annual Meet. At the Concours D'Elegance, which was held nearby on Lake Lanier Island, the car was awarded a "Best in Class" first place trophy. What a great feeling!
CARROZZERIA 17
Copyright 1990 by Restorative Publications.
Permission granted by author.