Sports car versus pseudo-sport: how the world's fastest shape up
PONTIAC 2+2
VERSUS
FERRARI 2+2
. . . plus some candid comments on several new sports cars —
tried and tested on circuit and drag strip.
Some time ago Dave Davis, the editor and publisher of American Car and Driver, invited me to join the magazine staff at the Bridgehampton circuit to watch Walt Hansgen run tests of the Ferrari 2+2 against the new Pontiac 2+2.
About a year ago, Dave created quite a tizzy among US enthusiasts when his publication said some nice things about the then new Pontiac GTO. This time C & D really went first class. They took over one of the country's most demanding road courses and hired Walt Hansgen, the best US non-overseas road racing driver we have, to conduct the tests. Walt was an inspired choice as he not only is an articulate, dedicated goer, but he just about owns the hilly 2.8 mile Bridgehampton track having won something like 10 out of 12 major races there, including last September's FIA 500 KM GT Championship during which he set a new track record of one minute 44.6 seconds driving John Mecom's Scarab Zerex Special.
Late November can be a tricky time to test on cars on this breezy easternmost tip of Long Island, but we were blessed with a bright, pleasant day. While the Pontiac versus Ferrari business was our raison d'etre, what made the day especially enjoyable was that the C & D staff showed-up in a variety of interesting machines all waiting to be "tested".
As there were several long gaps while the Pontiac mechanics were fooling with the 2+2, we all had a ball taking each others' cars around the circuit and frightening ourselves silly. Before we reach the highlights of the Ferrari-Pontiac test, here are my impressions of the cars I tried.
CHEVROLET CORVAIR CORSA . . . This was one of the new 180 bhp turbo-charged models and I expected great things — in fact too much. The car handled well, had a surprising amount of room and was about as spirited as a bowl of oatmeal As it was a rather new press machine, I would like to think it was out of tune and a poor example of what could be a good, under 3000 dollar, sports car.
An immaculate MERCEDES-BENZ 230-SL was my next ride and I am sorry to say it, too, was a big disappointment. It had everything; comfort and handling with evidence of fine craftsmanship everywhere. Yes, it had everything but guts: no power, no torque. I guess that 3000 lb is just a bit too much weight for its fuel injected 2.3 litres to move briskly. But when you pay better than 8000 dollars for a GT machine, you might expect a little more action from the engine room.
I had the FERRARI 2+2 for about five laps and the only thing wrong with it was me, the driver. It did everything in such an effortless, matter-of-fact way that all I wanted to do was bargain with Faustus for half my years. Sure it costs over 14,000 dollars, but if it's automobiles you love, don't miss playing footsie with this maiden from Modena.
Hurst: excuse for a gearbox.
My impressions of the PONTIAC were not acquired at the track but rather as the driver of a new GTO in a recent local rally with a TV cameraman working in the back seat, While I have much respect for both the Pontiac 2+2 and GTO and consider them a great value, they are not my cup of tea. Both are nice looking, well made, enormously powerful, and good performing cars, but they are just too damn big, Only on one count do I fault them mechanically. I find the Hurst Shifter a poor excuse for a gearbox. To me, it is heavy and tiring and completely lacking the sensitive "what's going on" feel transmitted by a good gearshift such as on the Porsche or Corvette. But you can't dispute the Pontiac value, both the GTO and 2+2 sell for less than 4000 dollars and as you will note in the Ferrari-Pontiac test summary, there was less than a single half-second difference in time but over 10,000 dollars in price between the two 2+2s.
The day's biggest surprise was the MUSTANG. When I took out the new bright red 289 bhp 4.7 litre V8 fastback, it was my first Mustang drive and I found it simply delightful. The Mustang is a real charger; while the ride is firm, the car is responsive and handles well. The controls are excellent and my only kick was that after a couple of self-induced panic stops I was wishing for the disc brake option. And all for less than 3400 dollars.
My transportation from Philadelphia was supplied by George McKean, a local Chevy dealer who loaned me his ISO RIVOLTA. I had driven the same Iso briefly last summer at Rouen when it was but a week old but taking it up to the Bridge through New York's wicked Friday evening traffic was a severe load test in itself.
Once we got free of New York City traffic the Italian-American hybrid ate-up the miles and on one deserted stretch of parkway, the speedo needle effortlessly passed the 125 mph mark.
Iso on a drag strip!
Next morning before things got rolling at the circuit, we took the Iso to the Westhampton Drag Strip, where our standing quarter-mile of 89 mph in 14.5 seconds was much slower than the 96 mph of the Ferrari 2+2 or the Pontiac's sensational 106 mph in 13.8 seconds.
So much for our informal impressions; what follows are highlights of the actual test runs made by Walt Hansgen on the Ferrari and Pontiac 2+2s. We suggest you look for the full report in the March issue of the American publication Car and Driver.

THE TEST CARS:
The Pontiac Catalina 2+2 Sport Coupe had a 421 cubic inch (6918 cc) V.8 engine with 376 bhp at 5000 rpm. It has three carburettors, a four-speed transmission, power steering and power brakes with special metallic linings, a limited slip differential with a 3.42 final drive ratio and the stiffest shocks, springs and stabiliser bar available as a standard Pontiac option. The car's wheelbase is 121 in., its overall length 214.5 in. and its weight as tested was a mere 440 lb. The test car, with a baby brother GTO to keep it company, were on loan from a Michigan Pontiac dealer and had been driven the 700 miles from Royal Oak to the Bridge during the night.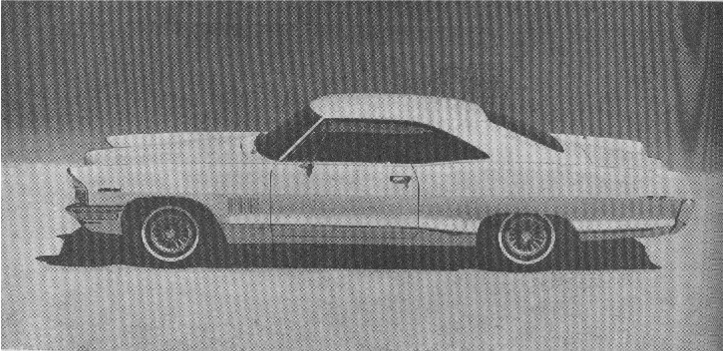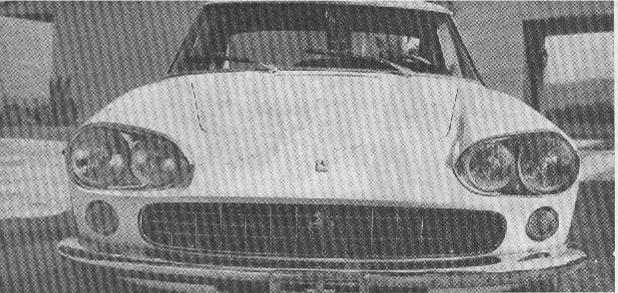 FERRARI 330GT 2+2
The Ferrari was supplied by Luigi Chinetti and is in fact the personal car of Coco Chinetti, Luigi's son, and as such was tuned by the same mechanics who set-up the official Ferrari North American Racing Team machinery. The Ferrari GT 2+2 is designated as 330-GT, in line with the constructor's policy of identifying his V-12 engines after the cc displacement of a single cylinder. The 4-litre, 242 cubic inch V-12 is rated at 300 bhp at 6600 rpm and is fed by three twin- throat Webers. The Ferrari has a wheelbase of 104.2 in., its overall length 189 in. and, as tested, it weighed 3440 lb.
To keep everything fair and equitable in the tyre department, Firestone sent along a small van loaded with their new Indy-type sports car tyres and two hard-working young engineers. The Ferrari was soon shed of its Pirelli Cinturatos and Walt Hansgen was ready to go to work.
Fan belt troubles plagued the big Pontiac for much of the morning. Four times the belt went and on two of those occasions, it wrapped itself around the radiator hose and sent Walter off into the sand as he spun in his own coolant. While the Pontiac mechanics worked on the fan belt problem, Hansgen put the Ferrari through its paces in a series of get-acquainted runs.
The Pontiac mechanics fixed the fan belt problem for good and Walt took off on four official timed runs, his fastest 2.01.33. Hansgen then got back in the Ferrari and after four timed tours with it, his best Ferrari time was 2.00.85, only a half-second faster than the American sedan.
In the Pontiac, Hansgen drove the entire course (except for one tight turn) in high gear. The Pontiac was noticeably faster on the straights but the Ferrari, as you would expect, more than made-up the difference on the track's many turns. We repeat, less than a half-second faster and lots more class but is it worth the difference between four and 14 thousand dollars?
We are grateful to Dave Davis for allowing us to use this material and for having us as a part of his C & D family. These are bright, lively people and, as always, we had great fun being with them.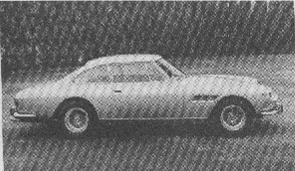 Ferrari 330 GT 2 plus 2 shows its handsome profile.
WORLD'S FASTEST SPORT CARS